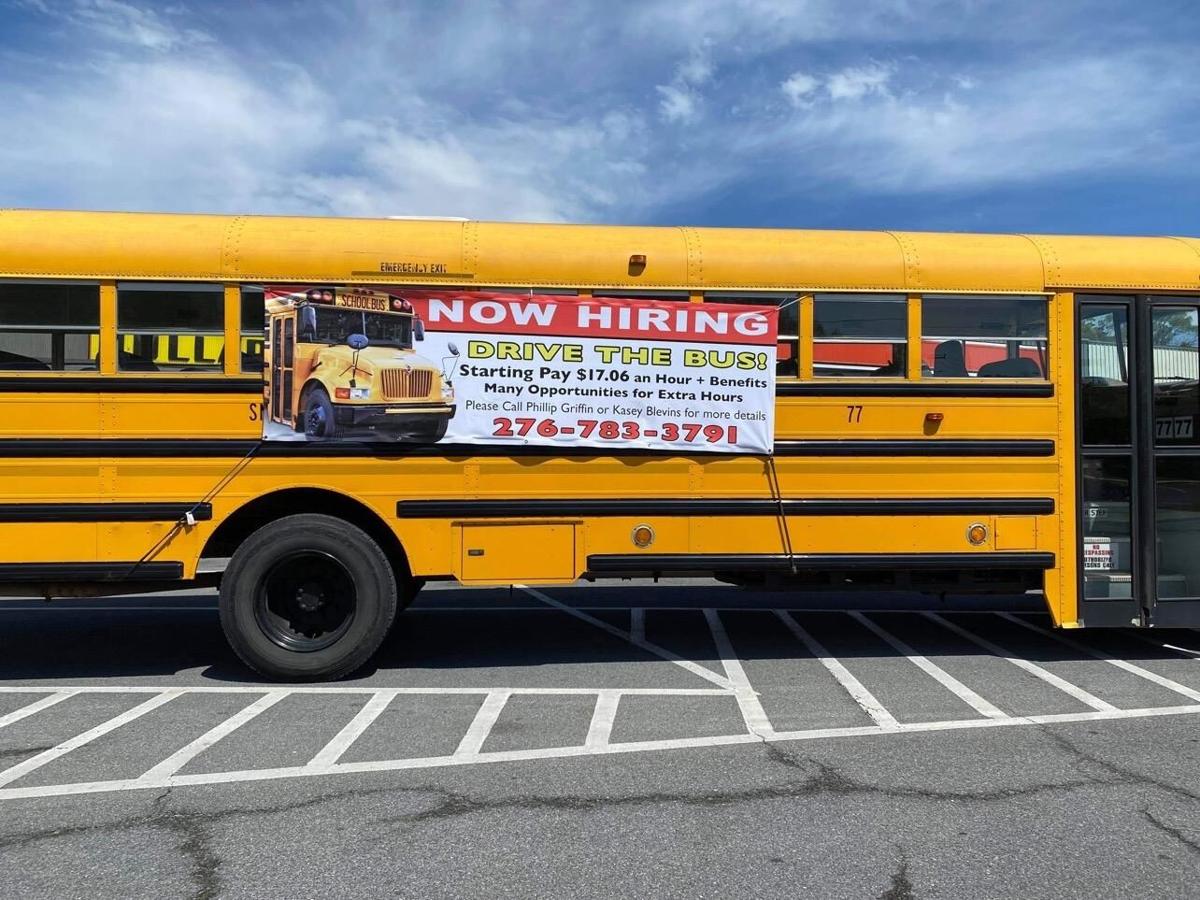 School districts across the region are struggling to fill open positions, an issue that's forced schools to alter bus routes, double up on teacher schedules and ask current staff to take on additional duties.
Area school officials report trouble finding teachers and substitute teachers, cafeteria staff, and custodians, but their biggest struggle comes in finding bus drivers and substitute drivers.
On more than a few occasions, Smyth County schools have had to combine bus routes when they couldn't find a substitute driver, putting some kids on a later schedule getting to school or getting home.
Cole Spencer, director of human resources for Smyth County Schools said students are not penalized when they are late due to transportation issues.
"The biggest thing that worries me is just getting everyone here on time," he said.
That sometimes means taking the unusual measure of asking any school employee with a CDL license to help out.  Spencer himself, as well as the transportation director, have even picked up routes at times. When a CDL holder can't be found, the school system has also resorted to transporting small groups students in vans.
Bland County schools have seen similar issues, at one point asking parents to transport their children to and from school when a substitute driver couldn't be located.
"We thought we'd get back to normal again this year, but that didn't happen," said Bland County School Superintendent Scott Meade.
Meade said the school system, which is home to just two schools, started the school year with three of its drivers out on medical leave and another in quarantine, leaving the transportation department short staffed.
Bland schools has since filled those vacancies, but is still in need subs, he said.
"The folks of Bland realized what kind of help we needed," Meade said, noting that several people came in to apply after hearing of the ordeal. "All routes are now covered, but we don't have enough substitutes in case something happens."
Although condensed bus routes put into place last year have helped offset the driver shortages in Wythe County, the need for substitute drivers has sometimes put bus shop workers behind the wheel there, too.
"Life happens and we need subs, so we've been utilizing our workers at the bus shop," said Wythe County School Superintended Scott Jefferies. "Even our director of transportation has had to go out a couple of times and complete a route."
The three men were quick to point out that school districts in Southwest Virginia are not alone in feeling the pinch of driver shortages.
"I think everybody in the nation is short on school bus drivers," said Meade.
"It's everywhere," Jefferies agreed.
According to a recent national survey, a little more than half of the school transportation coordinators who responded described their driver shortage as "severe" or "desperate" and about three-quarters said their shortage has gotten worse. About two-thirds of those surveyed also said the bus driver shortage was their number one concern, while only 1% said it was not a problem for them.
The survey, jointly conducted by the National Association of Pupil Transportation, the National Association of State Directors of Pupil Transportation Services and the National School Transportation Association, was undertaken to determine the extent of the shortages, as well as which direction the trend is going and which solutions are being used to remedy the problem.
"While the industry seems to struggle with driver shortages each year, this year's shortage has a different feel to it and having the data to really understand it is invaluable," NASDPTS Director Ronna Weber said in a release on the survey. "We hear anecdotal reports all the time but being able to point to real information will ensure we are responding to this situation in the best manner possible for our members."
Staffing shortages don't end with bus drivers, though. At a time when newly required quarantine periods have increased the need for substitute teachers, the school districts have also reported difficulty finding people willing to take those positions. Regular classroom teachers, custodial workers and food services staff are also in short supply.
"We've needed drivers and substitute teachers every year, but during the pandemic, we've had subs that don't want to come in during this COVID crisis," Meade said. "Normally, we have subs that work every year, sometimes two or three days a week, but now I think they sometimes feel like it's better to stay at home—and I get that—so it's been hard to get substitute teachers."
In addition to the pandemic itself, Jefferies believes labor shortages elsewhere have also opened up better or more consistent job opportunities.
"This is not a normal year," Jefferies said. "From a sub's perspective, I think there's just so many jobs out there—full-time jobs—that they may not necessarily need to be a substitute teacher on-call for income."
To answer the need for substitutes, Jefferies said school administrators have taken to filling in when teachers are out, and where possible, classes have been combined when class sizes aren't too big.
In Smyth County, instructional aides are also filling in, while teachers are picking up extra classes to help fill the gaps.
"Just the other day, I was talking to someone and they said, 'Well, we're short again so I'm teaching another class," Spencer said.
These shortages come as local school districts have long struggled to either hire or retain teachers, often losing them to larger school districts both nearby and out-of-state that can offer better compensation.
Spencer recalled a time earlier in his career when just about every school system was "inundated" with applicants seeking to teach history or math.
"Ten years ago, when I first started, we'd have 30 applicants for either of those positions at a time," he explained.
That's not so much the case anymore, he said. Just recently, Spencer had a call from a school official in Scott County, asking if Smyth County had any history teacher applicants they didn't hire.
Spencer also recalled a conversation with a Radford University recruitment fair organizer a few years ago, who told him they'd seen a 35% drop in applications from that previous year.
"So, this has been brewing for a long time, and not just in Southwest Virginia. But, it's just getting worse, in my opinion," he said.
Right now, Smyth County schools are using long-term substitutes and instructional aides to fill in the gaps left by those unfilled positions. Though Wythe County currently has some unfilled positions, Jefferies said the school system is not currently experiencing any critical shortages in instructional staff. In Bland County, all instructional positions have been filled.
Each school district has heavily advertised for their open positions and have had some luck in recruitment, but they're still on the hunt.
They each encouraged those interested in substitute teaching or bus driving to contact their respective school board offices or reach out to individual school principals.
For student safety, applicants will be subject to a background check conducted by the Virginia State Police.