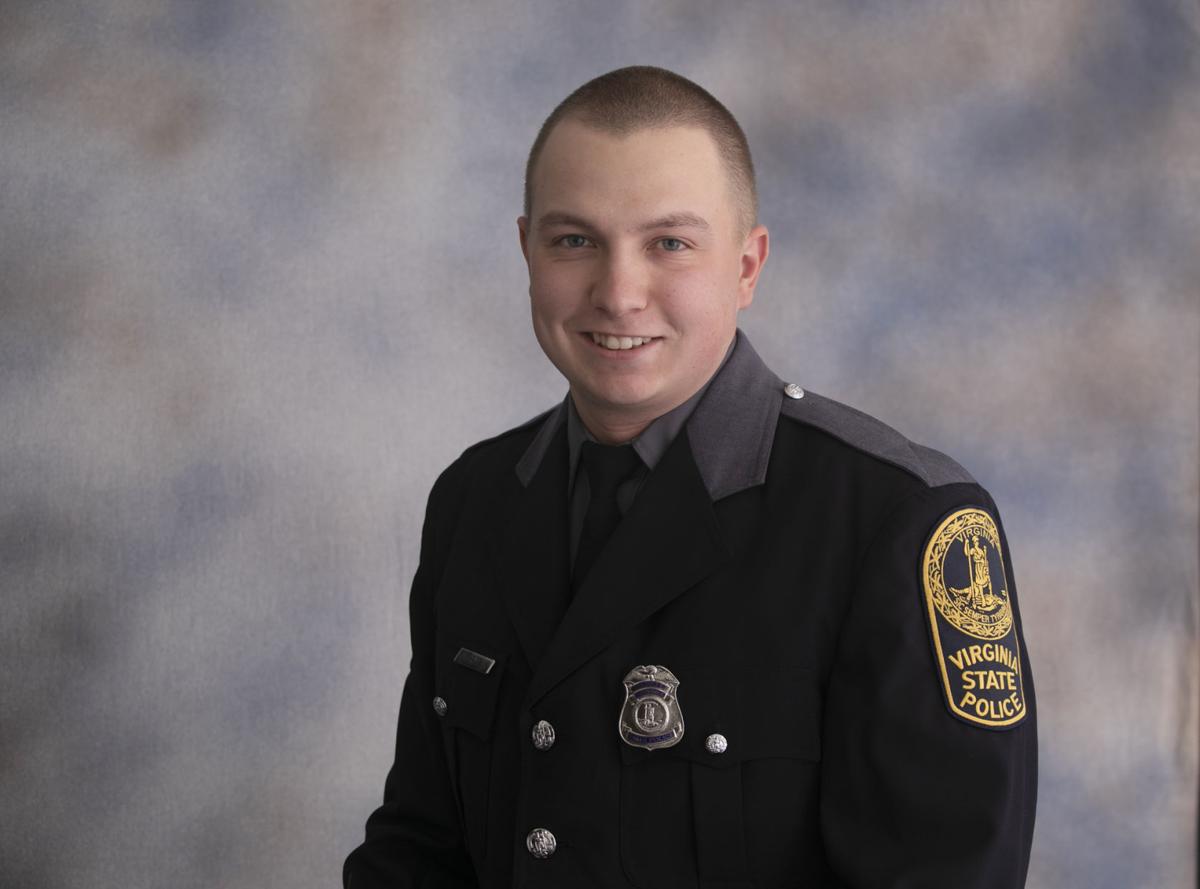 A Bland County native has joined the ranks of the Virginia State Police. Cody Edward Gray has been assigned to work in Russell County. He hits the road as a trooper on Monday.
This week, he and his wife, Rachel, are busy moving to Tazewell County.
Gray, 21, said his desire to become a trooper began when he joined the Bland Fire Department in 2017.
"I knew I liked helping people, and I got interested in it then," he said. "Once I was a first responder, I enjoyed it and thought it might be a good career."
The 2016 Bland County High School graduate also earned an associate's degree in science from Wytheville Community College. He started training at the VSP academy in August. He was one of 37 members of the 131st Basic Session to graduate March 17, in advance of their originally scheduled graduation date of March 20. In accordance with Gov. Ralph Northam's directives related to COVID-19, traditional commencement exercises were canceled for March 20 for the 36 new troopers and one new special agent accountant.
"This is the first time in decades that state police has had to postpone an Academy graduation ceremony," said Col. Gary T. Settle, VSP Superintendent. "However, this in no way diminishes the department's pride in or appreciation of these new troopers and Special Agent Accountant joining our ranks. We look forward to bringing these men and women and their families to our campus at a later date in order to properly celebrate their accomplishments of completing the Virginia State Police Academy.
"Since these graduates will not receive their official diploma until their graduation ceremony, each was presented a Challenge Coin," the colonel said. "They are the only State Police graduates to ever receive a coin from the Superintendent, which I hope they accept as a constant reminder of their oath to serve our commonwealth with valor and pride, especially during such challenging times."
The class has received more than 1,300 hours of classroom and field instruction in more than 100 different subjects, including defensive tactics, crime scene investigation, ethics and leadership, survival Spanish, police professionalism, firearms, judicial procedures, officer survival, cultural diversity and crisis management.
Gray looks forward to working as a trooper, but said if he had his choice, he would be a beef farmer like his father. He is the son of Penny and Frankie Gray.
"I would have farmed full time, but that just wasn't going to cut it; I needed something to pay the bills," he said.
On Monday, Gray will begin working with a field training officer for six weeks before patrolling on his own. Eventually, he hopes to work in Bland County. But for now, he is happy to be in nearby Russell County.
"Russell was as close as I could get," he said. "I'm the only person who got to come back to Southwest Virginia out of the academy, so I'm lucky," he said.
I'm excited to be out helping people and keeping everybody safe," he added. "I think it will be fun to watch for traffic violations and respond to calls. I've been training seven months for it. Now, I'm just ready to do it."
Be the first to know
Get local news delivered to your inbox!