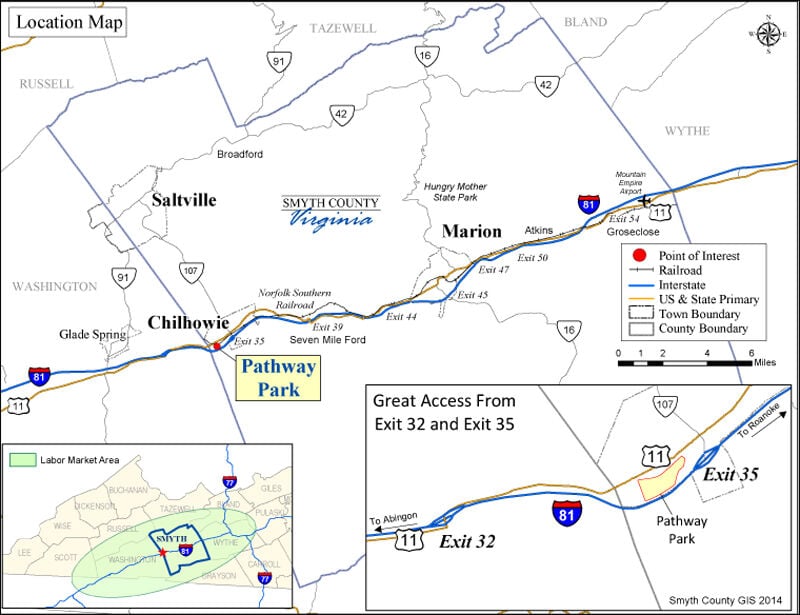 A prime piece of industrial land has been sitting unoccupied for more than a decade. Smyth County officials want to redevelop the 70-acre site and enhance its prospects. A neighbor may be willing to join the effort and help out.
During its October meeting, Smyth County Board of Supervisors agreed to hold a public hearing on establishing a Regional Industrial Facilities Authority with Bland County to further develop Pathway Park in Chilhowie. The park was created in 2012 when Smyth County received a $4.9 million grant from the Tobacco Commission to develop what was dubbed at the time as a mega site that was pad ready for a single large industry that could offer several hundred jobs and tens of millions in private capital investment.
Using the grant, Smyth's Economic Development Authority (EDA) bought the land for $3.2 million. At the time, it was home to a dilapidated building that was removed.
While much smaller than most mega sites, Pathway Park was promoted as being able to accommodate a building of up to 1.7 million square feet. The site is within a mile of Interstate 81's Exit 35 with 1,900 feet of I-81 frontage, 2,500 feet of rail siding for access to Norfolk Southern's services, and high-capacity fiber among other infrastructure.
Promotional materials for the park note that the park "offers market access to two-thirds of the U.S. population within a day's truck drive."
For all its advantages, Pathway Park still sits empty.
The EDA has been considering two concept plans for its redevelopment: maintaining the large single-industry plan or dividing it into two or three 200,000-square-foot lots.
County Administrator Shawn Utt noted Wednesday that when the land in the flood plain isn't considered only about 50 acres of the park are developable.
Utt also noted that the park needs a new sewer line installed as the existing one has collapsed. A larger water line would be an asset and the Virginia Department of Transportation would like to see access changes made. While this work is being done, Utt said, it would be advantageous to go ahead and put in the necessary erosion and sediment control measures, which would serve as a good selling point.
Officials are seeking grants to cover some of those costs and, last year, Virginia's Industrial Advancement Alliance awarded the EDA $20,000 for development costs.
However, Utt said, many such grants look for regional initiatives. In discussing the possibilities, he said, Bland County was willing to consider such a partnership.
Thursday, Bland County Administrator Eric Workman said, "Bland County has a long and positive history in partnering with our neighbors on economic development projects to foster a stronger local and regional economy. County boundaries do not restrict opportunities for residents and businesses to experience success. Thus, it makes sense for localities to collaborate with each other for economic development projects. The benefits include stronger local and regional economies as well as accessing developmental resources that are only available to regional projects."
Utt concurred, saying that regional partnerships open up more opportunities. He also said that neither county is going it alone to foot bills not covered by grants. He did note that as the host community in this case, Smyth would incur more costs and as such would receive more of any eventual proceeds.
For the two counties to form a Regional Industrial Facilities Authority, each board of supervisors would need to conduct a public hearing and then approve a partnership agreement, which is yet to be developed.
Smyth's supervisors agreed Tuesday to hold a public hearing at their Wednesday, Nov. 10, meeting.
Workman said Bland County's supervisors are scheduled to discuss the potential partnership at their next meeting. Should they want to proceed, he said, that locality's public hearing would likely be in December.