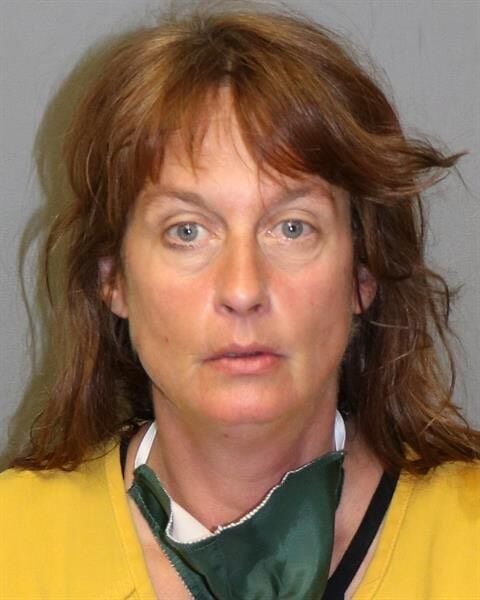 A fugitive suspect in the slaying of a Tazewell County man was arrested in Bland County and freed on bond a few days before police found the victim's body underneath a trailer.
Leslie Raquel Hackler, 48, of Princeton, West Virginia, was charged with felony drug possession on July 2 following a traffic stop by Bland County Deputy J.P. Agee. She's wanted in Tazewell County on a conspiracy to commit second-degree murder charge in the death of 45-year-old David Allen Hayes, whose body was found July 10 in Bland County. Leslie Hackler's sons, 25-year-old Justin Michael Hackler of Bastian and 21-year-old Joshua Mitchell Hackler of Tazewell, have already been taken into custody on second-degree murder charges in Hayes' death.
In a criminal complaint, Agee said Leslie Hackler was the passenger in a pickup truck he stopped in the Grapefield area for crossing the center line.
"Upon interaction with the driver I noticed the passenger appeared to be lethargic in her reactions," Agee wrote. "…She was asked if she had any illegal item on her, she stated maybe, she stated then I'm not sure."
After his police dog indicated the presence of drugs in the truck, Agee searched Hackler's skull-emblazoned makeup bag and found "a white crystal-like substance, identified by my training and experience as methamphetamine."
"This was also stated by the accused who admitted to using the substance a few days prior," Agee wrote.
With a criminal record that included charges of driving suspended and delivering drugs to an inmate, Hackler, who also has a pending drug charge in West Virginia, was released on a $5,000 bond with a July 15 arraignment set in Bland County General District Court.
As of Tuesday, police were still looking for Leslie Hackler who is 5-foot-5 with brown eyes and brown hair.
Deputies found Hayes' body while looking for evidence of an illegal bear kill. Hayes had been reported missing in Tazewell County on June 29, and police said Justin Hackler made statements about killing a black bear that was getting into his trash and burying it underneath his trailer.
In search warrants, investigators said they believed Hayes was killed with a small-caliber weapon. Officers collected a gun, ammunition, cell phones and other items from the 91 Rosebush Lane residence that hid the body.
A Tazewell High School graduate, Hayes was survived by five daughters and two sons, according to his obituary.
Being held without bond, Justin and Joshua Hackler have Sept. 25 preliminary hearings set in Tazewell County General District Court.
Be the first to know
Get local news delivered to your inbox!