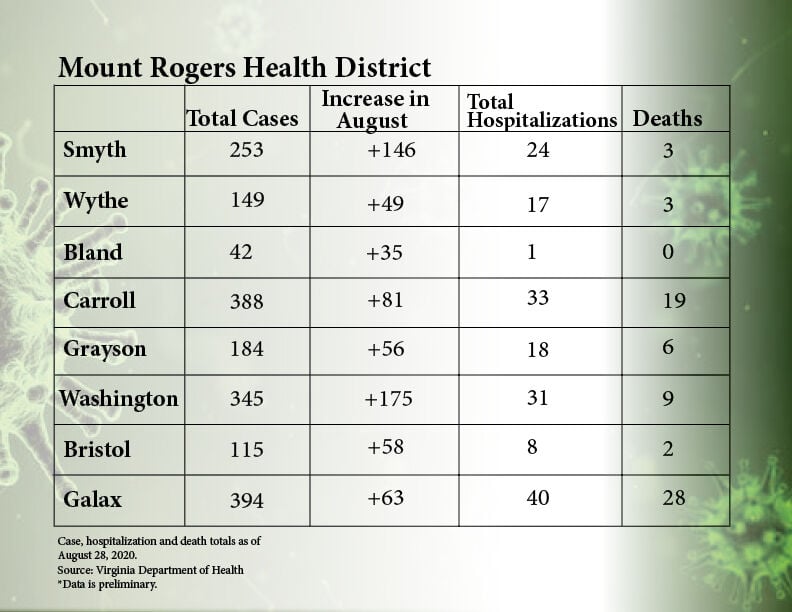 Smyth and Washington counties have seen the largest jumps in novel coronavirus case counts within the Virginia Department of Health's Mount Rogers Health District this month.
Smyth County recorded 146 new cases of the virus since the end of July, bringing its total case count to 253 on Friday. Washington County, which saw 175 new cases this month, now totals 345.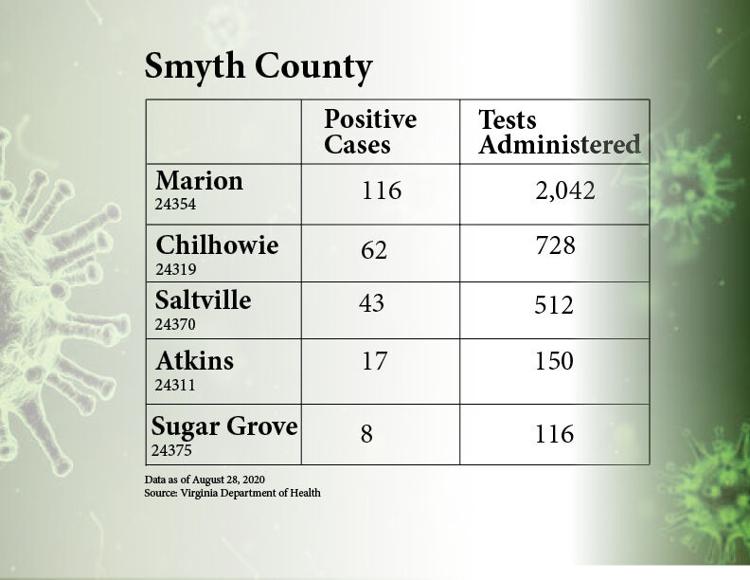 Increases in both of those counties began to gather steam in mid- to late-July and the counties have steadily added to their totals throughout the month of August.
Like Smyth and Washington counties, Wythe County also began to see increases to its case counts in mid-July, but in August, those increases began to slow, leaving the county to add only 49 cases between the end of July and Friday, bringing the total to 149 cases.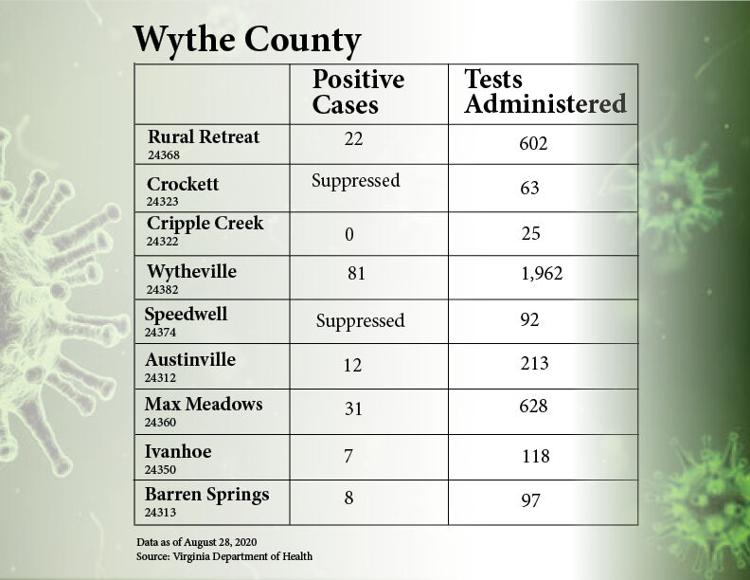 According to the  VDH website, Bland County's case counts grew by 35 this month, bringing its total to 42. Carroll County had 81 new cases, for a total of 388, Grayson County had 46 new cases, bringing its total to 184, and the City of Bristol had 58 new cases for a total of 115.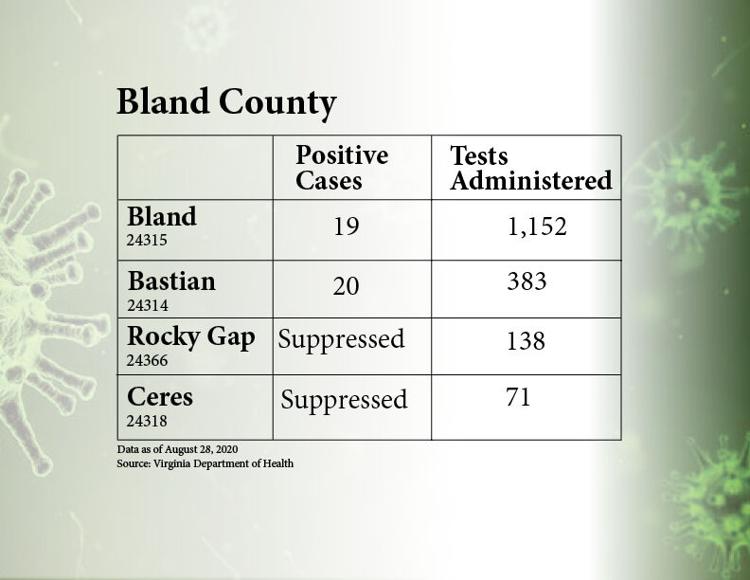 By contrast, Galax, which leads the state in infection rate by population and has caught the attention of the Centers for Disease Control and Prevention, has had relatively few new cases this month. According to the website, the city reported 63 new cases, however, health district officials said 32 of those cases were backlogged from an outside lab that doesn't report directly to VDH. 
Mount Rogers Population Health Manager Breanne Forbes Hubbard said the increases in Smyth, Wythe and Bland counties can be attributed to things like summer travel, people being out in the community for summer activities, family gatherings and religious services, among other things.
"We have substantial community transmission throughout our district and there are no longer any zero-risk environments, only situations where risk is mitigated," Hubbard wrote in an email. "We anticipate seeing a rise in cases in our region and across the commonwealth as schools return and people continue to resume daily activities. We would, of course, be delighted to not see such an increase, and encourage everyone to wear masks, practice social distancing, and avoid crowded gatherings to help keep our numbers down."
Hubbard said there has been general compliance among local businesses with the mask mandate, but the health district regularly receives complaints about business violations from the public.
"VDH staff (or the appropriate licensing agency staff) responds to complaints with education about the importance of wearing masks," she explained. She did not say if the health district has cracked down on any businesses for noncompliance.
She added that complaints regarding members of the public violating the mandate while in a business can also be submitted on the VDH website. In those situations, she said, health officials can provide additional resources and support to businesses.
In total, the health district, which encompasses six counties and two cities, has had 1,870 total cases of the illness since the pandemic began, with 172 hospitalization and 70 deaths as of Friday.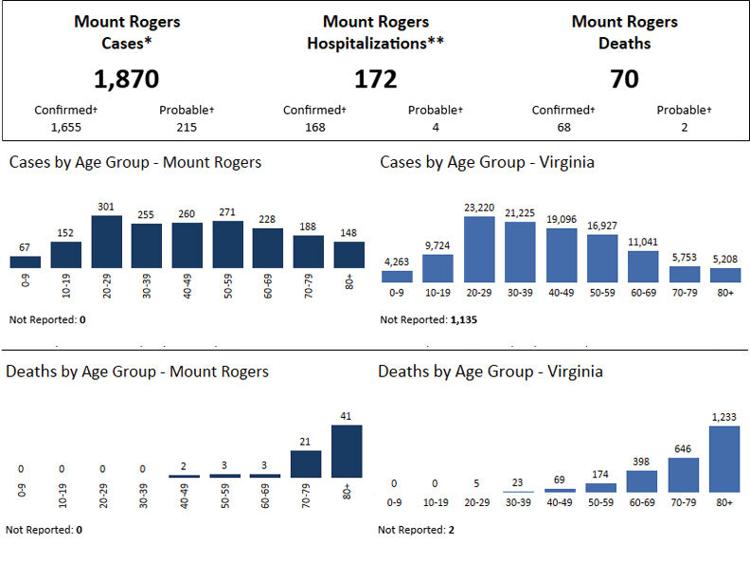 Data provided on the VDH website shows that people in their 20s, 30s, 40s and 50s have relatively consistent numbers of infection in the Mount Rogers Health District. Those between the ages of 20 and 29 lead the health district, with 301 cases, followed by the 50 to 59 age group with 271, the 40 to 49 age group with 260 and then the 30 to 39 age group with 255. 
Individuals in their 80s and above account for only 148 cases in the health district and have the second lowest number of infections, however, they account for highest number of deaths with 41 as of Friday. Individuals between the ages of 70 and 79 account for 188 cases and 21 deaths. According to the data, two people in 40s, three people in their 50s and three people in their 60s have died as a result of the virus in the health district. 
It is unclear at this time how many of the district's 1,870 cases are currently active. The health district briefly made recovery numbers available to the public as a courtesy, but discontinued doing so in late May. Until the end of July, county officials were provided the number of individuals who were cleared from isolation, allowing them to determine active case counts in their localities, which some made public.  
While VDH discontinued that courtesy at last month's end, Hubbard said health officials have coached county leaders on how to calculate active cases.
"Although we do not provide recovery/active case data, we have told county administrators that a way to approximate active cases is to look at the last 10 days of new cases, since people are typically contagious for 10 days after they develop symptoms," Hubbard said. "This is not an official count of active cases, but a general idea of the number of people who may be contagious in a locality."
Smyth County Emergency Management Coordinator Charlie Harrington has said keeping track of active case numbers helps local leaders prepare and plan. He previously made active case numbers available on the Smyth County Emergency Management's Facebook page, but once VDH stopped providing the numbers, he said he did not feel comfortable making estimates public for fear of inaccuracies.
Wythe County officials, on the other hand, are still making their approximate numbers available on officials' Facebook pages. As of Friday, the county reported 58 active cases. Emergency Coordinator Curtis Crawford said the county uses CDC guidelines, which call for additional criteria to be factored in, to calculate their numbers.
According to its website, VDH does not track recovery numbers.
The website states, "Our data reflect a snapshot in time when the case is reported to us and we are not performing subsequent interviews or data collection. Most cases occur in people who do not need to be hospitalized, so it is safe to assume that many of these people recover at home. There is not a reporting structure in place to track their recovery."
Among the data the VDH does provide on its website is positivity rate by health district. According to the site, the Mount Rogers Health District currently has a 7-day average positivity rate of 10%. Statewide, the positivity rate is at 6.8%.
More information on COVID-19, including demographics, testing, outbreak and other data can be found on the VDH website at www.vdh.virginia.gov.
Concerned about COVID-19?
Sign up now to get the most recent coronavirus headlines and other important local and national news sent to your email inbox daily.