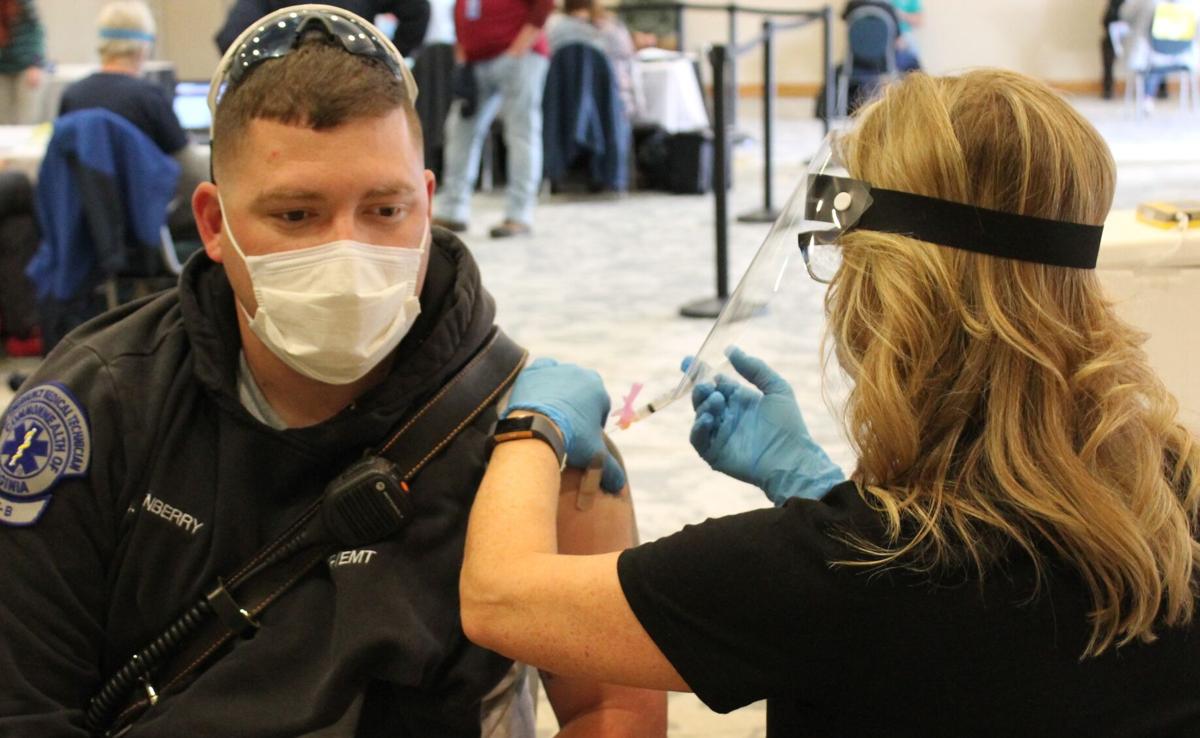 Health districts in Southwest Virginia moved into Phase 1b of vaccination distribution on Monday, expanding the number of people now eligible to get their first doses of the coronavirus vaccine.
The Virginia Department of Health made the announcement on Friday saying the number of people in priority group 1a – healthcare personnel and long-term care facility residents – differs across the state.
"We're very excited to be going into Phase 1b today," said Dr. Karen Shelton, director of the Mount Rogers Health District and interim director for the Lenowisco and Cumberland Plateau health districts.
"In phase 1b, we are moving into essential functions of society who have high risk because of their occupations," she said.
Among those in the first tier of Phase 1b are police officers, firefighters and hazmat workers, followed by corrections officers and homeless shelter workers in tier two, and then K-12 school teachers and staff, childcare workers and those who are 75 or older in tier three.
Shelton said vaccination began in all three tiers on Monday and continues to be by appointment only.
A large number of law enforcement officers have already received their first vaccines under the 1a group. As first responders, Shelton said, many of those officers provide medical care such as CPR or administer Narcan, and so qualified under the first group.
"So now, we're doing the rest of law enforcement, as well as firefighters and hazmat," she said.
Health officials are working to identify people who fall into the 1b group according to their employers. Shelton said employers in group 1b may contact their local health department's vaccination team to inquire about eligibility.
"This will be in a roll out fashion and as we are able to get more allocation of the vaccine from the state, we'll be able to roll into the groups throughout Phase 1b," she said.
Each health district receives weekly shipments of the vaccine.
The health districts are working with community partners such as Ballad Health, Wythe County Community Hospital and Twin County Regional Hospital, Food City pharmacies and others to create points of access for individuals over 75 years of age. That group is one of the most vulnerable populations when it comes to the virus. Additional community partners are expected in the coming days and weeks.
"We know that our senior citizens have had a great burden of disease as far as morbidity and mortality associated with COVID, so we're thrilled to be offering vaccines to those who are 75 and older," Shelton said.
According to VDH demographic data, individuals in that age group are disproportionately impacted by the virus. The three health districts have seen a combined 473 deaths associated with COVID-19. Those in the 70-plus age group represent 385 of those deaths.
A full list of community partners can be found on each health district's page on the VDH website. The health districts will also hold vaccine clinics at various locations throughout the districts.
Local health department phone lines have been overwhelmed since the region made the shift, Shelton said, but she encouraged individuals and employers to continue calling back. VDH is developing an online tool to help individuals determine eligibility and register for the vaccine, she said. That tool should be online soon.
Regarding schools, Shelton believes beginning vaccinations in school systems will go a long way in reaching the community at large. She pointed out that the region's school systems tend to be major employers in the counties and cities they serve.
"So by being able to vaccinate this group of people, that will have a great impact into our community," she said. "Many of our schools have also been operating in-person when much of the state was going virtual, so we're very thrilled to be able to give our school systems protection through the vaccine."
The Virginia Department of Corrections, which receives its own allotment of vaccine will be administering first doses to corrections officers and other staff, while local health departments will be working with regional jail systems to vaccinate jail staff and then offenders when allocation permits.
"We know that any congregate setting is at high risk for outbreaks with COVID," Shelton said. "We know that our long-term care facilities, as an example, is our most medically vulnerable and elderly, and we've had very poor outcomes in general from our outbreaks in long-term care facilities.... Another large congregate setting there is your jails or your Department of Corrections or other prison systems, so when the CDC made the priority groups and the state of Virginia followed that, they do have those offenders counted as part of 1b."
Outbreaks have been seen at the Bland Correctional Center, Marion Correctional Treatment Center and Pocahontas State Correctional Center. One death was reported at the Marion facility and three were reported at the Pocahontas facility, according to the VDOC website.
Shelton, who is temporarily heading the Lenowisco and Cumberland Plateau health districts, said that position has helped in coordinating the roll out in the region. Shelton took over following longtime LHD and CPHD Director Sue Cantrell's retirement. VDH is currently searching for Cantrell's permanent replacement.
Partnering with local hospital systems and pharmacies has also helped the coordination effort and allowed the region to move into Phase 1b ahead of most other regions, she said. Shelton believes those and future partnerships will continue to allow the region to steadily move forward.
"A combination of the health systems and the health departments working together, I feel, was our great strength in being able to get as many vaccines to our healthcare providers initially, as we have."
Shelton also credits the region's experience conducting flu vaccine clinics and point of dispensing training.
"In Far Southwest Virginia, which is Mount Rogers, Lenowisco and Cumberland Plateau, we give flu vaccines every year through our schools systems. We go into every single school in our districts and give flu vaccines, so our staff is well trained on being able to do mass vaccinations and I feel like our training and good practices that we've kept for our communities over the years brings itself to our ability to transition now into COVID vaccinations."
Vaccines must be scheduled, Shelton said, as supplies are limited. Appointments for second doses will be made when individuals receive their first dose of the vaccine. 
Vaccinated individuals will reach partial immunity two weeks after receiving their first dose of the vaccine. Max immunity can be expected two weeks after the second dose, Shelton said. 
More information on vaccination eligibility and where it is being distributed can be found online at www.vdh.virginia.gov. Each health district has its own list of community partners distributing the vaccine.