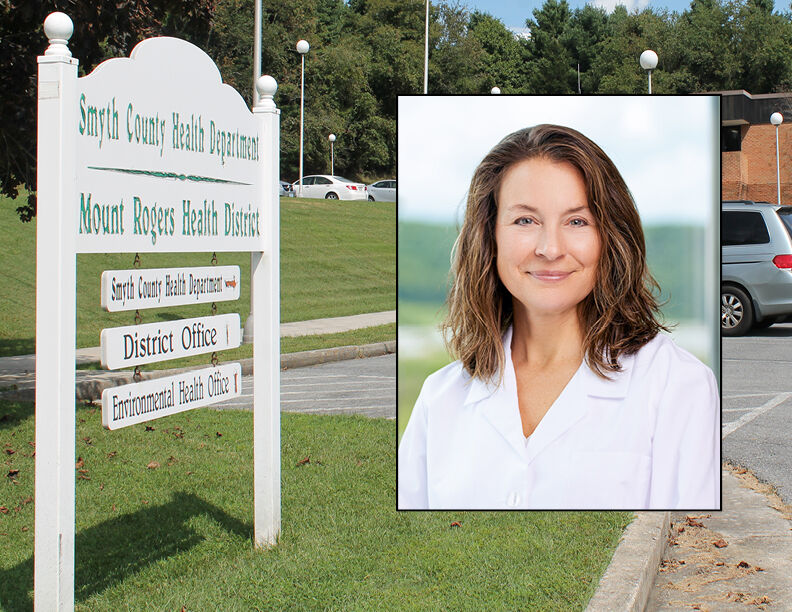 After five years of heading the Virginia Department of Health's Mount Rogers Health District, Dr. Karen Shelton is heading to Bristol, where she'll help lead the Bristol Regional Medical Center as the hospital's vice president and chief medical officer.
Shelton took the reins of the Mount Rogers Health District in June 2016 and at the beginning of 2021, she became acting director of the Lenowisco and Cumberland Plateau health districts, essentially putting her at the helm of most of the region's public health amid a global pandemic. The three health districts span from Bland County to Lee County.
"Dr. Shelton has had an incredible impact on the health of Southwest Virginia residents during her tenure as health director," said health district population manager Breanne Forbes Hubbard. "She engaged in a wide variety of community initiatives, regularly provided expert-level knowledge and exemplary leadership."
Mount Rogers Community Services Director Sandy Bryant said Shelton's partnership both before and during the pandemic has had a great impact on the community.
"She has been a tremendous partner across the board and the fact that she has been able to do that through the COVID crisis speaks highly about her ability to step up in a crisis," Bryant said.
During her time as director of the Mount Rogers Health District, Shelton came to be regarded as a front runner in the fight against some of the area's most pressing health concerns, spearheading a number of programs and efforts to address substance use disorder and neonatal abstinence syndrome within the health district.
Prior to working in public health, Shelton practiced obstetrics and gynecology for 19 years in Bristol, Tenn., where she also held leadership roles at the Bristol Regional Medical Center. After caring for women and their babies for nearly two decades, Shelton began looking into new ways to use her knowledge and skills to help the public.
"I had really enjoyed my career taking care of individual people one-on-one, but as I looked into other opportunities, I found public health and I have really loved public health," Shelton said in a recent interview. "I have enjoyed the opportunity to kind of impact health on a more regional level."
During the second half of her time in private practice, Shelton had shifted her focus more toward gynecology and hadn't delivered babies in several years, so she when she began researching public health issues within the health district, she was shocked to learn that the area had some of the highest rates of neonatal abstinence syndrome in the state. At the time, Smyth County ranked number three for children being born with NAS.
"When I came in and found all the difficulties that our region was having regarding neonatal abstinence syndrome births and the rates that we had in our localities compared to the rest of the state, I was astonished," Shelton recalled. "So I quickly tried to learn about neonatal abstinence syndrome and about what we could do to support families with substance use disorders."
From there, Shelton brought together coalitions of stakeholders to address those rates. Work groups were launched at each of the districts delivery hospitals-- Johnston Memorial Hospital in Abingdon, Wythe County Community Hospital and Twin County Community Hospital in Galax-- to try to marshal community resources for families struggling with addiction.
"A lot of great work was done regarding neonatal abstinence syndrome," Shelton said, "and how we could help to provide resources to the families in our community was a big focus early on."
Shelton was also a prominent player in a consortium of community stakeholders led by Smyth County Community Hospital to address addiction in the community. That consortium stemmed from a 2018 collaborative community needs assessment that ultimately pointed to addiction as being one of the area's biggest health risks, with neonatal abstinence syndrome births,  overdose rates and the spread of Hepatitis C being among the top addiction-related concerns. Assessments in other counties in the health district had similar results.
Bryant said those assessments helped pave the way for some much needed programs in the Mount Rogers Community Services catchment areas. Mount Rogers Community Services and the Mount Rogers Health District serve much of the same areas.
"Those community assessments that she and her team took the lead on across the catchment area have really brought out the needs for substance use services and mental health services in our area," Bryant said. "When you can do a community assessment – and she actually got quite a few surveys done—those surveys have helped Mount Rogers (Community Services) to find the need in our area so that we have been able to successfully obtain grants to get those services."
Bryant pointed to the CSB's Project LINK as an example. Project LINK is a program designed to help expecting mothers and mothers of young children overcome addiction.
Shelton often spoke with local government bodies, and consulted with everyone from local prosecutors to ministers to help bring awareness of addiction and its impact on the health and well-being of the community.  In 2018, Shelton joined then Smyth County Community Hospital CEO James Tyler at a board of supervisors meeting where they presented their concerns to the county's leaders and pitched the idea of launching a Comprehensive Harm Reduction program in the county. Sheriff Chip Shuler was a huge advocate in that initiative and with his endorsement, the Smyth County program became the third Comprehensive Harm Reduction program to be launched in the state and the second in the region. Wise County launched its program in 2017.
The program allows addicts who use intravenously to exchange used needles for clean ones, which helps lower the spread of diseases such as Hepatitis C and HIV. While there, participants also receive referrals to other programs and services, including substance use treatment.
"Comprehensive Harm Reduction meets people who are in active addiction where they are and works with them until they're ready for treatment and recovery," Shelton said.
She noted that addicts who participate in the comprehensive harm reduction programs are five times more likely to go into recovery and that the Smyth program has had a number of participants to make that transition.
"So, we do feel like the Comprehensive Harm Reduction program is an important bridge for those who are in active addiction until they're ready to go into recovery," Shelton said.
Smyth County Sheriff's Chief Deputy Johnny Joannou lauded Shelton's efforts and her partnership with the sheriff's office.
"Dr. Shelton's great and we're going to miss her," Joannou said. "She's definitely been a supporter of ours and the community, and she cares about the community a whole lot."
Joannou pointed to the health department's NARCAN training and supply as another important way their partnerships have helped the community. A state initiative, REVIVE training teaches people how to recognize an opioid overdose and how to administer medication to reverse it. Police now carry it in case they encounter someone who has overdosed.
"They've supplied the officers with NARCAN and they continue to to this day," Joannou said.
Shelton said REVIVE training has proved useful during the last year within the health district. But, though the health department does not yet have current numbers locally, Shelton said overdose deaths across the state had significantly increased over the last year. Amid the pandemic, a lot of programs and resources to treat or otherwise address addiction were either temporarily suspended or altered. Shelton said it seemed that a lot of the progress made in reducing drug overdose deaths in the state had just vanished during the pandemic.
 "It's been a difficult year-and-a-half for recovery," she said. "The resources for referrals have really not been as up and going, so we have a lot of work going forward to really get people back to utilizing a lot of those resources."
After the first cases of COVID began to hit the health district in March 2020, the health department's focus shifted primarily to pandemic response. The health district experienced a number of large outbreaks at long-term care facilities, as well as some in other settings, including police agencies.
Shelton again worked closely with local governments, school systems and other agencies to keep them informed and provide guidance.
"She's always been available when you need her," Joannou said. "With the crisis we had come down with COVID, she was always there for us, to guide us. She played a big role in that."
Under Shelton's leadership, the Mount Rogers Health District led the state in its vaccine roll out early on, and was able to move forward with vaccination efforts ahead of the rest of the state throughout the process. 
"COVID-19 created unprecedented challenges for public health," Hubbard said. "Community partnerships have flourished during Dr. Shelton's tenure in Southwest Virginia, and never were these more important than during COVID-19 response."
In leading all three health districts since January, Hubbard said Shelton was able to develop "a united Southwest Virginia approach to COVID-19 response and public health planning." In late May, Shelton testified before the United States Congress about area's vaccination efforts.
But, while Mount Rogers led the state when the roll out began, vaccination rates have become stagnant in the region in recent months, Shelton said.
"Despite our vaccination efforts in Southwest Virginia, we have a lower uptake of vaccinations than the rest of the state and so we are concerned about the risk for surges and outbreaks in Southwest Virginia," she said.
Shelton said the region has seen some cases of the Delta variant of the virus, which spreads more quickly and causes more severe illness. Until her transition to Bristol Regional Medical Center on Aug. 23, Shelton will continue to oversee the three health districts' tracing, mitigation and vaccination efforts. At that time, an interim director will be appointed until Shelton's replacement has been named.
In announcing her recruitment to the BRMC team, a Ballad Health release praised Shelton's work in public health in Southwest Virginia.
"Dr. Shelton is a proven leader in our community and an exceptional physician," said BRMC CEO Chad Couch. "Having worked with her for many years, I know she is highly respected among our medical staff and is an excellent fit for our organization. I'm very excited to welcome her to Ballad Health."
Shelton said she found her career in public health very fulfilling. "I wish I would have found it earlier in my career, but I have enjoyed public health very much," she said.
Though she's leaving a public health setting, Shelton believes her public health background can still benefit those the hospital serves by helping patients find resources to improve their healthcare and well-being once they leave the hospital.
"So, I'll be using that public health lens as I work in the hospital setting."
Though she's sad to leave public health behind, Shelton said she's confident she's leaving the three health districts in good hands.
"I have really enjoyed working with the Virginia Department of Health's Mount Rogers Health District, and more recently with the Lenowisco and Cumberland Plateau health districts. We have very strong leadership teams in place who have a true passion for our community's health and I know that our community's public health will be well-guarded and well taken care of through those local health departments."
But Shelton's partners in Southwest Virginia hate to see her go.
"She shines brightly as an example of public health and is a credit to the commonwealth," Hubbard said.
Bryant said, "She's a true team player, a true professional and it's a great loss for our community."