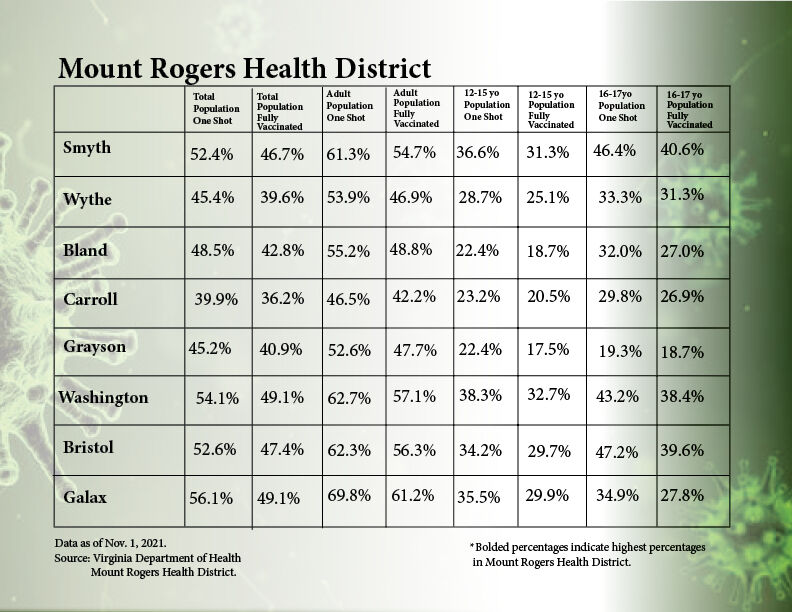 With the CDC anticipated to give the green light for children ages 5 to 11 to get vaccinated against COVID-19, local health departments are making plans for distribution.
The Food and Drug Administration authorized the Pfizer-BioNTech vaccine for emergency use in children in that age group last Friday. The CDC's Advisory Committee on Immunization Practices is meeting today to discuss and make its recommendation.
Ahead of the decision, Mount Rogers Health District Population Health Manager Breanne Forbes Hubbard said parents should speak with their children's doctors about any questions or concerns they may have regarding vaccination.
"We are thrilled about the possibility of providing COVID-19 vaccines to this age group," she said. "We know that getting our younger school children vaccinated means less transmission in schools, less quarantines, and fewer missed school days and activities. We encourage parents to reach out to pediatricians and other trusted health sources for accurate information and answers to their questions about this vaccine."
Hubbard said the Virginia Department of Health expects that all children will have access to the vaccine over the coming months, but due to production and distribution constraints, supply of the lower-dose vaccine will be limited at first.
Vaccines for children between 5 and 11 will come in lower doses, and will be required to be produced and packaged into smaller vials, meaning existing doses in storage cannot be used for these smaller children.
 "We know that pediatricians are a trusted source of health information, and often a comfortable, familiar setting for children," Hubbard said. "We encourage families to check with their pediatricians for COVID-19 vaccine appointments for their children. We are also working to schedule clinics at schools, and will have some vaccine appointments at local health department offices. Some pharmacies will also be offering vaccines."
Once the vaccine is authorized, school systems are expected to send out scheduling information. According to a release from Mount Rogers, the clinics are being planned for the first few weeks in November and will be held after school hours. To help avoid wasting any doses, appointments will be made in blocks of 10. Parents must accompany children being vaccinated.
Children twelve and up have been eligible for vaccination since late spring, shortly after Virginia expanded eligibility to all adults and children 16 and older. But, despite wide availability, the Mount Rogers Health District has seen a slow uptake.
In mid-September, the health district said its vaccination rates were substantially lower than the rest of the state.  As of Monday, 70.1% of the state's total population had received at least one shot. By comparison, Carroll County, which has the lowest vaccination rate in the state, was at 39.9%. Also in the top ten lowest vaccination uptake was Grayson County, ranking seventh lowest with 45.2%, and Wythe County, at number nine with 45.4%. On Monday, 48.5% of Bland County's population, 52.4% of Smyth County's population, 47.4% of the Bristol's population, 54.1% of Washington County's population and 56.1% of Galax's population had gotten at least one dose.
For vaccination rates by age group see the table accompanying this report.
Local data, including vaccination rates, case numbers, hospitalizations and deaths can be found on the VDH website at www.vdh.virginia.gov. Once vaccination eligibility is expanded to 5- to 11-year-olds, information on availability can be found at www.vaccinate.virginia.gov, or by calling 1-877-VAX-IN-VA.