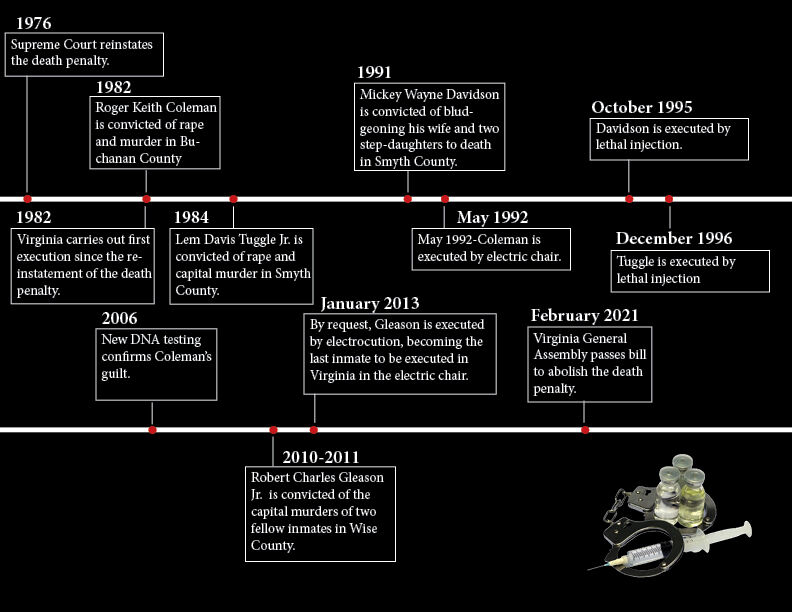 Although most lawmakers in Southwest Virginia voted against abolishing capital punishment, it doesn't appear the death penalty's demise will have a large impact on the area.
Since Virginia resumed carrying out executions in 1977, nine people have been put to death for convictions in the southwest region, according to data from the Death Penalty Information Center. Statewide, that number is 113.
Of the nine Southwest Virginia executions, only four were carried out for crimes committed in far Southwest Virginia -- two from Smyth County and one each from Buchanan and Wise counties. Of those, only one was carried out since the 1990s. The other five executions stemmed from crimes committed in Roanoke and Montgomery counties.
Roy Evans has been Smyth County's commonwealth's attorney for 32 years. He's one of just a few prosecutors in the region to have handled a case that resulted in a death sentence.
In his three decades as the county's top prosecutor, he's only requested the death penalty in one case. The other Smyth County death sentence was prosecuted by Evans' predecessor, Danny Lowe.
Evans said several factors come into play when considering whether to request capital punishment or an alternative, chief among them being the victim's family's input.
When the death penalty is requested, he said, "The case is scrutinized so thoroughly it takes years and years to see it carried out and that's just a time of great anguish for victims. If they're willing to plead guilty to life without parole and the victims are satisfied with that, it was just better for the victim and the community."
While Evans has prosecuted an untold number of horrific crimes in his three decades in office, he said the case against Mickey Wayne Davidson, a Saltville resident who murdered his wife and two step-daughters in 1990, was the only one in which he requested the defendant be put to death for his crimes.
"I thought that was a particularly outrageous and egregious set of facts," Evans said.
Davidson was convicted in 1991 of bludgeoning his 36-year-old wife, Doris Davidson, and her daughters, 14-year-old Mamie Clatterbuck and 13-year old Tammy Clatterbuck, to death with a crowbar.
According to a Supreme Court of Virginia decision, Davidson said in his statement to police that he killed his wife and step-daughters after Doris had decided to move back in with her children's father.
"He was supposed to come and get them yesterday," Davidson said in the statement made the day after the murders. "I just couldn't stand to see her go back. I just couldn't stand to see them go back. So...I just took a crowbar and killed them, Doris and the two kids."
Davidson didn't put up much of a fight during his court proceedings, opting to plead guilty and instructing his attorneys to present no evidence in his defense. But, while he wasn't opposed to his conviction, he spent the next few years intermittently fighting his death sentence.
Davidson initially asked his attorneys not to file an appeal in his case. Just three days before a scheduled 1992 execution date, however, Davidson changed his mind, and his lawyers asked the Supreme Court of Virginia to commute his death sentence to life in prison. The court declined Davidson's appeal and affirmed the Smyth County Circuit Court's sentence.
He spent the next three years flip-flopping on whether or not he wanted to fight his sentence, sometimes asking to expedite his execution and other times fighting to block it.
Davidson maintained that trend right up until the end. In the months before his October 1995 lethal injection, he decided he would fight no more, saying he deserved to die for what he did.
On the morning of his execution, a relative made a last-minute bid for a stay of execution, arguing that Davidson was not mentally competent to waive his appeals. That night, however, Davidson wrote a note to then Gov. George Allen, saying "I do want the execution to proceed as scheduled."
Mickey Wayne Davidson was put to death by lethal injection at the Greensville Correctional Center in Jarratt later that night.
"I've always felt that if it was fairly and carefully applied, the death penalty was a deterrent and that we should have it," Evans said.
But while he supported capital punishment, Evans conceded that those in opposition made some pretty valid arguments against it.
"I've read Senator [Tim] Kaine's statements about racial disparity and they're pretty compelling," he said.
Kaine, like Gov. Ralph Northam, argued that the death penalty was disproportionately applied to people of color. The two men have also pointed to the possibility of wrongfully executing an innocent person.
Kaine's strong opposition to the death penalty stems not only from his Catholic religion, but also from his experiences with death sentences.
Before he was a U.S. Senator, and before he became Virginia's governor in 2006, Kaine, an attorney by trade, represented two Virginia death row inmates during their appeals. One of those inmates was the first of the two Smyth County inmates to be executed.
Though he didn't mention him by name, Kaine briefly recalled walking the locally notorious and nationally known Lem Davis Tuggle Jr. into the death chamber in an op-ed penned for the Washington Post last month.
"I represented another executed in 1996, walking him into the death chamber and holding his hand while he was strapped to the table for the state to kill him by lethal injection," Kaine wrote.
A twice-convicted murderer, Tuggle, of Chilhowie, landed on death row after his conviction in the 1983 rape and murder of 52-year-old Jessie Havens in Marion. At the time of Havens' murder, Tuggle had been out on parole for just four months for the 1971 strangulation death of 17-year-old Shirley Brickey.
Tuggle made headlines and struck fear into the hearts of people along the east coast when he and five other death row inmates escaped from the Mecklenburg Correctional Center in 1984. The escape-- the largest death row escape in the nation's history-- prompted police searches from North Carolina to Vermont.
Tuggle was recaptured nine days later in Vermont, about five miles from the Canadian border.
For 12 years, Tuggle fought his death sentence, the end of his fight with Kaine by his side. Twice he went before the U.S. Supreme Court and had his sentence overturned on grounds of constitutional violations, only to have it reaffirmed in the lower courts.
Evans recalled that at one point, a federal judge had overturned Tuggle's conviction ruling that his constitutional rights had been violated during his prosecution.
"I will never forget getting a call from the Associated Press asking me for my reaction, because that was when I first heard about it," he said.
Evans, who was not involved in Tuggle's initial prosecution, would have to retry the case within six months or the state would have to release him.
"I just remember being shocked," Evans said.
In the end, the federal court's decision was overturned and Tuggle's conviction reaffirmed.
Tuggle, who converted to Catholicism during his incarceration, told reporters a week before his execution that religion had helped him surrender himself to the idea of death.
After Gov. George Allen denied a final request for clemency, Tuggle, like Davidson, was put to death by lethal injection at the Greensville Correctional Center on Dec. 13, 1996.
"These searing experiences face-to-face with the humanity of my clients, made me pray for the day when Virginia would discard the brutal institution," Kaine wrote in his op-ed.
In contrast to just about every other death row inmate, Robert Charles Gleason Jr. landed there on purpose. Imprisoned at Wallens Ridge State Prison in Big Stone Gap with a life sentence on a 2008 murder conviction out of Amherst County, Gleason offed his first cellmate by strangling him with a bed sheet in 2009.
Gleason vowed to continue killing until he was given the death penalty, telling the Associated Press, "I murdered that man cold-bloodedly. I planned it, and I'm gonna do it again. Someone needs to stop it. The only way to stop me is to put me on death row."
Gleason made good on that promise. After he was moved to the "supermax" Red Onion State Prison on the other end of Wise County, he strangled a second inmate.
Gleason pleaded guilty to both killings and got his wish of a death sentence. When his attorneys tried to have his execution blocked, arguing that he was not competent to waive his appeals, Gleason fought against it. The U.S. Supreme Court denied a last-minute effort to have Gleason re-evaluated just hours before his sentence was carried out.
The last person to be executed by electrocution in Virginia, Gleason was strapped to the electric chair by request on January 16, 2013.
Among the best known of Virginia's death row inmates, Roger Keith Coleman became the poster boy for the argument against the death penalty, drawing media attention from across the nation and around the globe.
In 1982, the Grundy man was convicted of the rape and murder of his 19-year-old sister-in-law and sentenced to death. Among the evidence used to convict him were hair and blood samples taken from the crime scene and Coleman's clothing. Early DNA testing pointed to Coleman, but the science in those days wasn't as conclusive as it is now.
Coleman was able to convince an organization that investigates wrongful convictions of his innocence and his case became the center point of the argument against capital punishment. He did interviews with numerous newspapers, made the cover of TIME magazine and made a voice appearance on the Phil Donahue Show.
For years Coleman and his advocates fought appeal after appeal, losing each one. Despite international protest, including from the Pope, Coleman was strapped to the electric chair on May 20, 1992.
Although he failed an eleventh-hour polygraph test at his attorneys request, Coleman proclaimed his innocence until the end, saying with his last words, "An innocent man is going to be murdered tonight. When my innocence is proven, I hope Americans will realize the injustice of the death penalty."
Years after his execution, capital punishment opponents, along with a handful of prominent newspapers, fought to have Coleman's DNA tested with more modern technology believing it would prove that Virginia had executed an innocent man.
Although the courts denied the testing, 14 years after Coleman's execution, then Gov. Mark Warner approved it in 2006. It was only the second time in the U.S. that DNA evidence had been examined post-execution.
The results confirmed Coleman's guilt, showing that there was a one in 19 million chance that semen found on the victim belonged to someone other than Coleman.
It was a blow to the death penalty's opposition.
However, while DNA testing reaffirmed Coleman's guilt, it had already proven another Virginia death row inmate's innocence.
In 1984, Earl Washington Jr. was convicted of the '82 rape and murder of a 19-year-old woman in her Culpepper apartment.
An intellectually disabled man, Washington was manipulated into confessing to the crimes, according to the Innocence Project. Nine days before his scheduled execution in 1985, a law firm was able to secure a stay of execution for Washington.
Eight years later, DNA testing excluded him as the woman's rapist, but because Virginia law only allows 21 days after sentencing to request a new trial because of new evidence, the revelation could not exonerate Washington.
He spent nine more years, for a total of 18, before he was released from prison on parole. In 2000, Gov. Jim Gilmore pardoned Washington of the capital murder conviction, paving the way for that release. As governor, Kaine issued Washington an absolute pardon in 2007.
Northam mentioned Washington's case in his January State of the Commonwealth address in which he announced his intention to see the death penalty abolished in Virginia.
"In the time it took to get the right people to look at that evidence, this innocent man came within nine days of being executed. Ladies and gentlemen, we cannot do this," Northam said. "If 10 days had passed, we would ask ourselves today-- how did Virginia execute an innocent man?"
Abolishing the Death Penalty
Final passage of the bill abolishing capital punishment took place Feb. 22 and Northam signed it into law on Wednesday, making Virginia the first state in the south to abolish the death penalty.
The majority of Southwest Virginia legislators voted against the measure, save for the 6th District's Del. Jeff Campbell, who also serves as a criminal defense attorney.
Sen. Todd Pillion was also not completely opposed to its abolition. He told the Bristol Herald Courier his vote against the bill came after lawmakers failed to ensure that those convicted of aggravated murder would spend life in prison.
"[In the Senate] we did offer an alternative that would have abolished the death penalty, that required a mandatory life sentence without parole for someone committing any type of aggravated murder, not just the murder of a police officer," Pillion told the Courier. "And of course, that alternative proposal failed on a party-line vote."
As it stands, Virginia does not offer parole across the board, but there has been a push to restore it in recent years. For Evans, that's the bigger concern-- not just for capital cases, but for others, too.
"That would have more effect on the average community and victim than the repeal of the death penalty, I think, because thankfully-- knock on wood-- we don't have that many capital offenses in this area. But, we have lots of cases where people are going to be sentenced and possibly be released on parole if they bring it back."
Likewise, Wythe County Commonwealth's Attorney Mike Jones was more concerned about other recently passed legislation concerning the justice system.
When asked to comment on the repeal of capital punishment, Jones said, "I believe the bigger issue is the legislature's elimination of jury sentencing, in effect taking away the voice of the community to sentence an individual who has committed a crime in their own back yard."
Passed last fall during the 2020 special session, the new law hands the sentencing of those convicted during a jury trial to a judge.
Capital punishment has grown so scare in Virginia that only two people in the entire state remain on death row. The last state execution took place on July 6, 2017, and the last death sentence given in 2011.
The law abolishing capital punishment in Virginia takes effect July 1.