Let's be honest. S'mores are pretty perfect just the way they are in their classic form: graham crackers, marshmallows and squares of Hershey's chocolate. But sometimes you feel like playing with perfection, or at least I do, and s'mores are easy and fun to give a creative, tasty spin.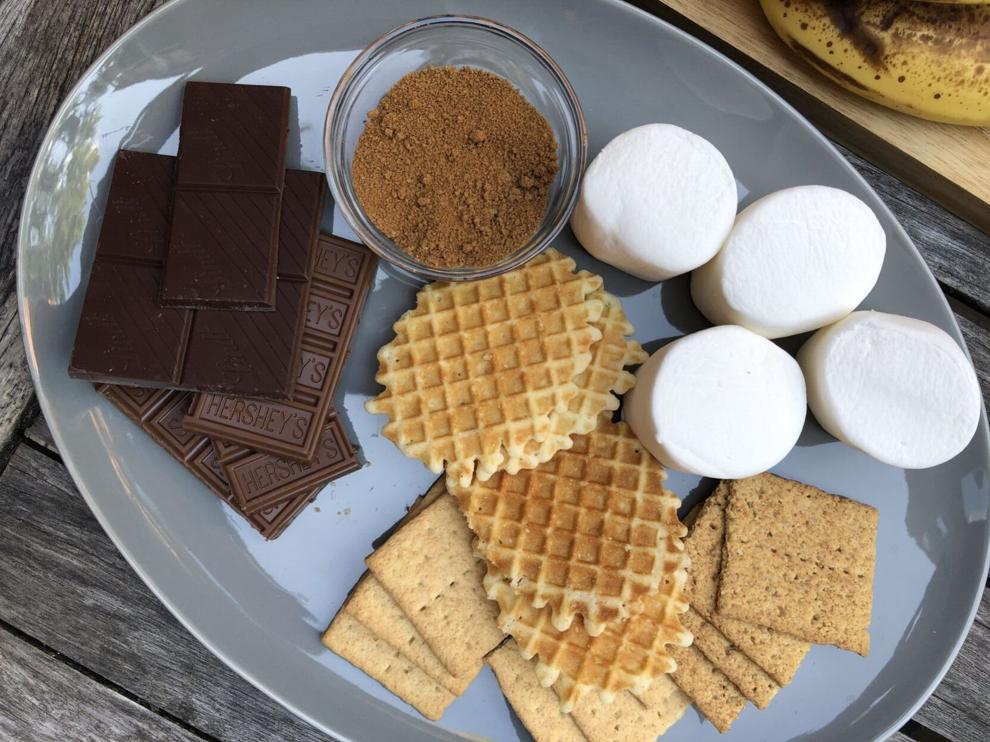 First, consider the cookie. Graham crackers are ideal for s'mores because they're study and flat and not too sweet – they are a good vehicle for the gooey filling. When substituting a new cookie for your s'mores, don't pick anything too delicate or too bulky. In the recipes I'm sharing with you here, I went with a cinnamon graham cracker to pair with cinnamon-dusted grilled bananas and a Belgian-style buttery waffle cookie to go with candied bacon.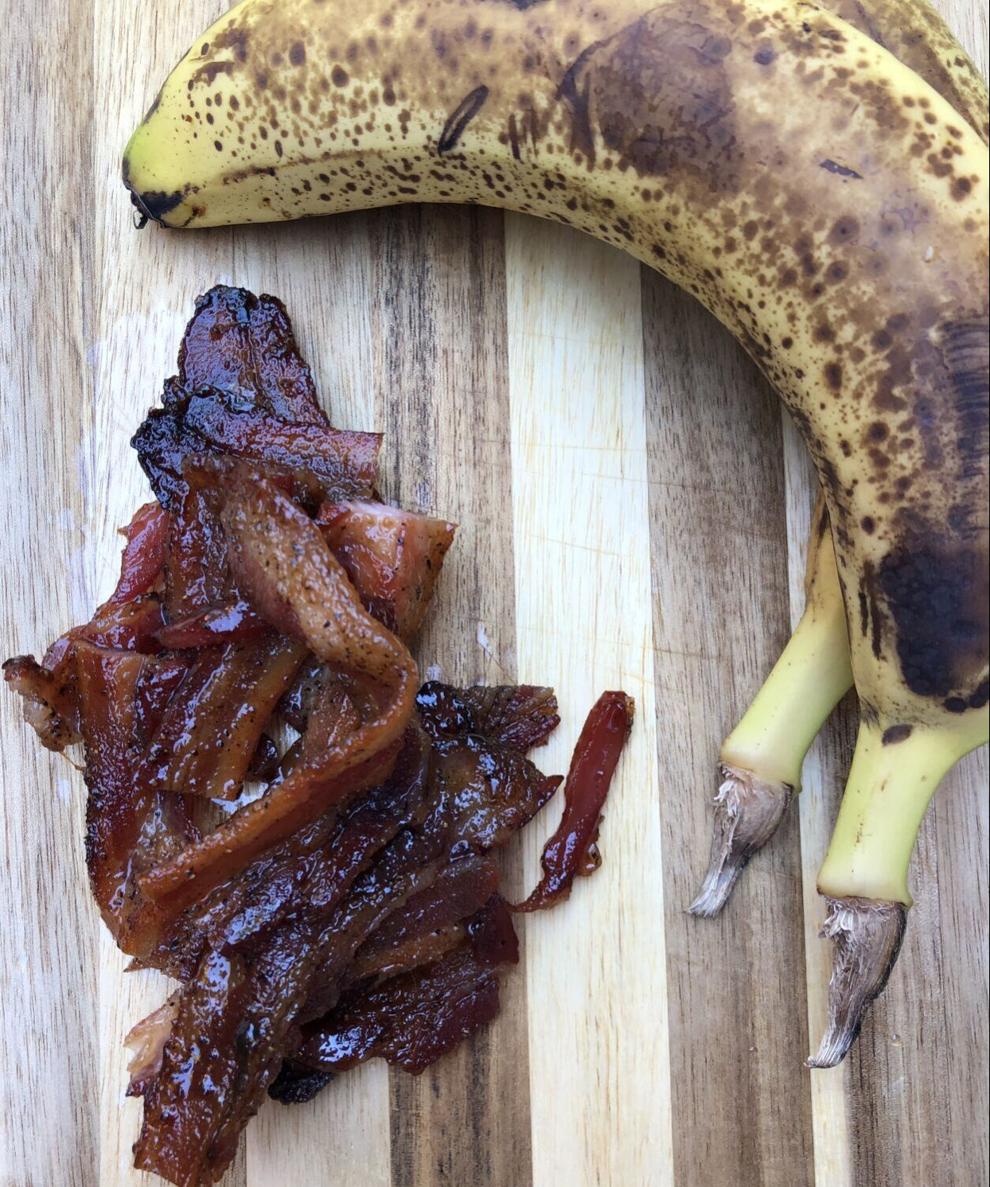 Next, consider the chocolate. Straight up Hershey's is wonderful, but there are so many chocolate variations, from creamy white chocolate to deep, dark chocolate, which is my personal favorite. You can find lots of fun chocolate bar flavors in your grocery store that feature spices, dried fruit, nuts and extracts. Pick and choose and play with flavors that appeal to you.
As far as the marshmallow goes, don't mess with the original. Yes, you can get fancy handmade marshmallow these days, but you want the mass-produced, super-sweet Jet-Puffed-style marshmallow that will toast up perfectly on the exterior while getting that creamy, dreamy, melty texture on the interior. 
Last, and this is the fun part, consider your add-ons. Here, I offer recipes for candied bacon, which is easily made ahead, along with grilled bananas that you can pop on the fire and will only take a few minutes. You can layer on fruit preserves, a bit of leftover pie, a spoonful of caramel, a swirl of Nutella… just have fun with it. Give into your sweet tooth and pile on the decadence – s'mores around the campfire are the perfect celebration of summer.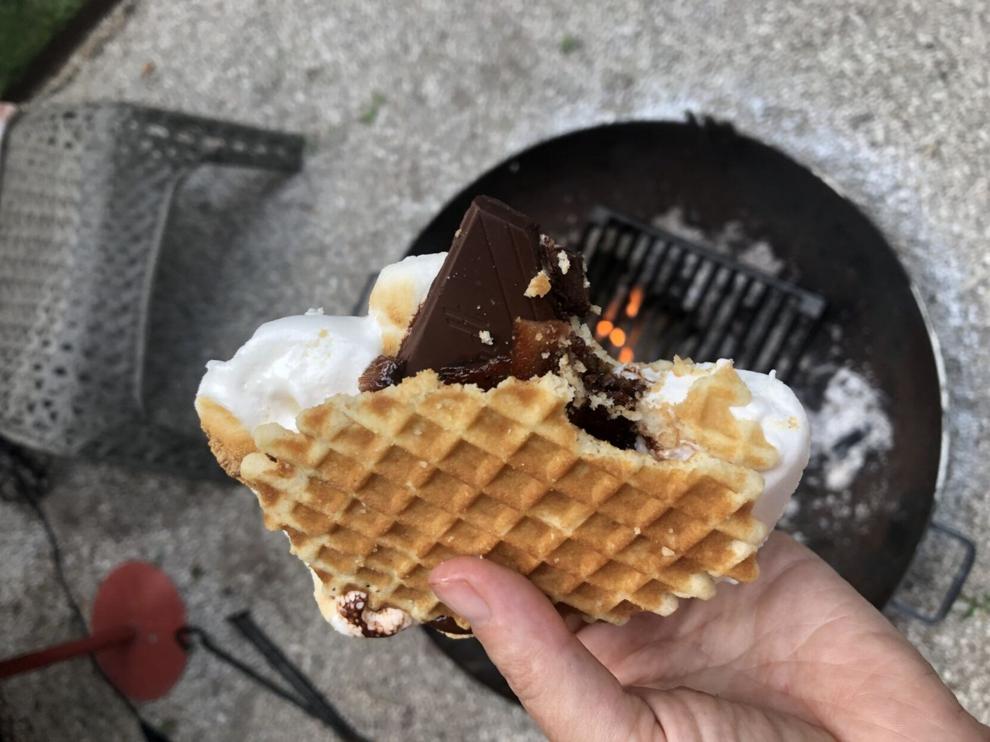 Emmy-winning host Cat Neville is the publisher of Feast Magazine and the producer of tasteMAKERS, which airs nationally on PBS. She has been in food media for about 20 years and when she's not on the road, she can usually be found playing around with new flavors in her St. Louis kitchen.
Candied Bacon S'mores
6 slices thick-sliced bacon
¼ cup brown sugar
2 tsp freshly ground black pepper
marshmallows
dark chocolate
Belgian-style butter waffle cookies
| Preparation | Preheat oven to 325 degrees. Toss bacon in a bowl with brown sugar and black pepper, lay on baking sheet and cook for 15 to 20 minutes until crisp – keep your eye on it to be sure the sugar doesn't burn. Remove bacon to a platter to cool, then break each piece in half.
At the campfire, roast a marshmallow and place on butter waffle cookie, top with dark chocolate square, a slice or two of candied bacon and finish with another butter waffle cookie.
2 bananas
2 Tbsp brown sugar
2 tsp cinnamon
marshmallows
milk chocolate
cinnamon graham crackers     
| Preparation | Cut bananas in half with skin on and sprinkle with cinnamon and sugar. Grill bananas cut-side down for a couple of minutes and then flip, grill for 4 to 5 minutes more, until bubbly around the edges. Remove to a plate while you roast your marshmallow. Layer roasted marshmallow on a cinnamon graham cracker with milk chocolate, some grilled banana and then top with another cinnamon graham cracker.
This content was produced by Brand Ave. Studios in collaboration with the sponsor. The news and editorial departments had no role in its creation or display. For more information about Brand Ave. Studios, contact tgriffin@brandavestudios.com.