The University of Virginia Health System has joined a nationwide study to evaluate two repurposed medications in the search for an effective and safe treatment for mild-to-moderate COVID-19 infections.
A double-blind study, ACTIV-6 expects to enroll nearly 15,000 participants from across the U.S. to study the effectiveness of both Ivermectin and Fluvoxamine, according to a release from UVA Health.
"While we have some great new drugs for COVID-19 in outpatients, like Paxlovid and Sotrovimab, supplies are limited and it's still important to find potential new treatments," said Dr. Patrick E.H. Jackson, principal investigator for the clinical trial at UVA Health. "Because the drugs we're studying are cheap and widely available, they could have a huge global impact if we find they're effective for COVID treatment."
Both drugs are already approved by the U.S. Food and Drug Administration for treatment of other disease or conditions. Fluvoxamine is a selective serotonin reuptake inhibitor (SSRI) often prescribed for depression. The medication was identified as a potential COVID-19 treatment based on sepsis research conducted by a UVA neuroscience researcher and a former graduate student. Ivermecitin is currently approved to treat parasitic infections. Study participants would receive "carefully calibrated" doses of the drug formulated for humans.
Researchers are looking for participants 30 years and older, who have had a positive COVID-19 test within the last 10 days and who have at least two symptoms of the illness. Symptoms include fatigue, difficulty breathing, fever, cough, nausea, vomiting, diarrhea, body aches, chills, headache sore throat, nasal symptoms and a new loss of sense of taste or smell.
Volunteers can participate from home. Participants would be asked to track their symptoms over a 90-day period through online surveys. Medications will be shipped at no cost to participants.
While case numbers have begun to wan in the Mount Rogers Health District from the Omicron surge, active case counts are still relatively high compared to previous numbers. Currently, the district's 7-day positivity rate is nearly three times higher than the state's.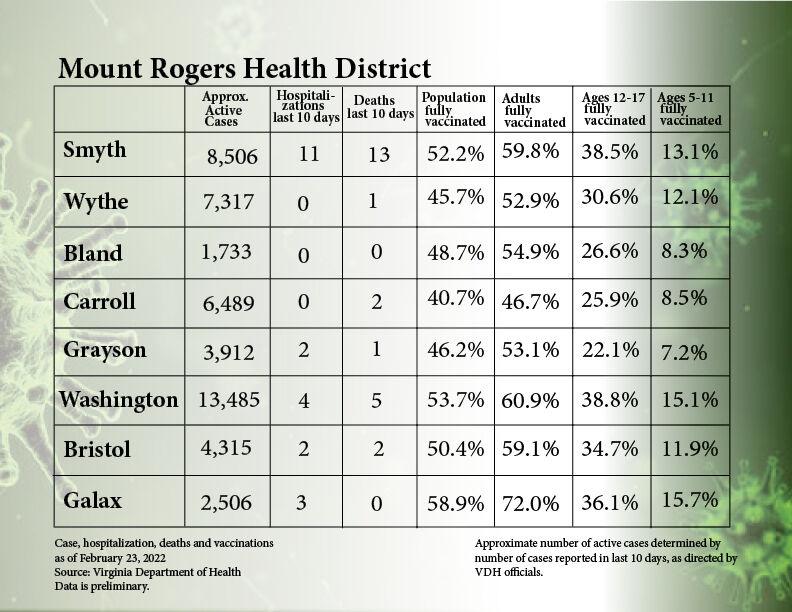 On Tuesday, Smyth County had approximately 370 active cases. The VDH reported 11 hospitalizations and 13 deaths in the last 10 days. A large jump in the death total was seen last Wednesday and was likely the result of a backlog in reporting.
Wythe County had approximately 191 active cases, with no hospitalizations and 1 death reported in the last 10 days. Bland County had approximately 49 active cases, with no hospitalizations or deaths reported in the last 10 days.
Those interested in participating in the ACTIV6 trial can get more information by visiting www.activ6study.org or by calling 1-833-385-1880.