BRISTOL, Va. — Passersby have no doubt witnessed the colorful external transformation occurring at 703 State St., and, in a couple of months, they can see — and hear — what's going on inside the Cameo Theater, owner Brent Buchanan said Friday.
Buchanan, who acquired the historic former movie house in November 2017, can barely contain his enthusiasm for the lineup of live music he is currently booking to perform inside the 535-seat venue.
"The Cameo Theater is getting ready to rock again. In fact, it's going to rock like it never has before," Buchanan said.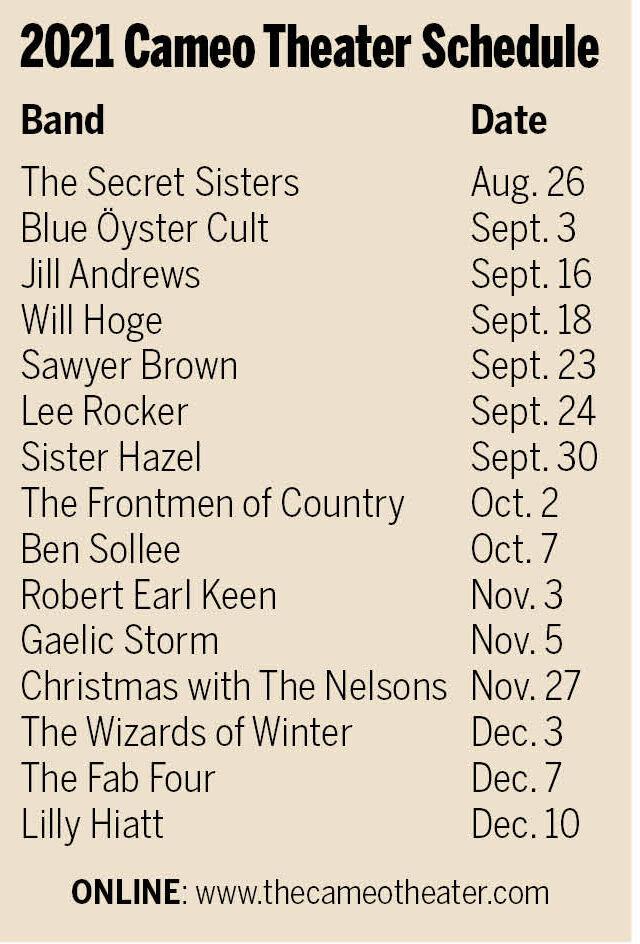 Renovations have consumed more than three years, but a partial listing of upcoming shows went live on the theater's website Sunday, with the first — Americana duet The Secret Sisters — planned for Aug. 26. Among the bands already committed to play there are the original Blue Oyster Cult, Sawyer Brown, Robert Earl Keen, Gaelic Storm, Fab Four (the Beatles tribute band), Frontmen of Country (featuring Larry Stewart of Restless Heart, Tim Rushlow, formerly of Little Texas, and Richie McDonald of Lonestar), Sister Hazel and Lee Rocker, formerly of Stray Cats.
"We've got 30 or more shows booked, but we won't release all of them at first. Blue Oyster Cult is coming Sept. 3, and people can buy tickets for that June 13. We'll release some now, but people will have to keep going back and checking the website and social media," Buchanan said.
Tickets for all those shows are now on sale.
"I can't wait for people to be able to come in here and make new memories," he said.
The theater's signature marquee received a whole new look thanks to BurWil Construction and Snyder Signs.
"We wanted to try to elevate the downtown and create something unique, and I think it's the front the Cameo deserves going into its next hundred years. We wanted to set the tone, and first impressions make all the difference," Buchanan said. "The first few designs weren't very good, but you could see it was coming. We fine-tuned it. … I credit Snyder Signs with pulling this off. … It's a showstopper."
Renovating the interior has been a lengthy process, but Buchanan said the finish line is in sight.
"When I came in here, sewer was running down the wall, ceilings were falling in, the trim was falling," he said. "This was a great structure that was left basically for dead."
Working alongside his father, Stanley Buchanan, and with contractors, all the plumbing has been redone, electrical work has been updated, new drywall installed along with paint, tile and trim. There is also a new sound system.
About two weeks of work, including installing carpet, final painting and adding a few remaining speakers, are among the final unfinished touches. He originally planned to do the renovation in phases, but ultimately decided to complete all work before opening.
"We have completely revolutionized the Cameo. In the main seating area, we were able to save and restore the original trim in the main area," he said, adding that some of the original wood in the lobby was also reclaimed and reused.
The reopening was also impacted by the global pandemic that virtually shut down all live performances for more than a year.
"We want to be a good partner for downtown. We're not going to be a restaurant and bar; we're here to entertain people," Buchanan said.
While admittedly new to the entertainment business, Buchanan said he learned working in the funeral industry that customer service is crucial.
"To me, every business is about customer service," he said. "When a person walks in the [Cameo] front door, the show's got to be good, the lighting, the air conditioning, the heat. Is your beer cold? Did you have a good time? When they walk out, you want them to want to come back."