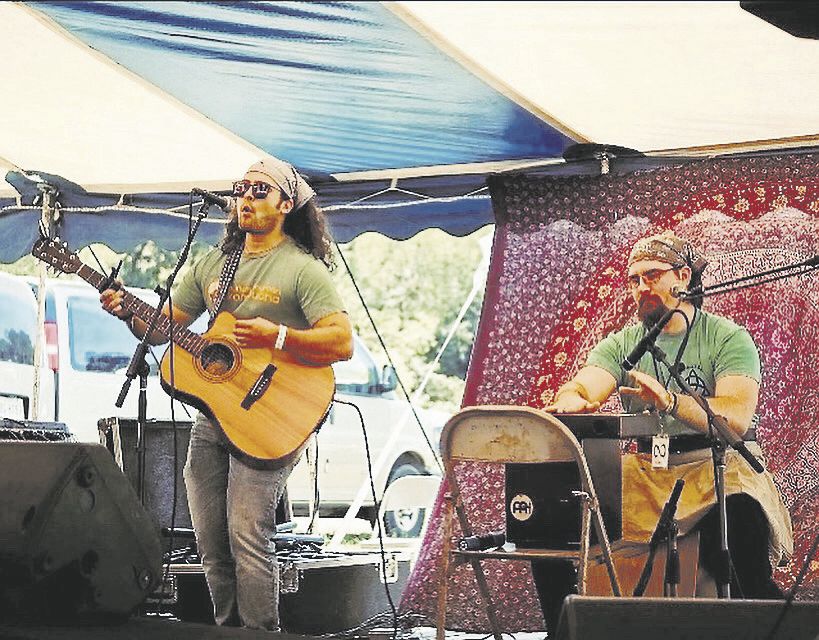 Big things are happening at Dogtown Roadhouse, a local favorite for delicious pizza, ice cold beers on tap and live music every weekend.
Although obviously some things have changed during lockdowns necessitated by the coronavirus pandemic, Lila Lamanna, who works as a publicist for Dogtown, said that overall, the establishment has adjusted "really well."
"You're doing the best you can with what you have, and it's nothing compared to having people in-house at the bar, coming and going, but we've had a really wonderful show of support from the community," said Lamanna. Dogtown has been offering its food curbside for the past several weeks, and recently announced the reopening of its decks for outdoor seating. "We've definitely got to connect to customers on a different level of understanding, of value," she added.
Lamanna said the staff misses "being able to hug people and joke around with them," inside of Dogtown's four walls, but has been working to help Floyd locals recreate the Dogtown experience at home to the greatest extent possible. Part of that effort has been offering food and beer to-go, and now, Lamanna said the bar is also working to "stay connected with the community on a music level" by offering regular livestreams of local artists.
"We were missing having live music and providing live music, and we know our local community especially has been missing hearing their favorite musicians," Lamanna said. "We thought it was kind of cool, the idea that you can have the whole Dogtown experience from home."
Jake Retting is a self-described "contemporary folk with a reggae twang" artist who has lived in Floyd for the past five years. The Springhouse Community School, he said, brought him to Floyd, and currently he's studying in a graduate English program at Radford University, hoping to one day be a teacher.
He got his start performing at Dogtown's Open Mic Nights, which happened each Sunday prior to the pandemic. "It just seemed like such a welcoming community and a good way to network, and it was," Retting said of the Open Mics.
Retting grew a social network around these weekly events, and even booked his first couple gigs in Floyd as a result of performing at Dogtown. The friendships Retting has formed are strong, and lots of local musicians get together once a month for "Music Potlucks," or did prior to the stay-at-home orders. "We gather at someone's house and everyone brings a dish," he described. Then the artists gather in a gratitude circle, eat good food, and "play music for the rest of the night…It's pretty sweet," Retting said.
Lamanna contacted Retting to see if he was willing to act as a guinea pig for Dogtown's livestreaming experiment. So far, Retting has performed from the Dogtown stage and streamed the performance on Facebook Live four times, on Fridays from 7-8 p.m.
Retting said he misses playing for a crowd—"It certainly doesn't have the same feel when you're playing for a computer," he said, but he's used this opportunity to collect tips for himself, and to split his earnings each week with local charities.
Right now, Retting said, being a musician is not an occupation for him, but more of a hobby. "I think it's something that most musicians dream of making an occupation, but in a small town like Floyd, there are so many musicians and limited venues," he said. "The money that I make playing music is more 'fun money'…last time I made money livestreaming, I used it to buy some new harmonicas," he said.
Normally, Retting explained, he would play with several other bandmates, rather than alone, and split any earnings from performing between all his fellow musicians. Since he's currently playing by himself, margins are a little wider.
"I figured with the little bit of travel that I had to do to get to Dogtown, and the fact that all the money would be going to me, it just seemed like it could be going to something more beneficial—especially in this time of crisis," Retting said. So far, Retting has split proceeds 50/50 with Floyd Friends of Asylum Seekers, Floyd Emergency Medical Services, and Plenty! Farm and Food Bank.
"The first (livestream concert) was really successful," said Lamanna. "He ended up being able to donate more than $100 to Floyd Friends of Asylum Seekers; it was really cool and encouraging." But Lamanna said the sound and video quality were not ideal for that first performance, and still haven't been perfected. It's a work-in-progress for the venue, which one day hopes to livestream all entertainment via a webcam feed on its website.
"It's been a really cool learning experience," said Lamanna.
Dogtown recently began offering online ordering, and the restaurant has also made changes to help support those who may be struggling financially during this tough time. Dogtown has extended its two-for-$20 pizza deal, which used to only be available on Thursdays, to every day of the week, Lamanna said. It has also made available via its online ordering platform a Pay-it-Forward program, where community members can choose to contribute to a fund that will cover a free meal for someone in need.
"We're concerned about the community and we want people to be able to eat dinner," Lamanna said. "And when somebody is having trouble doing that during this time with challenges with income, we want there to be options for people."
Stay up-to-date on what's happening
Receive the latest in local entertainment news in your inbox weekly!