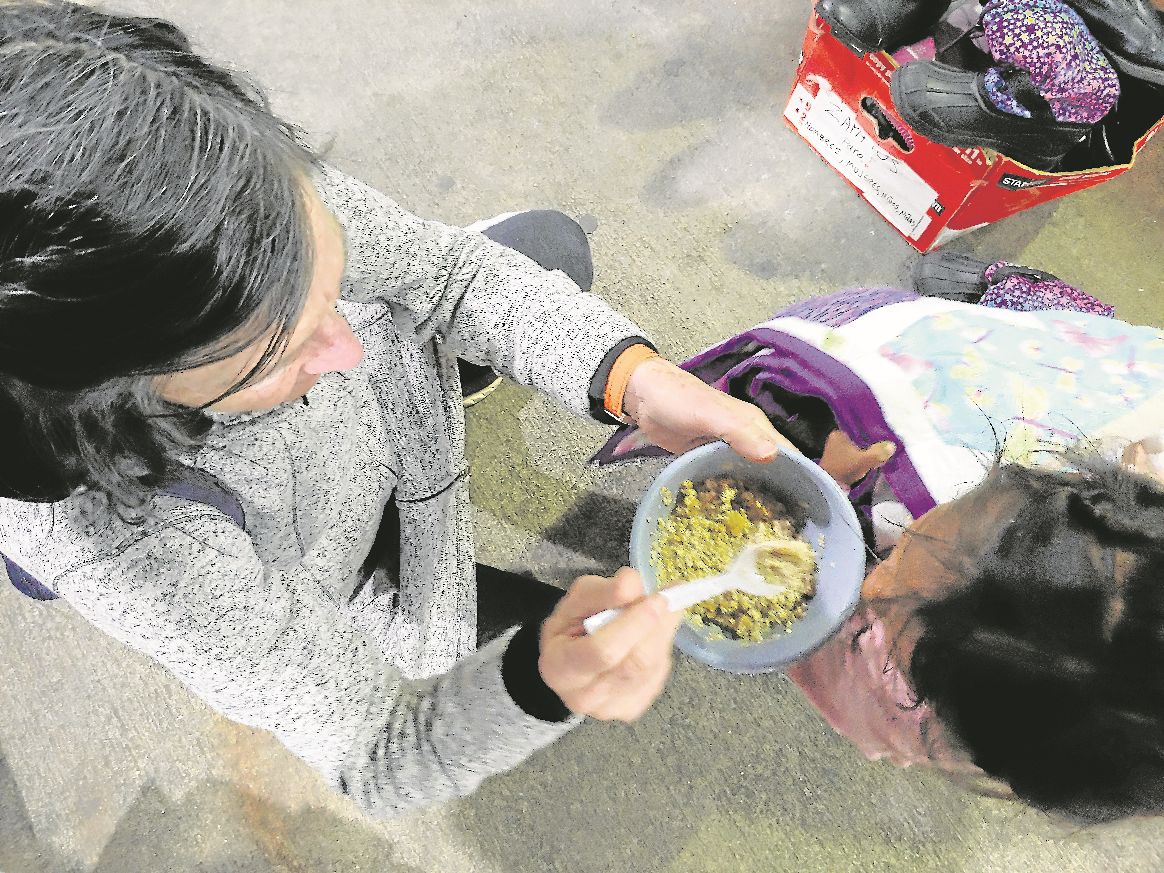 In February 2019, Tara Orlando met Byron at a bus station in Roanoke. Despite being outdoors in the middle of winter, Byron—a young asylum seeker on his way to Massachusetts to meet up with his brother—was wearing nothing but a t-shirt. Orlando offered the child a coat his size, that she had recently found while thrifting for supplies to provide to migrant travelers.
Weeks later, Orlando received a call from Byron, who was very sick. His sponsor while he waited for a ruling on his asylum request was his brother, who worked three jobs and was unable to take Byron to the doctor. Orlando reached out to her network, which includes what she referred to as the "Granny Brigade" and spans the entire nation, wondering whether anyone in Massachusetts could help. A contact in Washington, D.C. connected Byron with a friend in Boston who, miraculously, got Byron to the doctor and helped him secure the medical care he needed.
Interactions with this one young asylum seeker exemplify Orlando's larger pattern of work with the organization she leads, Floyd Friends of Asylum Seekers. Beginning in December 2018, Orlando began preparing home-cooked meals, packing backpacks with clothes, toiletries and snacks, and delivering them all to asylum seekers who passed through the New River Valley on their journey to new homes.
Since she began about 18 months ago, Orlando has recruited more than 500 volunteers to her cause, and collects donations from generous local folks who have heard about her work by word-of-mouth, she said. These volunteers hold "packing parties" where they fill backpacks or hand-sewn satchels with snacks, water bottles, toothpaste, soap, and deliver them to asylum seekers on a regular basis.
Since the coronavirus pandemic, volunteers have been unable to safely visit bus stations, Orlando said, but continue to provide medical, legal, food and transportation services to 14 migrants who have settled in Floyd County. "The labor of love continues," Orlando said.
The asylum seekers that Orlando and the Floyd Friends of Asylum Seekers help support are coming from the U.S.-Mexico border, even if Mexico is not their home country. Immigrants from all over South America, Africa and even Russia eventually filter through checkpoints and detention centers at our Southern border, Orlando explained.
A person may apply for asylum in the United States because they face destabilization, war, threat of violence or fear of persecution in their home country. Asylum seekers are often held in detention in ICE (U.S. Immigration and Customs Enforcement) facilities along the border, required to rent and wear ankle monitors upon release to sponsors, and asked to check in with ICE officers in either Richmond or Arlington, Orlando explained. But seeking asylum is legal—migrants are not criminals and have committed no crime by presenting themselves at the border. Therefore, Orlando said, many of the restrictions on migrants are arbitrary and unnecessary.
"Seeking asylum is not illegal," Orlando said, and requiring asylum seekers who go through Texas, for instance, to wear ankle monitors is "just trying to degrade them and make them feel less than human."
For Orlando and the Floyd Friends, the goal is to restore migrants' dignity and make their journey easier.
Prior to meeting buses, Orlando said, "I get up very early in the wee hours of the morning, to make a home-cooked meal. I felt like my labor of love was to give them some nourishment, something organic, some meat." Orlando said she and other volunteers typically have about 30 minutes to spend with the asylum seekers—time enough to ensure they have proper clothing and medications.
The organization Quilts beyond Borders has also donated more than 500 blankets to Floyd Friends of Asylum Seekers, which the Floyd group was able to pass on to needy travelers. Orlando speaks five languages, but said that if she or a volunteer encounter an asylum-seeker with whom they can't communicate, Google Translate usually works well enough that they can muddle through.
Outside of Floyd Friends' 500 members, the larger Floyd community has also contributed to the organization's efforts. In the past, Plenty! has helped hold fundraisers for the group, local churches have donated collection plates, and the group set up booths at both the Floyd Americana Fest and Floyd Yoga Jam.
Orlando said Floyd Friends of Asylum Seekers is a family affair—her granddaughter sometimes helps with packing parties. And as a mother, Orlando is particularly motivated to support asylum seekers. "I feel like since we're all immigrants and children of immigrants in this nation, unless you're Native American, I surely would not want my family treated (badly) when they came here," Orlando said.
"You have to be very brave. I have real respect for them. I'm a mother, and if I would've feared for (my children's lives), I would've done the same," she added.
Right now, 14 asylum seekers have already settled in Floyd County, and Orlando has helped them to access needed legal resources, as well as work. Oftentimes, Orlando said, asylum seekers have their possessions seized at the border, including any passport. Orlando helps connect them with lawyers so they can navigate getting those items back.
Asylum seekers also don't have the legal right to work for someone else in the United States until they've secured a green card, which is a sign of permanent residence. However, they can be self-employed, Orlando said. Four of the asylum seekers who recently arrived in Floyd are gardeners or have experience in food production. Orlando herself was an organic farmer in South Carolina before she moved to Floyd.
Now, she is connecting the new arrivals to folks in Floyd who need help in their own gardens, to help them earn money and achieve self-sufficiency, she said. The 14 asylum seekers currently living in Floyd include children who attend our public schools and are living with relatives or member of Floyd Friends.
Looking ahead, Orlando has a grander vision for a community of asylum seekers in Floyd, she said. "Our intention in Floyd County is very specific, and it came to me in a dream," she said. She dreams of acquiring property on which she can build shelters and provide the capacity to work. Orlando hopes in the future, she can find "People interested in food production, animal husbandry, artists, painters, potters, builders—because we want them to fit in to what we do and who we are," she said.
Stay up-to-date on what's happening
Receive the latest in local entertainment news in your inbox weekly!