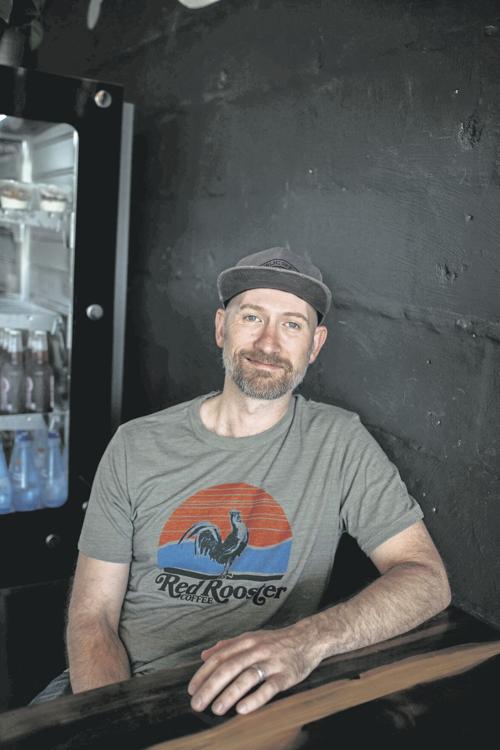 The Floyd Press is featuring local leaders, business owners, change-makers, nonprofit directors, government employees and others in a new series entitled, "My First Job." We're hearing from local folks about their very first paid gigs and how their careers developed. This week, Haden Polseno-Hensley talks dishwashing and the importance of a supportive spouse, friends and community. He provided these answers via email.
If you have a suggestion for who we should interview about their first job, email Floyd Press Editor Ashley Spinks at aspinks@wythenews.com.
First things first: What was your very first paying job? What did you like about it? What did you learn from it?
My first job was working for my parents in their ceramics production business. I wasn't good at it, but it definitely taught me the long term value of working for yourself and the amount of hard work it would take to accomplish that goal.
My next job, which was more of a "first job" job, was working for Chateau Morrisette as a dishwasher for minimum wage. It was the first of a few restaurant jobs that I held and I think what it taught me was that you can find reward in any line of work. A lot of people would consider washing dishes to be menial, but I enjoyed the reward of instant accomplishment and the pace and the adrenaline of the kitchen, and sometimes I wish that's all I had to do now.
I'm the co-owner of Red Rooster Coffee at 823 E. Main, right by the Post Office. My average day is incredibly varied, from buying green coffee from importers and producers all over the world, to managing the coffee roasting and production team, working with our web developer, working with our marketing team, working with the cafe staff on quality control, all the way to making more esoteric and philosophical business decisions that affect the culture, the mission, and the future of the company.
How did you get to where you are? Do you see any connection between your first job and your current job?
Ha, well, that's assuming I've gotten somewhere. I got where I am today by having an amazingly smart and hardworking spouse, who started in the coffee business before I was even in the picture. We've had a lot of luck, a lot of support from friends and family, and hired a lot of great people since the beginning, which are all huge reasons for whatever success we've had.
I think the connection between my job with my parents is evident in the way I approach the job as a place for creativity and a place to create a value system that mirrors my own sense of the way I wish the world worked. As for my job washing dishes, I think restaurant work is hard, often under-appreciated, and always filled with the emotions of trying to please your customers and your fellow staff.
Our goal in the restaurant side of the business is to try to make our staff feel valued and to help them develop skills for life alongside the skills of working in a cafe.
What advice would you give to someone looking to break into a field similar to yours?
True success in coffee, as with many professions, has to be built on a foundation of passion for at least one of the basic pillars of the work - for coffee, for community, or for customer service.
It helps to have all three with a dash of curiosity or excitement about business management or leadership.
What's your favorite thing about working in the New River Valley?
It's all about access. My kids can run in the woods for days, we can get to rivers and lakes in a matter of minutes, and of course, my primary reason for living and working here, is that my whole family lives here. We're also close enough to major cities and beaches that we can easily travel, which is a nice perk.
Stay up-to-date on what's happening
Receive the latest in local entertainment news in your inbox weekly!