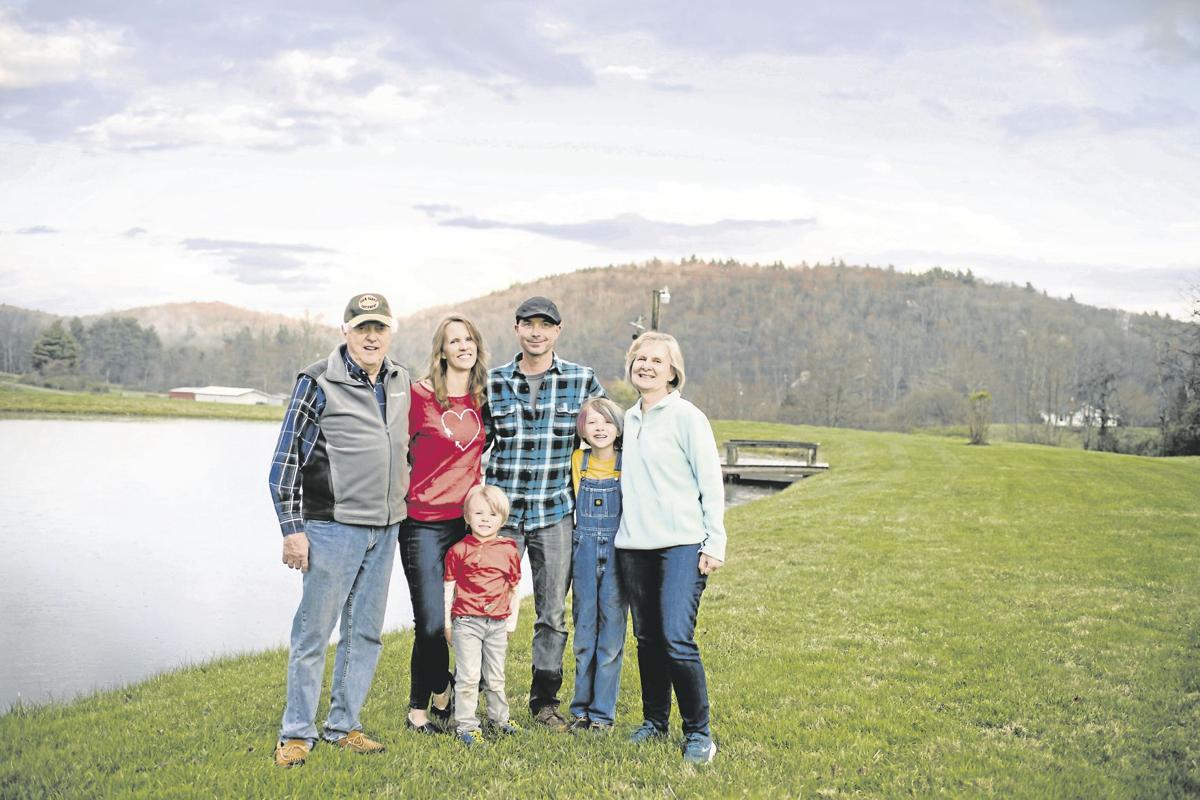 Floyd-based photographer Chelsa Yoder is a people person. "I love people…I'm the person who wants a party to be happening all the time," Yoder recently said of herself. She strives to make every experience fun, and to help her clients be themselves and feel comfortable in front of the camera.
Many of her clients, she said, were either friends before she photographed them, or quickly became friends after the shoot had ended. "Hanging out with those people, whether we're hiking a mountain or hanging out in the backyard, they almost always become friends. I'm really thankful."
In her ideal world, she would be tickling little kids to get them to laugh and smile for the camera. She prefers to greet families with big hugs. But recently, Yoder hasn't been doing much photography at all, and the mini-sessions she's offered to document this unique period of quarantine have begun with socially-distanced greetings and shouts from ten feet away, she said.
"(The coronavirus pandemic) has impacted me majorly…this and fall are both my busiest times of year, and right now I'm not doing anything except these mini-sessions," Yoder said. "Normally, I'd be doing multiple sessions a week and a wedding on the weekends." But of course, most weddings in the coming months are canceled. Brides and their families have mostly elected to postpone their entire ceremony and reception, rather than hold a smaller wedding with fewer than 10 people, Yoder explained, because they want to keep their venue and all their preferred vendors, which were already booked.
Yoder knows she's not the only one affected—"I have friends in the food industry, the art industry, and all of their work has come to a complete halt too, so I feel like a lot of my friends and I have that in common and can talk about that pretty openly," she said.
Still, it's been difficult, she said, to be lacking work and routine. To stay sane, Yoder said she's been helping her husband, Lauren, on his farm, taking yoga classes via an app ("which is not the same for an extrovert," she noted), and volunteering weekly with Plenty! Farm and Food Bank. Many of the food bank's regular volunteers are retired and elderly people, she said, who are self-isolating now to stay safe.
Yoder hasn't been out much herself, though. She said she hasn't been to the grocery store in eight weeks, and the other night, she had a dream about shopping at TJ Maxx. "It was amazing, but there was also this fear," she said of the dream.
"I need structure so much in my life," Yoder said. "My clients are my bosses and I have them as my deadline, and that reason to go into work and do what I do," she said.
Yoder was anxious to do something to "keep her skills fresh" and get out of the house, she said, in a socially-distant and responsible way. Weeks ago, before Floyd was observing the same stay-at-home orders as other, more urban parts of the country, a friend had sent Yoder a link to a socially-distant photo-shoot. The friend said she hoped it wouldn't come to such circumstances in Floyd, but suggested if it did, Yoder could provide a similar service.
"I did a little test with a friend of mine who lived nearby, just to see how it would go," Yoder said. "I used different lenses, I was kind of yelling at people. I'm usually a bit more hands-on." The family with which Yoder did the test shoot included very young children, Yoder said, and she figured such families would be her target audience for the project she named "Quarantine Quickies." These mini-sessions could help local families document a unique period of togetherness.
"I really wanted to document family life. One of the reasons that I wanted to do this for my clients was a lot of families are spending more time together than they've ever had a chance to, and looking back, it might be a sweet time," Yoder said. "While their kids might be driving them crazy, I think they still might be looking back on this as a time that they had a fun and beautiful time together."
Yoder said a mini-session photo shoot is also an opportunity to alleviate boredom—to help families "get out of a rut," she said. Everyone can get dressed up. People have an excuse to put on make-up. In Yoder's words, "it brings a little lightness to their week."
A recent family that Yoder captured in film had children obsessed with their scooters and with jumping on the trampoline—so Yoder made those toys the centerpiece of the shoot, she said. Other families have been having dance parties in their yard.
"What I've tried to do is just get them to interact with each other—so literally putting on music and dancing in their yard," Yoder said. "This has been lending itself pretty well to just hanging out with families, ten feet away, letting them do their thing," she said.
Going into this project, Yoder said, she was apprehensive about how it would be received by the community, because some people feel very strongly about precautions around coronavirus. Yoder said she checked with lawyers about whether her photo sessions were permissible, since they included less than 10 people and would be conducted at a distance.
Yoder is being careful while also realizing that she has the ability to provide a valuable service to her friends and neighbors. "I feel like I've been given such precious, precious gifts to be able to document these things with these special people, and I've just been trying to be super, super cautious," she said.
Stay up-to-date on what's happening
Receive the latest in local entertainment news in your inbox weekly!