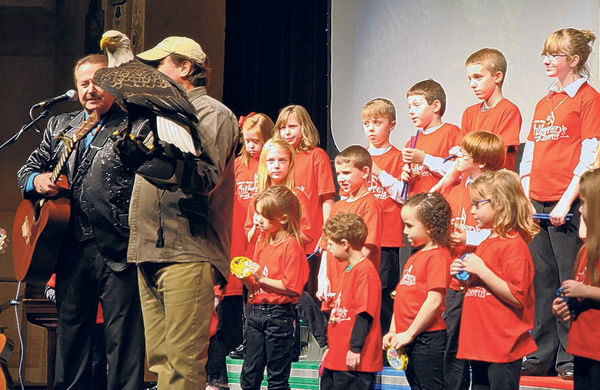 Challenger, the world-famous Bald Eagle, will perform one of his last free-flying events on Saturday at the Lincoln Theatre in downtown Marion.
The eagle and his crew, including trainer Al Cecere, visited the Lincoln in 2013 to fly across the auditorium during the James Rogers Christmas Show. As he prepares for his retirement at the end of the year, Challenger will repeat that performance.
"In celebrating Challenger's 30th birthday this year, the American Eagle Foundation's dedicated staff is committed to provide the most beneficial and healthy future for this eagle ambassador. Challenger will retire from free-flighted appearances, but will continue to travel from coast-to-coast making gloved appearances at national sporting events, conventions, conferences, galas, fundraisers, schools and other events. He will also enjoy well-deserved rest and relaxation and continued daily flight exercise at his Tennessee home."
Challenger and other birds of prey live at the American Eagle Foundation at Dollywood in Pigeon Forge. The non-profit organization has a mission to care for and protect the USA's living symbol of freedom, the Bald Eagle, and other birds of prey through education, re-population, conservation and rehabilitation.
"After 25 years of traveling coast-to-coast and in conclusion to one of Challenger's most successful travel seasons in 2017, the American Eagle Foundation would like to express their appreciation to the followers and fans of their famous Bald Eagle for the many years of support. Challenger has reached and educated hundreds of thousands of people nationwide, and has been instrumental in raising awareness about his species."
The Collins House Inn Bed & Breakfast in downtown Marion will host a "Meet & Greet" with Challenger at 2 p.m. on Saturday in the gazebo prior to his visit to the Lincoln. There is no admission charge, but donations are welcomed with 100 percent of the proceeds going to the American Eagle Foundation.
The show at the Lincoln will feature James Rogers, country music singer/songwriter and retired Dollywood entertainer, the Marion Senior High School Chorus, and the First United Methodist Church Children's Choir performing Christmas songs and a tribute to the military at 7 p.m. Tickets for the show are $15 for adults and $10 for students and children.
Cecere, founder and president of the American Eagle Foundation, connected to Rogers through his music and friendship with the foundation.
Challenger was blown by a storm from his wild nest in Louisiana at five weeks old and rescued by some well-meaning individuals who raised him to be released. But he had imprinted on humans and could not fend for himself. He was eventually caught by a wildlife officer and taken to a birds of prey center managed by the foundation. He was cared for and raised to adulthood by Cecere and fellow eagle enthusiast John Stokes. The center was later moved to Dollywood when Rogers enlisted the help of Dolly Parton in giving the foundation a new, larger home.
Since Challenger was perfect in every way except his ability to be released into the wild, Cecere and Stokes trained him to perform at Dollywood and then stadium events and named him in honor of the seven astronauts who lost their lives on that tragic space shuttle mission. The eagle became famous for his flights during patriotic tributes at ball games and other major events. Since 1991 he has been inspiring millions and teaching them about protecting wild eagles and other birds of prey by being an ambassador for his species.
"God just gave me this vision of training him to free fly in stadiums for patriotic events and the singing of The Star-Spangled Banner," Cecere said. "It had never been done before. You could say he was the perfect bird for the perfect time."
Inspired by Challenger's story, and the songs written about him by Rogers – "Fly Eagle Fly" and "When Challenger Flies" – Marion elementary school teacher Sally Moorer brought Rogers to Marion in the late 1990s to offer an educational performance for her students. This led to her meeting Cecere and Challenger and deciding with Cecere to write a book about Challenger and the foundation. She took a portion of that work to create a children's book about Challenger, illustrated by Virginia Parks Service Chief Ranger Mike Lambert, titled Born to Be, Challenger's Story: America's Famous Free Flying Eagle, with proceeds from its sale going to the foundation.
In 2013, Challenger flew across the auditorium during Rogers' performance of the song "Born to Be" which was written by Moorer with assistance and recording by Rogers. He flew from Cecere on stage to his daughter Laura, who works with him and Challenger.
Rogers wrote and performed the theme song and singer/songwriter/actress Dolly Parton narrates the story page by page (both on CD with the book).
To find copies of Moorer's book, contact the American Eagle Foundation at www.eagles.org or call 865-429-0157.
"The American Eagle Foundation has been blessed to be entrusted with this magnificent bird so many years ago. Challenger has touched the life of millions upon millions of Americans across the country and he continues to daily touch the lives of his handlers. Challenger is truly one-of-a-kind. There will never be another like him."
Stay up-to-date on what's happening
Receive the latest in local entertainment news in your inbox weekly!