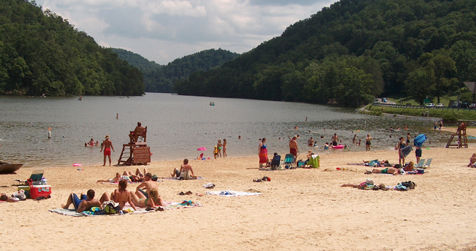 It's time to slather on the sunscreen and strap on the floaties.
With the official arrival of summer, area pools are ready for the flood of people looking to cool off this season.
Though swimming opportunities have been open since Memorial Day, Marion's Town Pool Manager and Recreation Specialist Mike Sage expects to see a jump in attendees once the Summer Solstice hits.
"Usually the beginning of summer is the busiest, but anytime it's hot, you've got more people at the pool," he said.
At $4 for admission, swimmers can spend the day diving, splashing or just lounging around the Olympic-size swimming pool. A smaller pool on site also allows small children the opportunity to make a splash in a safer environment.
Constructed in 1990, the town pool has seen a steady stream of swimmers in its nearly three-decade existence. With an average of 6,000 to 8,000 general admission swimmers per season, Sage said the pool is just as popular today as it was in the '90s.
Also operated by the town of Marion, the Holston Hills Community Golf Course pool is seeing increased action. At $5 for a day pass, swimmers get access to the four-lane heated pool, as well as a separate wading pool for children.
Director of Recreation Terry Jennings said since the town of Marion took over golf course facilities in 2012, opening it to the public, usage has naturally increased. A 2015 renovation didn't hurt things, either. He estimates the pool sees around 2,000 swimmers per season.
Likewise, the Hardy Roberts Memorial Wave Pool in Saltville has seen steady use since its renovation in 2008. The saltwater pool replaced the municipal swimming pool built in the mid-1940s.
Nicknamed "Mammoth Waves," the 150-foot long wave pool generates ocean-like waves. At $5 a visit, swimmers can be found splashing around the pool or riding the waves on small inner tubes. The facility also includes a children's area, complete with a fountain for small splashes.
All three locations offer season passes and private parties.
Marion resident Kim Havens said her 4-year-old son, Eli, and 12-year-old nephew, Christian, are out swimming at least once or twice a week during the summer.
"We go just to get out and do something," Havens said. "I try to keep the boys active outside, being with friends or family, making memories to share and to continue to carry out with upcoming generations."
Havens prefers taking them to Hungry Mother State Park for a broader range of activities, but the convenience of the town pool in Marion often keeps them within town limits.
"I prefer the lake because there's more to do than just swim," Havens said. "You can cook out, fish, walk, but we go to the pool more because the kids usually meet up with their friends there."
Hungry Mother State Park has long been a popular recreation destination for locals and tourists alike. Those looking to cool down can take a dip in the beach's designated swimming area. Visitors with an adventurous streak can also enjoy hiking and biking on one of the park's self-guided trails, boating and fishing at the lake and camping at one of the park's campgrounds or cabins.