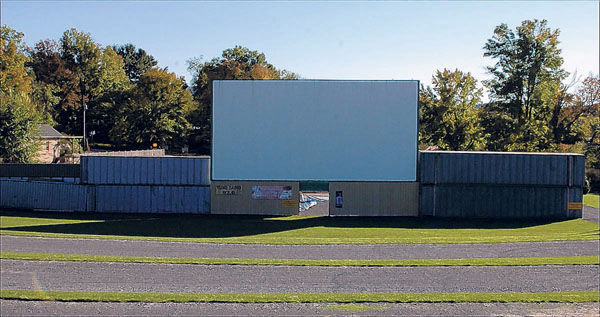 The news was met with excitement on Facebook. An entertainment option that may allow people to safely get out of the house is opening this weekend.
Park Place Drive In Theater will show its first movie of the season this weekend. However, owner Jerry Harmon cautions people that new rules are in place to comply with Centers for Disease Control policies and his own desire to protect people.
For Easter weekend, Harmon is showing "I Still Believe," a PG film. From the makers of "I Can Only Imagine," the flick tells the true story of contemporary Christian music star Jeremy Camp and his "journey of love and loss that proves there is always hope in the midst of tragedy and that faith tested is the only faith worth sharing."
The movie will be shown at 8 p.m. today and Sunday with cash only payments for tickets that are $7 for adults and $3 for children under 12. Children under 5 are admitted for free.
Harmon hopes to continue showing movies. While no new movies are being released now, Harmon has several recent releases available and may show classic movies if the venture proves successful.
One of the biggest changes drive-in visitors will experience is reduced parking. In normal circumstances, the drive in can accommodate 250 vehicles, but, for the time being, that has been reduced to 125 so that extra space can be left between each one.
To prevent the spread of COVID-19, Harmon has instituted a "get out-go home" policy. "You must stay in your vehicle at all times," he emphasized. The one exception is to use the restroom and for that purpose only one person from a vehicle may go at a time or one with a child.
Harmon said all rules must be followed or he will have to close the drive in until gathering restrictions are lifted.
"I don't know if we can make it," he said Thursday, but added, "We're trying our best."
While the concession stand in closed for now, he noted that outside food is permitted.
The drive in is also hosting a special Easter celebration Sunday afternoon at 2 p.m.
Hosted by the theater and Bradley's Funeral Home, the celebration will take place at 2 p.m. and feature music and messages by pastors Lance Turner of Mount Zion and Mike Sage of Freedom Tabernacle in Atkins.
Individuals will stay in their vehicles and tune into the theater's FM station to hear the service.
Trevor Ward of Bradley's Funeral Home said no admission will be charged and an offering won't be collected.
Ward said organizers recognize the value of faith, especially now as a source of strength.
If there's a good turnout, Ward said, it may be possible to continue the gatherings.
Jerry Harmon, the theater's owner said, vehicles will be parked to put a space in between each one. No congregating outside vehicles, even children playing, he said, is not permitted.
Stay up-to-date on what's happening
Receive the latest in local entertainment news in your inbox weekly!