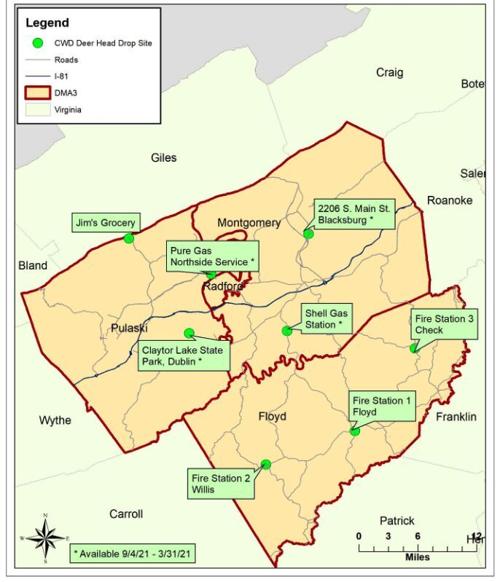 In November of last year, a hunter in Montgomery County brought a deer stag's head to a taxidermist for mounting but testing of a sample found the animal suffered Chronic Wasting Disease, a fatal neurological that affects deer, elk and moose.
Because the location of the deer's death encompasses a 10-mile radius circle that reached into Pulaski and Floyd County, the two join Montgomery in what is now called "Disease Management Area 3."
"The disease has not been shown to pose a risk to humans or domestic animals," the Virginia Department of Wildlife Resources states in an informational sheet.
Veterinarians at Virginia Tech say the disease is caused by "abnormal infectious proteins called prions that can pass between deer through saliva, feces, urine or water and soil contaminated by the infected animals."
DWR reports the hunter "did not notice any outward signs of disease, and the deer appeared to be in in good condition." A sample of the deer's tissue was tested by DWR in January 2021.
DWR held a public hearing last week on Thursday, Aug. 26., at Floyd County High School's auditorium. Notices of the hearing there and in other counties were posted on social media websites, but were not sent to media outlets to help spread the word.
Floyd County Administrator Linda Millsaps received information from DWR on the upcoming meeting the day just before the public meeting at the high school.
Little River Supervisor Linda DeVito Kuchenbuch says she heard about the meeting shortly before it occurred, was able to attend, and wished more hunters had known about it so they could hear the reports from DWR.
DWR announced what it calls "extensive CWD testing throughout DMA3 and in certain surrounding counties during the 2021-22 deer hunting season, including mandatory CWD sampling for all deer harvested on Nov. 12 in Floyd, Montgomery and Pulaski counties."
In Floyd County, mandatory testing will be conducted at Floyd Express Mart at 609 E. Main Street in Floyd and Willis Village Market at 5602 Floyd Highway.
During the upcoming hunting season, hunters should check in any deer they shot on any day at volunteer testing sites at Check Fire Station at 1710 Kings Store Rd., Floyd Fire Station 1 at 143 Akers St. in town or Willis Fire Station 2 at 187 Firehouse Drive.
Hunters should submit at least three inches of the neck with the head of the deer. Those planning to have the head mounted should submit it after caping. Others who plan to remove the antlers and skull head should do so before submission.
Feeding deer is now prohibited in Floyd, Bland, Carroll, Craig, Franklin, Giles, Montgomery, Patrick, Roanoke and Wythe counties, and transport of whole or parts of a deer caucus cannot be transported out of DMA3, the department warns.
Parts of the deer that can be transported to other areas include boned-out meat with no part of the spinal column or head attached, hides and capes with no heads attached, clean skulls and skull plates without antler, clean jaw bones, antlers with no meat or tissue attached, upper canine teeth and finished taxidermy products.
Additionally, new hunting regulations in effect for the 2021-22 hunting season include:
Removal of antler point restrictions form the Fairystone Quality Deer Management Area,
Extension of the general deer season from two to four weeks on private lands in Montgomery and Pulaski counties, which matches Floyd County's current firearms season. National Forest ls not included,
Creation of a Disease Focus Zone in the immediate vicinity of the 2020 disease detection to increase harvest and maximize testing.
Early antlerless-only general firearms deer season in the disease focus zone will run from Sept. 4 to Oct. 1 and the late season from Jan. 1, 2022, to March 27.
DWR says the closest other infection of the disease was found 160 miles away, in Madison County near Shenandoah National Park in 2009 but the disease has since been found in Fauquier, Fredrick, Clarke, Culpeper Loudoun, Rappahannock, Shenandoah counties and now, Montgomery.