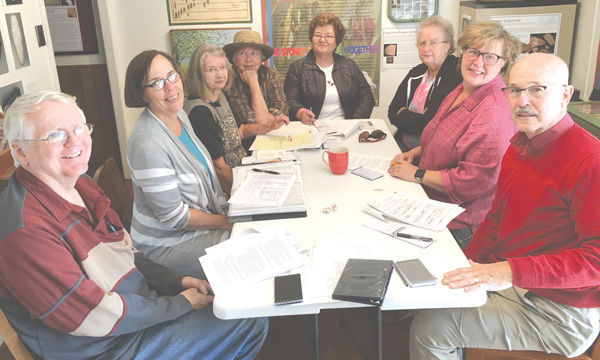 Janet Ruth Keith, known as "Maw Keith" by those who are close to her, is a woman whose impact on this community can never fully be recognized, having been a teacher, champion Forensics Coach and key member in the Floyd County Historical Society.
Janet's three times removed grandfather, Christopher Slusher, came to Floyd County in 1802, a Revolutionary War Veteran. When settling in Floyd in 1802, he built the "homeplace," as Janet called it, a dairy farm that stands at 719 Laurel Branch Road.
The farm has been passed down through seven generations, and it is now a Century Farm, which means it has been an active farm in Janet's family for 100 years or more.
Janet Keith was born and raised on the farm, coming into the world on Sept. 24, 1946. She lived with her father, Freeman Morris Sr., and mother, Ruth Gardner, along with an older sister, Nancy; and younger brother, Freeman Morris Jr. (aka FM).
Living on the farm, she and her sister always picked up rocks in the pasture, chopped thistles, raked hay, shocked oats, milked cows and had many other responsibilities. The chore she dreaded the most was picking black berries, she said.
While she would be washing out the dairy barn with the hose, her sister would go inside to her mother who was washing cooking utensils, and ask, "Would you like us to go pick some blackberries today?"
Immediate dread would shroud Janet's mind.
Janet said she and her sister always made sure to have fun, explaining, because her mother was a school teacher, there were leftover school books at home and they loved playing school.
Her sister, five years older, often got to be the teacher most of the time, and Janet would be the student. She said that they had an old tricycle in the basement that would be the "school bus," and they would take turns picking each other up for school.
Widely known as "Mrs. Keith" at FCHS to both students and teachers, Janet taught for 38 years as an English teacher and Forensics coach. When asked what inspired her to be a teacher, she said her inspiration to be a teacher came from her mother, who taught for a few years in a one-room schoolhouse.
She can remember her mother teaching her poems and songs that she can still remember to this day. Janet even remembers reciting one of those poems in class when she was younger.
"With my mother's encouragement," she said. "I was never really afraid to get up in front of people and speak."
The skill she developed at a young age would later help her make the forensics team in high school.
Janet started working at Floyd County High School in the fall of 1971 as an English teacher. She taught 11th-grade English every year she taught, and she loved teaching juniors because they were mature enough to have real-life conversations and eager to learn.
Her favorite junior subject to teach was American Literature, and, she said, when teaching, her mission was not necessarily for the students to obtain an "A," but that they would fully grasp and understand what they were learning.
When looking at a piece of writing, Janet wanted the reader to figure out what influenced the writer to write this, who was the writer writing it for and what message is the writer trying to portray.
"As an administrator, she was my go-to person; she was my guiding force," said Barry Hollandsworth, FCHS principal.
Janet noticed during her years teaching that those who solely participated in Forensics couldn't receive a varsity letter for their letterman jackets, even though Forensics has been part of the Virginia High School League since 1913.
Janet saw that it wasn't fair and brought the problem to the attention of the administration, which ultimately made it possible for the participants of the Floyd County Forensics Team to receive a letter for their participation.
Janet cared about those in her classes and clubs; she knew they deserved the opportunities and recognition that every other sport received.
Married for 25 years to the late David Joel Keith Sr. before his passing in 2009, Janet said her favorite thing about DJ was his laugh.
She stated, "He had such a wonderful sense of humor." They did so much together like farming, riding and enjoying life.
While working in the school, the administration was always good about making sure Janet and DJ had lunch together. Being together all the time and having such a good relationship allowed them, as a couple, to understand each other on a whole other level.
When asked what it was like to work with DJ, Janet explained how much she loved it. She said he had a booming voice that competed with Coach Beale's.
"If you had a classroom between the two of them you had almost no chance at competing in the duel of booming voices." Not that DJ and Coach Beale purposely competed to be louder, she noted, that's just how they were.
Kelly Blackwell, the current trigonometry, precalculus and AP Calculus teacher at FCHS said, "I had DJ Keith for 3 years of math in high school. He taught me to learn the "why" behind the math instead of just doing the steps. I learned that working hard can open many doors in life and there is no limit to what you can accomplish with a good attitude and work ethic."
Uniquely, Janet and DJ experienced chaperoning many proms and sock-offs together, stealing a dance with one another occasionally.
Janet was inducted into the Floyd County Hall Of Fame in 2019, along with 14 other individuals that have made some important impact on the community.
"Humbled and appreciative," Janet talked about how happy she was that people were recognized for their contributions to the county.
To this day, Janet is still positively impacting Floyd County. It would make sense to say she is the county historian. She is a member of the Historical Society, Old Church Gallery and helps preserve and protect the history of our home in a variety of projects.
Another contribution Janet still makes in the community is the DJ Keith Memorial Scholarship Fund, a $1,000 scholarship given to one individual of the graduating class every year.
It's a special scholarship, in memory of a special person, and is intended to be given to a special graduate.
Janet can be found staying busy helping her son, Kevin Keith, on their farms, meeting with old friends, cheering on her grandchildren at sporting events, and always making a positive difference.
She has touched more lives than anyone will ever know, and she has touched my life more than she will ever know.
The message she displays through her life is to love others no matter the circumstance. We should all strive to be the person Janet Ruth Keith is every day.
---
Next Generation is a series of non-sequitur essays by Floyd County High School students written for credit in Amanda Biviano's Dual Enrollment Freshman Composition class during the fall semester of 2021.