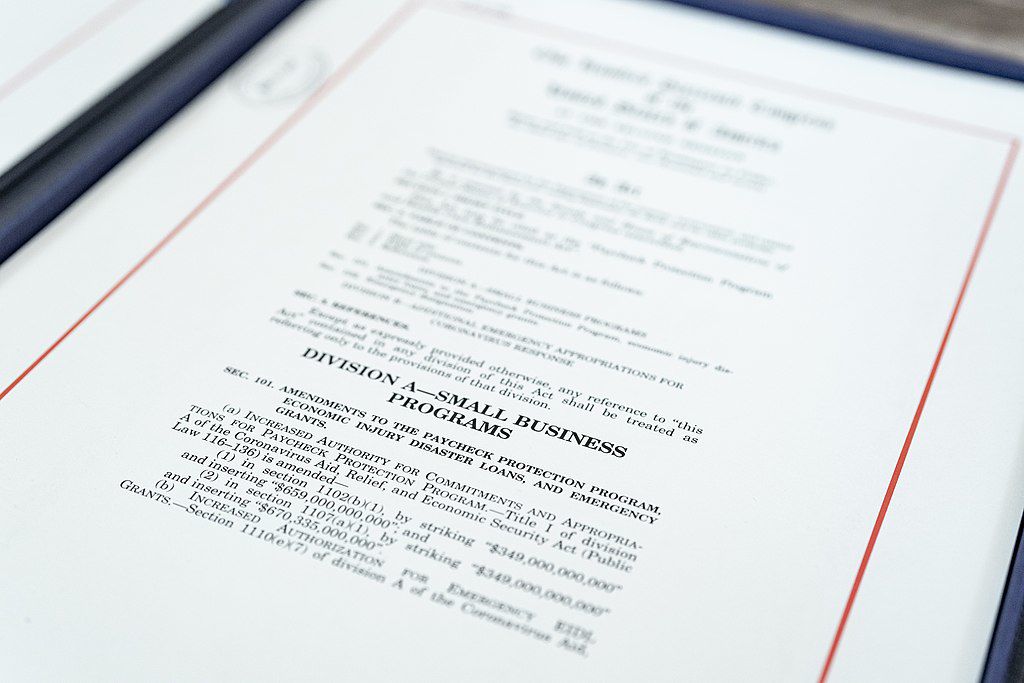 More than $5 million in federal funds was distributed to 194 businesses in Floyd County as part of the Paycheck Protection Program, which loaned small businesses money to cover payroll costs, interest on mortgages, rent, and utilities during the coronavirus pandemic. The funding helped protect 834 jobs, according to applications filed by the businesses. These numbers indicate that more than 40% of all businesses based in Floyd County successfully secured PPP loans.
If loan recipients meet certain criteria, including that at least 60% of the money is used to keep employees on payroll, the loans will be forgiven and are therefore, essentially grants.
Data on beneficiaries of the PPP loans was released by the U.S. Treasury Department and federal Small Business Administration Monday after pressure from Democrats in Congress and lawsuits from several news outlets, including the Washington Post. Those businesses that received more than $150,000 in loan funding were named; others were not.
In sum, 202 businesses in Floyd County benefited from the loan program, including the 194 already outlined and eight more that were named specifically because they exceeded the $150,000 threshold. These remaining eight included some of the top employers in Floyd, according to January 2020 data from the Virginia Employment Commission—Wall Residences, the county's second-largest employer; Strengthening our System, its fourth-largest; Chateau Morrisette, the ninth-largest; Crenshaw Lighting, Omnibuild, LLC, the Sino-American Trading Company, G&L Labor Services and Thomas Industrial Fabrication.
According to applications filed by the businesses, the PPP loans received helped these larger businesses preserve 367 jobs—but as Community & Economic Development Director Lydeana Martin explained, many of these jobs are likely not based in Floyd County. Jobs are counted based on the locality in which a company is headquartered, Martin said, but several of these large employers have employees that work at satellite locations in other towns and counties. These eight companies received loans in the range of $150,000 to $1 million.
In Martin's view, widespread application to PPP by Floyd County businesses can be attributed to several things, including the unique composition of Floyd's economy, the support of local lenders and, frankly, some serious hard work from local economic development professionals.
Referring to herself and Floyd County Chamber of Commerce Executive Director John McEnhill, Martin said, "We worked really hard to push that information out and try to help people through it. … It was a mad scramble at first, because we were getting conflicting information (from the federal government)," she said. "We just encouraged people to apply and they could always turn it down if it wasn't something they could work with," she added.
Initially, the terms of PPP loans required that businesses bring employees back to work within eight weeks, which Martin said "is really hard to do" in the midst of the uncertainty caused by the pandemic. These terms were later softened.
Martin said the application rate is "really encouraging," and said the broader impact of the federal program is likely to be profound. "It's really good for those businesses because…many of them have been hit incredibly hard. Some have seen tens of thousands of dollars in losses just in those first two and a half months—anything that helps them get through that hardest time, it's part of the difference between some of them making it and not," she said.
Recently, Floyd County launched its own grant program for local businesses, using money obtained through the federal CARES Act relief bill. The Board of Supervisors allocated $250,000 of the $1.34 million received by the county to the Resiliency Initiative for Small Businesses (RISES) grant program, which will get money into the hands of businesses that suffered revenue losses or net income decreases as a result of the coronavirus pandemic.
Business expenses made after March 15, 2020 (the day the county declared a State of Emergency in response to the ongoing public health crisis) and deemed necessary for business survival, that have not already been reimbursed by other means (such as federal or state funds), are eligible for reimbursement through the RISES program. These expenses include, but are not limited to, payroll, lease or mortgage payments, personal protective equipment, technology purchases and more.
The county anticipates grants being awarded in the amount of $500 per employee for businesses with up to 20 full-time equivalents, and $333.33 for each additional employee up to 50. The maximum grant amount will be $20,000. The online application is open through July 16 at noon.
Martin pointed out that much of Floyd County's economy is composed of locally-based small businesses, which, "is true of a lot of especially rural places," she said. She also said that the impressive response to the PPP program in Floyd, "is a testimony to local lenders, too. Rural places are fortunate to have some regionally-focused lenders who, these small businesses are their bread and butter, and they know it, and they really tried to help," she said. Banks facilitated the transfer of federal funds to local businesses.
Be the first to know
Get local news delivered to your inbox!