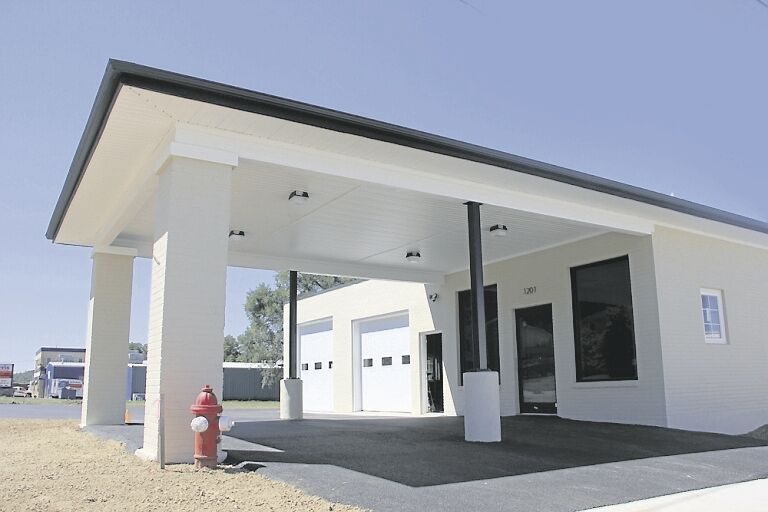 Sheriff's deputies sometimes spend several hours with a person experiencing a mental health crisis after they arrive on the scene. The person in crisis stays in the deputy's custody until they're transported to the nearest hospital, seen by an emergency room doctor, and officially released.
"When somebody is having a crisis, it does take a deputy away from the jurisdiction, which means longer response times (to other calls)," Floyd County Sheriff Brian Craig explained. He said establishing a local crisis center where folks struggling with their mental health could be released and treated by experts would be a huge help to his staff—and that's exactly what New River Valley Community Services hopes to do in Radford.
In a proposal to the Floyd County Board of Supervisors, New River Valley Community Services (NRVCS) Executive Director James Pritchett outlined a plan to construct a "comprehensive crisis center" that will "protect the New River Valley's critical public safety and public health personnel, infrastructure and citizens."
NRVCS is asking each locality in the New River Valley to contribute a portion of its federal CARES Act funding, in proportion with its population, to pay for this project. The Floyd County Board of Supervisors approved about $32,000 for the project at its Aug. 11 meeting.
According to NRVCS Community Wellness & Outreach Coordinator Mike Wade, the crisis center is eligible for CARES Act funding because it will help mitigate the risk of COVID-19 infection for law enforcement officers, health care workers and other personnel involved with the civil commitment process. It will also conserve critical emergency department resources, he explained.
"We know right now, hospital capacity is a huge concern. And so tying up bed space and personnel in the emergency department unnecessarily at this point is more of a hindrance to our community than a help," Wade said. "Having a facility like this crisis center will allow us to bring people in and maybe avoid sending them (to the hospital.)"
The new crisis center will also be equipped to provide rapid COVID-19 testing on-site so that patients in crisis who are also infected with the virus can be immediately identified, properly isolated, and provided with the necessary and appropriate medical care.
Wade said NRVCS is envisioning a "living room"-type environment at the crisis center, which will be an added on to the agency's existing facility in Radford. According to the project proposal, the crisis center will "(provide) a therapeutic setting for short-term assessment, de-escalation, peer support and initial treatment and basic medical care." This model of psychiatric emergency care has been shown to reduce the necessity of psychiatric hospitalization by up to 60%.
NRVCS has budgeted $403,000 for build-out and furnishing costs, drawn from the CARES funding of the five localities served by the crisis center—Montgomery, Giles, Floyd, and Pulaski Counties and the city of Radford. Funding allocated to localities via the CARES Act must be spent by December 2020, and Floyd's contribution to the project will help pay for building modifications as well as a couch, recliners, desks, chairs, a refrigerator and a microwave for the facility. Other one-time expenses include technology equipment such as laptops, a television and mount, a door security system and cameras.
The agency wants the space to feel "welcoming, relaxing, comfortable for individuals," Wade described. "We want to make it a place where they feel safe and supported, and having that kind of environment is incredibly important because they're going through a very difficult time, obviously," he said.
Wade said creating such a crisis center in the New River Valley has been discussed for a couple years, but "admittedly, the stumbling block all along has been having the money for the infrastructure," he explained. "With the CARES funding, that creates a window of opportunity and I think long-term, we'll have a facility in place that allows us to better serve the needs (of folks in crisis)," Wade said.
The crisis center will be staffed with crisis clinicians, medical staff, and some law enforcement officers. Craig said it will be helpful for people in crisis to have immediate access to "folks who are trained…and know how to help," although Wade was quick to praise law enforcement officers in the New River Valley for being proactive about crisis intervention training.
He said, "Our region has kind of been a leader in that program," which instructs people on how to engage with someone in crisis.
The new crisis center plans to be open for 16 hours a day, seven days a week, and Wade said once funding is secured, outfitting the new center will begin "as soon as possible."
If you encounter a person experiencing a mental health crisis, and you believe they are an immediate threat to you or to themselves, you should call 911. However, if the person does not pose an immediate danger, Wade said, crisis clinicians at NRVCS can be reached 24 hours a day at (540) 961-8400.
Be the first to know
Get local news delivered to your inbox!