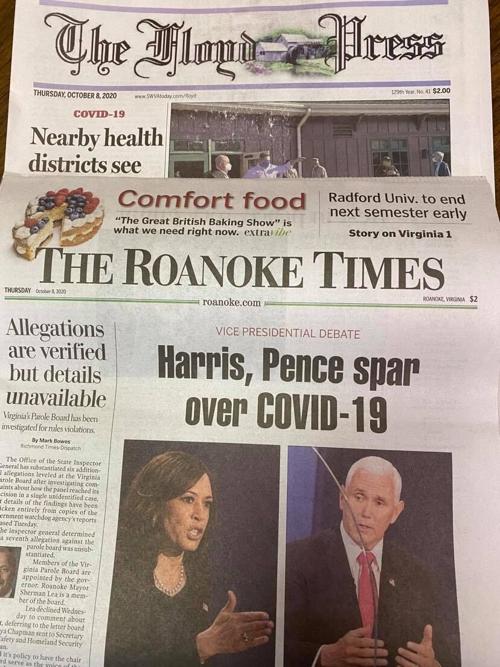 It's National Newspaper Week. Sponsored by Newspaper Association Managers, this annual event recognizes the services provided by local newspapers and their employees. Among this year's list of local news outlets' contributions are preserving the right of a free press; empowering the informed; producing quality, original content and recording daily snapshots in history.
At its best, a local newspaper will do all of these things and many more. And although today's age of hyper-polarization can in some ways cloud or diminish the value of local news, it can also highlight the continued importance of access to vetted, useful information. As we approach November's election, it seems as if everything we do can be perceived as partisan—even the act of reporting itself.
Those seeking to uncover truth, provide honest, comprehensive coverage and inform their communities are cut off at the knees—labeled "liberal fake news" before anyone has even read their stories. And as we've all seen on our various social media feeds and witnessed among friends in the past few months, memes, articles, quotes and "facts" that validate our point of view are more attractive to us than those that may challenge our preconceptions. Local news has been devalued by the presence of myriad commentary sites with political bents that tell us what we want to hear, or what is most convenient to us.
Do you loathe to wear a mask as you go about your daily errands? Google "mask ineffective" or some similar phrase and you're certain to come across a website that will confirm your suspicions, or perhaps your hopes. Masks don't work, so why bother wearing one, you'll say, confident in your internet sleuthing. Meanwhile, leading health experts, including those at the Virginia Department of Health and the Centers for Disease Control, maintain that wearing a face covering is effective at slowing the spread of coronavirus. Based on research and scientific models out of UC Berkley's International Computer Science Institute and Hong Kong University of Science and Technology, wearing masks can cut the incidence of cases by as much as 80%.
We do ourselves and our communities a disservice when we insist these two points of view are simply equal but opposite—one is vetted, fact-checked, confirmed by science, and one is not. Journalists sort through the muck and the noise to bring you reports—on the pandemic, on the actions of local government, on court cases, on local events, and so much more—that they have worked to confirm with reliable sources. While no publication, editor or reporter is perfect, if you read it in your local paper, you can trust that it's true.
The former editor of Charlottesville's Daily Progress, Nick Mathews, is now a graduate student at the University of Minnesota researching news deserts and the rural media environment. Lee Enterprises, the owner of the Floyd Press and the Roanoke Times, along with other similar corporations, continue to slash budgets and eliminate staff at local papers, making their demise seem inevitable, which Mathews thinks is a big problem.
He recently published a paper in the peer-reviewed journal "Journalism," which found that residents of a rural Virginia community suffered after the loss of their weekly newspaper, the Caroline Progress. Mathews interviewed residents of Caroline County, who described missing the sense of community that a local newspaper brings.
The internet and social media, they said, were no substitute for having all the information they needed curated in one place—the weekly printed edition. "We're more connected now than ever before, but it's harder to get information. You might have to 'like' 20 different Facebook groups or pages to get the same information that you used to get from one source," one resident said.
Tony Ares, a local pastor and podcaster in the county, launched the online Virginia Connection with his wife in an attempt to fill the void—but the enterprise failed, because people preferred coverage that reflected their own ideology.
Ares said Virginia Connection provided objective, "down-the-middle" reporting, but "people are looking for affirmation, not information."
As we all dig our heels in and don political blinders, the fair, accurate information provided in local newspapers may seem less relevant, and may appeal to an ever-shrinking number of us. But today's circumstances make the work done at local papers more important than ever. The community newspaper represents common ground—all too hard to find nowadays. It's a place where our entire community is represented, where divergent voices can find a place to be heard, where actionable information about public health is printed and the claims of various politicians are properly fact-checked and contextualized.
Ashley Spinks is the editor of The Floyd Press.