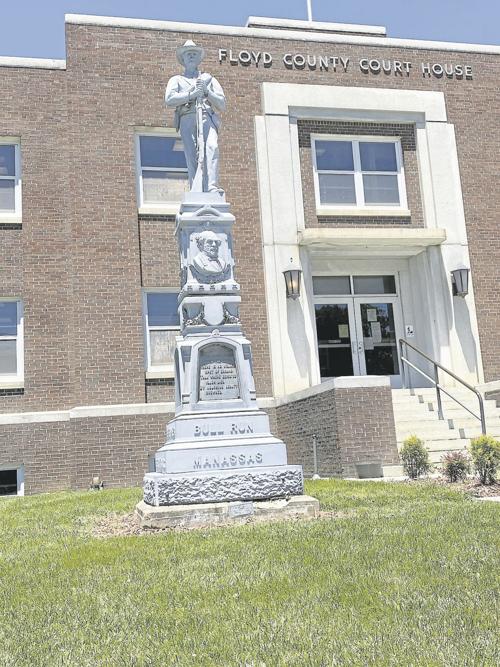 When a voter in good standing is appointed to his or her local electoral board, they take an oath to "faithfully and impartially discharge all the duties" to the best of their ability. Local electoral boards are bipartisan boards which carry out official duties in a "nonpartisan manner," according to the Virginia Department of Elections, and that work to ensure free and fair elections.
It is the view of the Floyd County Electoral Board, according to a letter sent to the Floyd County Board of Supervisors on July 7, that placing the issue of whether or not to remove the county's Confederate monument on referendum this fall would impede the board's ability to fulfill these duties.
The Floyd County Electoral Board is composed of three people—two of whom represent the party of the Commonwealth's governor (Democratic Gov. Ralph Northam) and a third, who serves as chairman and represents the second-most-popular party in the Commonwealth. Bob Smith, a Republican, is Floyd County's chairman of the board. Brecc Avellar serves as the vice-chairman, and Tammy Belinsky is the secretary.
All three members reached what Belinsky called a "unanimous" decision to contact the Board of Supervisors last week. Neither Smith nor Avellar could be reached for comment despite attempts by phone and email, but Belinsky said, "We all participated in drafting the letter," which was affixed with Smith's signature.
With regard to placing a referendum on November's ballot, the Electoral Board urged the Supervisors to "consider the impact of your potential decision on Election Day management."
Asked to further clarify the Electoral Board's concerns about placing the issue on the ballot, Belinsky explained that due to the partisan and polarizing nature of the Confederate monument issue, the Board has concerns about potential voter intimidation on Election Day. "Part of our duty and our responsibility for making elections possible in Floyd is to ensure that voters do not feel intimidated when they come to the polls," Belinsky said, and pointed out that the Board's fears about intimidating behavior are based on precedent.
"In 2016, during the Presidential election, we had intimidating behavior occurring at one of our precincts, and we believe that this fall's election will be difficult to manage as it is, given the contrast in the parties," and the ongoing threat of the COVID-19 pandemic, she said. The Electoral Board and its officers will potentially be operating short-handed, Belinksy said, and have additional duties such as administering curbside voting and regularly sanitizing precincts.
"The Trump supporters and their behavior has been a problem in the past…we had an incident in the past that made our officers of election uncomfortable, and we don't know how many voters it made uncomfortable," Belinsky said. "The reason we wrote the letter is because we would like the Board of Supervisors to make their decision without creating a potential behavioral problem."
Contacted last Friday, Floyd County Board of Supervisors Chairman Joe Turman, who favors placing the issue on the ballot, said he wants to gather more input from the electoral board members and his fellow supervisors before a final decision is made. The Supervisors will discuss the issue at their meeting Tuesday, July 14 at 8:30 a.m.
Turman said many of his constituents have reached out to him by phone and email, specifically requesting that the Confederate monument issue be placed on November's ballot, rather than put up for public comment.
"I don't know if it's additional work, security or what (that concerns the Electoral Board)," Turman said. "One of the things I'm wrestling with in my mind is, if we have a public comment, it's going to be a lot bigger than the one we had (about Second Amendment Sanctuaries)…You're going to have people, and maybe not the best people, that will show up and maybe be very disruptive and it will put a big burden on law enforcement," Turman said.
Asked how he interpreted the concerns of the Electoral Board after reading the letter, Turman said, "I'm wondering if they're concerned that maybe there would be outside influencers harassing the voters and stuff." He added, "I've seen on the news in other states, when they've had something that's controversial, they've had different groups showing up and sort of intimidating people."
Turman said that to the best of his knowledge, the July 7 letter from the Electoral Board represents the first time the board has weighed in on a question of what to place on the ballot. For her part, Belinksy said, "I don't know what is typical and what is not typical—I can tell you what's not typical, which is to put a referendum on the ballot that so plainly puts the question of whether you're for or against racism on the ballot."
In Belinsky's view, the Electoral Board wasn't partisan in its recommendation to the Supervisors. "Our letter is not partisan at all, it just says, 'Board of Supervisors, please do your job without making our job harder,'" Belinsky said. "We're obviously not telling them which way to vote on the statue—we didn't even discuss our personal feelings about it. We discussed it from the perspective of election management," she added.
Turman said if election management is a concern in November, "I will definitely contact (Floyd County) Sheriff (Brian) Craig and meet with him, or have him meet with the (Electoral) Board, and figure out what we're going to do…what he needs, or what he can provide us." Turman added that he doesn't want to "overburden" the Sheriff's Department, but "I want to make it as safe as possible for people to come out and vote."
One way or the other, Turman said, "I'll just be glad to get this behind us; it's very disruptive."
Be the first to know
Get local news delivered to your inbox!