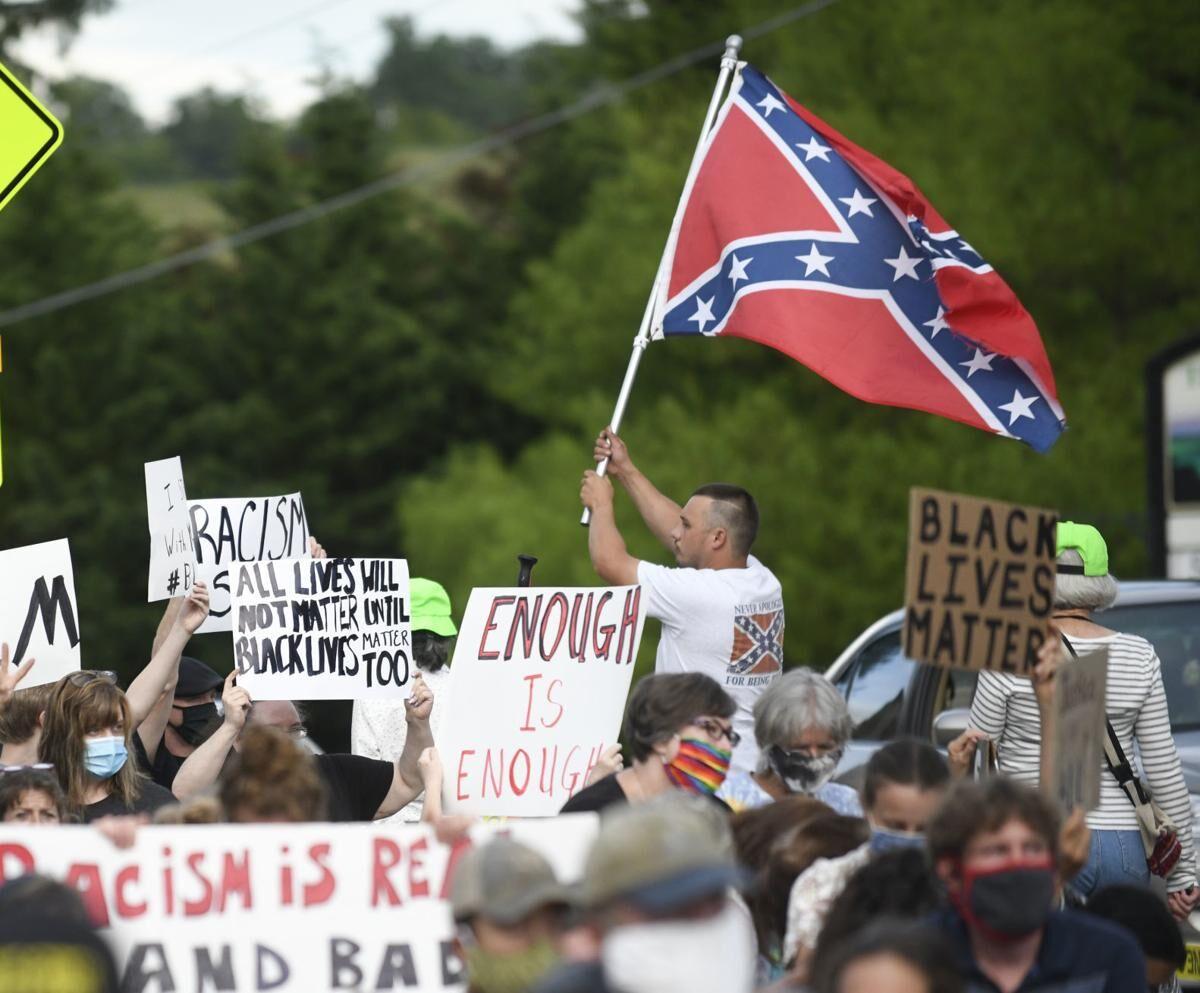 Ultimately, the court's finding that Roger Altizer was guilty of disorderly conduct, a class 1 misdemeanor, came down to his intentions when he paced in front of Floyd's Juneteenth rally with a Confederate flag earlier this year. "What the court needs to consider, is what was the intent?" said presiding District Court Judge Randall Duncan. "What message was he trying to convey when he called someone a 'little b*tch?'"
Altizer, who is currently residing in Floyd but appears to be from Hanover County, came to the June 19 event as a counter-protestor, his attorney explained. Attorney Ryan Hamrick was defending his client against two charges—assault & battery and disorderly conduct—after witnesses saw Altizer respond angrily to taunts from a rally attendee, plant his flag in the ground, rip his shirt off and head back toward the crowd shouting obscenities and threats.
Altizer pleaded not guilty to both charges. He was found guilty of the latter charge and issued a $2,500 fine, with $1,000 suspended, sentenced to 12 months in jail, with nine suspended, and ordered to complete an anger management program. Altizer will also be on probation for two years.
"Mr. Altizer was involved in a counter-protest, and that protest was peaceful," Hamrick told the court, adding that Altizer's actions were a result of him being "provoked."
Floyd County Sheriff Brian Craig appeared as a witness for the prosecution and was first questioned by Floyd County Commonwealth's Attorney Eric Branscom, who asked Craig for details of the rally. "It was Juneteenth; the folks who organized it had reached out to me and been given guidelines" beforehand, Craig said.
Police tape was used to cordon off the rally area outside the county court house and Craig said he and several deputies were on standby to maintain peace and security at the government building. Craig also clarified that contrary to Hamrick's impression, the rally was not about the Confederate monument that stands in front of the courthouse, and which has been a point of contention among various factions in Floyd in recent months.
"It had nothing to do with that. It was Juneteenth, Black Lives Matter," Craig said. Juneteenth is a holiday commemorating when news of the Emancipation Proclamation, which freed enslaved people, reached the last state. Craig said he watched from the roof of the court house as Altizer left the rally at one point with a small Confederate flag and returned with a much larger one, which he then carried while he paced along the police line.
Branscom asked whether, prior to Altizer's altercation with one of the rally participants, which was caught on video, the event was peaceful. "It was," Craig said. Describing the incident he witnessed from the roof, Craig said, "For the majority of the time (Altizer) was causing no trouble, but toward the end I saw him approach a gentleman with gray hair." When he saw what appeared to be Altizer "lunge" at the man, he said, he radioed for back-up from other officers and began to make his way down from the roof.
"(Altizer's) demeanor did not appear to be friendly, especially after taking off his shirt," Craig said. Craig added that even prior to that moment, he observed Altizer interacting with folks at the rally. "The entire time, I could see him having verbal conversations with (them)," Craig said.
After an argument with the gray-haired man (later identified as Thomas Mathews, who also testified during the trial), Altizer moved toward Mathews and, according to Craig, "I don't want to say he swung, he lunged, and from my view that was an offensive move by Mr. Altizer." Hamrick pointed out that Craig was 15-20 yards away from the altercation, and could not hear what the defendant and the victim were saying to one another. He also couldn't testify that he had seen physical contact between the two men.
Alan Graf, who had attended the rally as a trained legal observer with the National Lawyer Guild, was next to testify. Branscom presented a video that captured the majority of Altizer's interaction with Mathews and others in the crowd, including his flag-planting and removing his shirt. The video also showed Altizer shouting obscenities and threats, and bumping into other rally attendees in a seeming attempt to reach Mathews, who testified that he had previously debated Altizer about his Confederate flag.
Five legal observers besides Graf attended the rally that day, and two can be seen in the video, distinguishable by their bright green hats and vests, placing themselves between Altizer and the rest of the group. The women were seemingly trying to deescalate the situation, attempts that Graf testified were technically outside the scope of their assigned duties. Referring to one legal observer, Graf said, "Her designated role was just to observe, she was stepping outside of what she was supposed to do. We're not supposed to get involved with any of the protestors—we try not to show bias or interest."
Branscom asked Graf whether the video accurately captured the events of that evening. "It's a true and accurate presentation," Graf said. Asked how he would describe Altizer's demeanor that day, including in the hour during which Altizer paced in front of those gathered for Juneteenth, Graf used the words "belligerent" and "threatening."
"He was belligerent most of the time, but it escalated when someone in the crowd taunted him," Graf recounted. Hamrick asked whether Graf believed that Mathews' comments challenging Altizer on his beliefs about the Confederate flag are what "triggered" Altizer's aggressive behavior.
"I'm not a psychologist," Graf said, but conceded that Altizer's behavior grew angrier following his conversation with Mathews.
Hamrick also asked for clarification on what Graf meant when he said that Altizer had been belligerent "most of the time."
"I walked alongside him at one point—I was hoping to encourage him to be peaceful. I heard him mutter curse words, including the N-word, at the crowd," Graf said, although he added that "I felt comfortable being next to him until he took his shirt off."
Mathews testified next, offering an account of events that ultimately forced the court to dismiss the Commonwealth's charge of assault and battery.
Branscom asked Mathews to share his recollections from the Juneteenth rally. "To make it brief, (Altizer) was there counter-protesting. He was cursing, calling them stupid people and whatnot…I'd never been to a protest before, but it just seemed outlandish," Mathews told the court.
Mathews said he overheard Altizer debating the symbolism of the Confederate flag with another rally attendee, and that Altizer claimed the red of the flag represented the blood of Christ. Mathews told Altizer that was "well-documented" as false, and as propaganda, he told the court. This was when the interaction escalated.
Mathews said he heard Altizer shout, "I'm going to kick your a**" He added, "I don't remember any punches thrown, but I felt like he was coming toward me, like the threats were for me," Mathews testified. Branscom asked him if he felt any fear or apprehension about potential violence. "No. But if there had been fewer people between us, maybe," Mathews said.
Hamrick then asked for the assault and battery charge to be dropped, since Virginia Code requires that a victim have fear of violence in order for actions to qualify for such a charge. Judge Duncan complied with the request.
Hamrick also entered into the record a photo showing one of the female legal observers standing near Altizer, ostensibly arguing that she was acting out of turn.
"This is one of the rare instances where the court has seen the entire incident," Hamrick said, referring to the video shown in court. "This was a counter-protest, that was the purpose of why (Altizer) was there. Mr. Mathews has testified that he said something to (Altizer)—I think he downplayed it," he said.
Branscom allowed that Altizer had the Constitutionally-protected right to protest, and even that political speech is protected. "Personal actions and personal anger," Branscom said, is when Altizer crossed the line. "(His) conduct as a whole that day indicated a violation of the statute," Branscom said, and Judge Duncan agreed. He outlined several key pieces of evidence for the court.
Duncan pointed to Graf's testimony that he had observed Altizer for about an hour—mumbling things, belligerent, angry, and importantly, on a public street. A subsection of the statute holds that a person is guilty of disorderly conduct if they "while in or on a public conveyance, or while in a public place engage in conduct having a direct tendency to cause acts of violence."
The judge said, "Fortunately, Mr. Mathews didn't take the bait" when Altizer threatened him, but said Altizer's conduct demonstrated a "blatant violation of the statute."
Duncan conceded that perhaps the female legal observer shouldn't have placed herself in Altizer's path, but asked, "Why would he respond to someone trying to maintain the peace" by calling her a "little b*tch"?
Following the ruling, Altizer was taken into custody. He will serve three months in New River Valley Regional Jail. Commonwealth's Attorney Eric Branscom said after the trial that he intends to contact Hanover County to update officials there on the case, as Altizer also faces charges of brandishing a firearm and shooting from a vehicle in that jurisdiction. He was out on bond, which Branscom said could potentially be revoked. Altizer will face a jury trial on those charges, but such trials are currently disallowed due to concerns about coronavirus.
Be the first to know
Get local news delivered to your inbox!