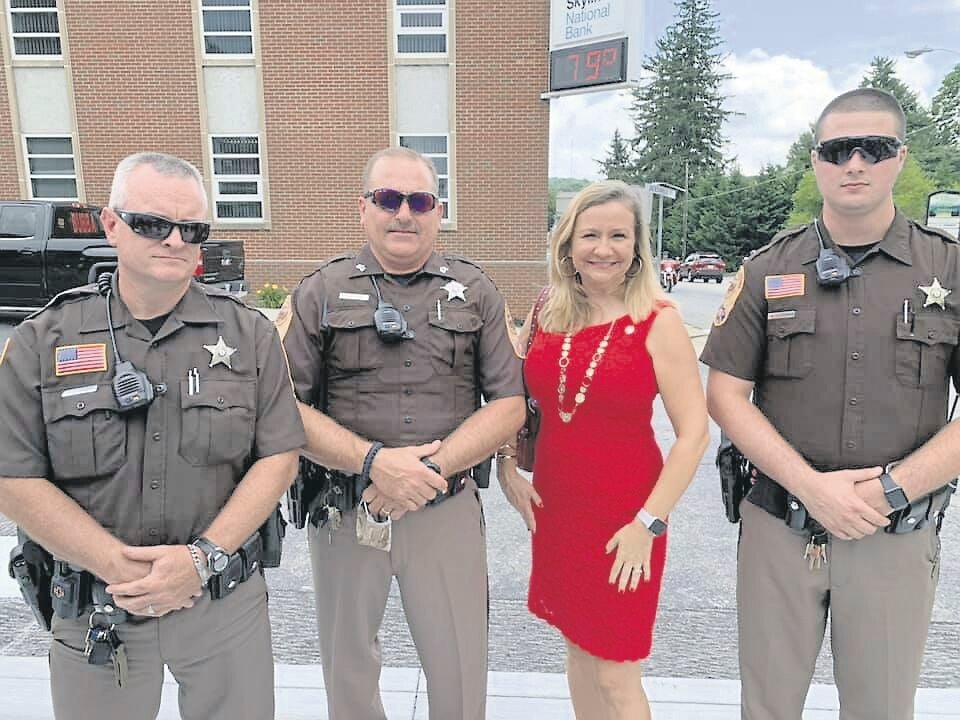 A photo posted to the Facebook account of state Sen. Amanda Chase (R-Midlothian), as well as printed alongside an article in the Aug. 6 edition of the Floyd Press, which showed the Republican candidate for governor posing with several Floyd County Sheriff's Deputies, raised concern among some Floyd residents. In the view of some who saw the photo, it implied an official endorsement of Sen. Chase by the deputies, an action that would violate Virginia code.
A subsection in chapter 15 of Virginia law, which regulates local government personnel, stipulates that employees of a locality (including law enforcement officers) "are prohibited from suggesting or implying that a locality has officially endorsed a political party, candidate or campaign." When Floyd resident Jeff Walker saw the photo on his social media feed, "It looked to me an awful lot like an endorsement," he said.
The law allows for public employees to engage in political activities, but only "while those employees are off duty, out of uniform and not on the premises of their employment with the locality."
"I thought that was a misuse of public platform, and something the county should comment on," he continued, especially considering that one of the deputies pictured is Richard Turman, the son of Board of Supervisors Chairman Joe Turman. The other deputies pictured are Todd King and Michael Clemons.
Floyd County Sheriff Brian Craig was quick to deny that he or the deputies were endorsing Sen. Chase. He said the deputies were on-duty during the event held by Chase's gubernatorial campaign on the Floyd County Court House lawn Aug. 1. Chase had spent that weekend traveling throughout Southwest Virginia as part of her campaign. Craig said he had been notified in advance of Chase's arrival, and placed deputies at the court house for "safety and security," as he would with any large gathering. Deputies were also on the scene, he said, during the Juneteenth vigil held on the lawn June 19.
According to Craig, at some point after Chase's arrival, she asked the deputies to pose with her, and they did, but "the deputies did not pose for political purposes," he said. "They obliged like they would have done for any candidate. They did not endorse and will not endorse this candidate," he further clarified.
Walker said he is a friend of Craig's and "I supported his campaign…I have a lot of respect for him." But Walker challenged the idea that law enforcement officers posing with political figures is something that happens often, or would necessarily happen with members of any political party. Walker cited his longtime subscription to the Floyd Press, saying he's read the local coverage since 1985 and has never seen a similar photo of sheriff's deputies.
"I expect law enforcement to be neutral," Walker said. Walker said he has been appointed to "various state committees and commissions," which makes him aware of what's expected from public officials. The deputies, he said, should have been aware of the law, too.
"The deputies violated no policy," Craig said. Asked whether any of the deputies pictured had been reprimanded or faced consequences as a result of the photo, Craig said he couldn't comment on personnel matters but reiterated that no rule had been broken.
The photo wasn't deputies' only interaction with Sen. Chase during the event, though. In a video posted to the senator's Facebook account, recorded during her campaign stop, she encourages the deputies to step forward and accept a round of applause from the audience. "Let's give it up for our sheriffs. Y'all come up here," Chase said.
Speaking directly to the deputies, Chase said, "We just want you to know that we support you, we love you, we know what you're going through." She continued, "As a legislator, I will do everything in my being to support you all." In the video, Chase then starts naming policies related to law enforcement, asking the deputies and the crowd, "Should we fully fund our police? Do you think we should allow them to keep their (qualified) immunity?" Turning to the deputies again, she asked, "What else do you want?"
This latest interaction with sheriff's deputies in Floyd is not the first time Sen. Chase has generated controversy around her relationship with law enforcement. According to reporting that appeared in the Chesterfield Observer in May 2019, a photo was posted to Chase's campaign Facebook page during her bid for re-election to the Virginia Senate, showing Chase with some of Chesterfield Sheriff Karl Leonard's deputies "in an effort to show her solidarity with law enforcement," the Observer article said.
The post followed an altercation between Chase and a member of the capitol police in Richmond on March 22 of that year. According to the Observer's reporting, Leonard had to clarify that he hadn't endorsed Chase for re-election after the photo prompted inquiries from his community. Following his post clarifying his position, Leonard told the Observer, he received a text message from Chase stating that she would try to hinder his own re-election campaign.
"It just shows a pattern, I believe, of lack of respect for members of law enforcement," Leonard is quoted as saying.
Walker said he's observed the same pattern. Upon seeing the photo of Chase with Floyd's law enforcement officers, he said, "I recognized that the senator has a history of bringing local law enforcement into controversial positions, potentially to ramp up interest in her campaign."
Be the first to know
Get local news delivered to your inbox!