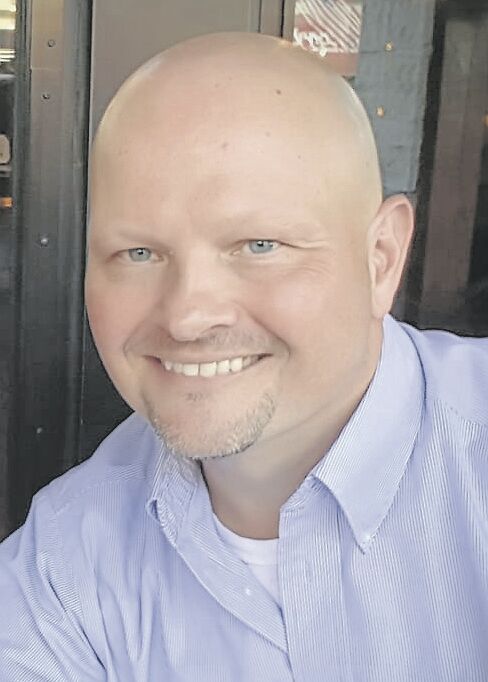 We're hearing from local folks about their very first paid gigs and how their careers developed.
This week, New River Valley Community Services Community Wellness & Outreach Coordinator Mike Wade talks about his stint as a local journalist and the power of storytelling.
He provided these answers via email.
First things first: What was your very first paying job? What did you like about it? What did you learn from it?
My first paying job was as a stock boy at a department store when I was a teenager. There wasn't much to like about it – and I only lasted there for a couple of months. I will say that I did gain great respect and admiration for anyone whose job it is to clean public restrooms.
I am Coordinator of Community Wellness and Outreach for New River Valley Community Services (NRVCS). I have been with NRVCS for more than 20 years and have been in my current role for about two years. One of the things that has kept me at NRVCS for so long is that my day-to-day is almost never the same.
Much of what I do is focused on education and awareness of behavioral health issues, including mental health and substance use disorders. I'm able to share that information through a variety of platforms – from events, to social media and press releases, to frequent interaction with various community stakeholders. Most recently, my duties have expanded to include hosting and producing a weekly podcast that focuses on a variety of population health issues.
How did you get to where you are? Do you see any connection between your first job and your current job?
I studied graphic design and advertising, but my first gig out of college was at my hometown weekly newspaper. I was just trying to get some experience and to start earning a paycheck. I started out as a part-time proofreader and was promoted to sports editor two weeks later. Eventually, I was named editor of the paper. My eight years in journalism were such a great learning experience! I learned how to tell a story, how to take a good picture and how to be a professional. I definitely think that job paved the way for me to take the job with NRVCS.
What advice would you give to someone looking to break into a field similar to yours?
Almost anyone can regurgitate information but storytelling is truly an art. Developing your skills as a writer should be your top priority.
What's your favorite thing about working in the New River Valley?
The New River Valley has always been my home. I care about what's happening around me and I want to make sure I've contributed to making things better in some way. I have been afforded the opportunity to build relationships with some extraordinary people in my almost 30-year professional career, and I take comfort in knowing that those individuals care as deeply about their community as I do.
If you have a suggestion for who we should feature next as part of the 'My First Job' series, reach out to Floyd Press Editor Ashley Spinks at aspinks@wythenews.com.
Be the first to know
Get local news delivered to your inbox!