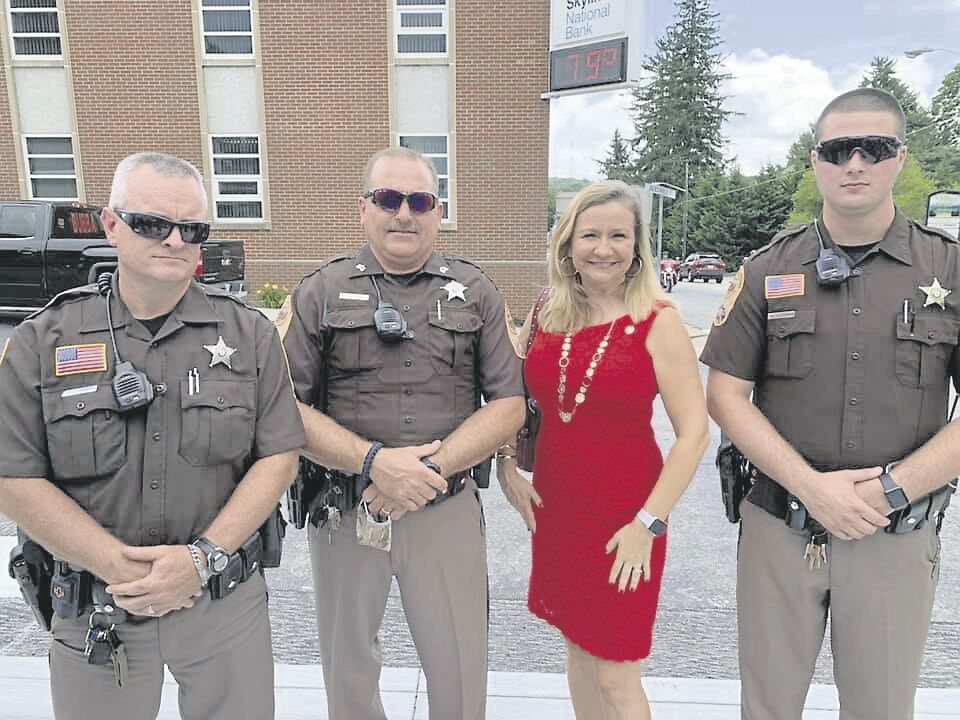 During a tour of Southwest Virginia that included stops in Christiansburg, Hillsville and Radford last week, second-term State Sen. Amanda Chase (R-Midlothian) also stopped by the Floyd County Court House to introduce herself to voters and answer questions Saturday morning, Aug. 1.
Chase announced earlier this year that she is running for governor in 2021, as current Democratic Gov. Ralph Northam is term-limited and won't be eligible to run for reelection. As of press time, Chase is the only Republican to throw a hat in the ring, although other potential candidates include Rep. Denver Riggleman (VA-05), whose district stretches into parts of Southwest Virginia including Pittsylvania and Bedford Counties; former State Sen. Bill Carrico (R-Abingdon) and former Del. Kirk Cox, who preceded Eileen Filler-Corn as the Speaker of the House in the Virginia House of Delegates.
During her visit Saturday, Chase fielded numerous questions from the audience regarding gun rights and Second Amendment protections, which is unsurprising given her history of sponsored legislation in the state Senate. During the 2020 session, Chase was the chief patron of eight pieces of legislation, three of which dealt directly with the ability of citizens to possess firearms.
Chase's SB 950 provided that no funds shall be appropriated for the employment of the governor's personal security staff if the governor takes any action to deny law-abiding citizens their right to carry, possess or transport a firearm. SB 1009 offered that if the state or a locality establishes an area as a firearm-free zone, the governing body waives its right to sovereign immunity as it relates to any injuries sustained by citizens in that space. And SB 958 would repeal the statutory prohibition on carrying a gun, pistol, bowie knife, dagger, or other dangerous weapon to a place of worship. None of these pieces of proposed legislation passed the Senate.
Chase also spoke at the rally in Richmond on January 20, when tens of thousands gathered in the city in support of strong Second Amendment protections. She is also an advocate for First Amendment rights, she said, promoting small businesses and limiting abortion rights.
The overarching message of Chase's question-and-answer session was that Republicans have limited legislative power in the Virginia state government right now, as Democrats retain majorities in both the House of Delegates and the State Senate. In her view, the state legislature is not reflective of all Virginians' views, she said, suggesting that the more liberal preferences of legislators from places like Northern Virginia drown out conservative voices.
"It's time to make Virginia great again," Chase said, echoing the rhetoric of President Donald Trump. "I'm going to represent all of Virginia." Chase told the crowd of a couple dozen, "Every single one of you matters, not just Northern Virginia."
Chase said widespread apathy and cynicism among conservative voters has led to the outsized power of the Democrats in the legislature. "The reason we haven't been winning is because people didn't feel like their votes mattered," Chase said. "Some of us have gotten complacent and lazy, and we have to fight, because they're taking everything from us," she continued. Chase made multiple comparisons of Virginia Democrats to socialists and claimed that Democrats are attempting to limit folks' ability to go to church, run a profitable business or receive a comprehensive education.
On multiple occasions, Chase referenced her social media following, and referred to herself as the "Grassroots Queen of Virginia," telling the audience that for now, as Republicans make efforts to regain the levers of power in the legislature, messaging is the party's most valuable tool. Chase said her social media following is "important" because it allows her to talk directly to the people, "just like President Trump does on Twitter," she explained.
"We need to use our messaging to mobilize," Chase said. The General Assembly goes back into a special session on Aug. 18. "So what do we do?" Chase asked the crowd. "Legislatively, we're not going to be able to do anything about (the governor's policies). (But) we are going to show up and physically show support," for our values, she said.
Chase also made unsubstantiated claims, such as that Virginia Republicans should vote in-person to avoid any "shenanigans" with the election in November. "We need to go to these Democratic precincts and sign up to work in the Registrar's Office," Chase said. "We need to work inside the polls…to make sure shenanigans don't happen, because they will. And don't vote absentee; vote in person," she said.
According to reporting by National Public Radio, over the past 20 years, more than 250 million ballots have been cast by mail nationwide. Fewer than 150 convictions of voter fraud have resulted, which equates to a fraud rate of 0.00006%. An overwhelming majority of Americans polled believe people should have the right to vote by mail given the unsafe conditions created by the nationwide pandemic, and in 2018, nearly 1 in 4 votes was cast by mail without incident.
Voters can also vote absentee by requesting a ballot in advance of the Nov. 3 election and returning it to their local registrar's office before Election Day, in hopes of avoiding crowds (and thus, virus transmission). Voters in Virginia can go online to https://www.elections.virginia.gov/ to request an absentee ballot and can begin voting 45 days before the general election, which is Sept. 19 this year.
In closing, Chase, who has clashed with Republican leadership in the past, told those assembled on Saturday, "I don't work for a party; I don't work for a caucus." She sold herself as a mom, wife and business expert, not a politician, and shook hands with several members of the Floyd County Sheriff's Office who were in attendance, saying, "We support you. We know what you're going through."
Several Democrats have already declared for the governor's race, including current Lieutenant Governor Justin Fairfax, Del. Jennifer Carroll Foy, Attorney General Mark Herring and State Sen. Jennifer McClellan.
Be the first to know
Get local news delivered to your inbox!