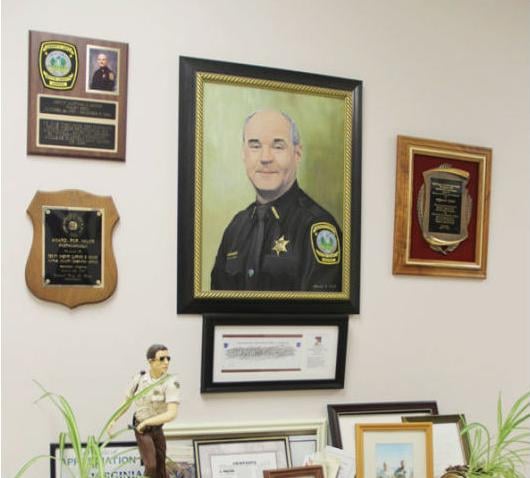 Not for the first time, a slain Wythe County deputy's family spent part of the summer fretting over the possibility of their father's killer being released early from prison.
Now 40 years old, Christopher Shawn Wheeler has served nearly 25 of his 43-year sentence for the murder of Deputy Cliff Dicker. He is up for his next parole hearing on Wednesday.
In December 1994, Deputy Dicker arrived at the home where Wheeler was staying with his grandmother to serve the then-15-year-old with petitions on a theft charge. According to testimony in Wheeler's 1996 plea hearing, the teen shot Dicker with a .22-caliber rifle and then delivered a second fatal shot from the deputy's own service gun.
Wheeler, who was tried as an adult, pleaded no contest to the charge.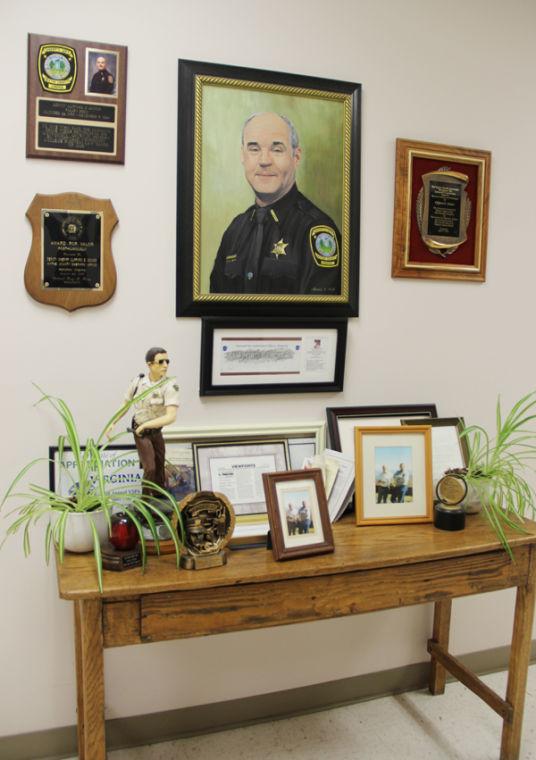 Because Dicker was gunned down just months before Virginia abolished parole in 1995, Wheeler has been eligible for parole since he was just eight years into his sentence. 
"It's a bit wearing on the nerves," said Dicker's daughter, Karla Dicker Turman. "He's been eligible for parole since 2003—that's how long we've been fighting it."
Wednesday's hearing will be the 12th time Wheeler has been before the parole board. Each time, the Dicker family apprehensively awaits the boards decision, which can sometimes come months after the hearing takes place.
Last year, the board denied Wheeler's early release, saying that it would diminish the seriousness of the crime. In 2018, they also cited poor institutional adjustment and the serious nature of the crime as reasons for denial.
Though Wheeler's bids for early release haven't been successful thus far, Turman worries that this year could be different. The parole board has released a number of violent offenders in recent months, including one who served decades after being convicted of killing a police officer in Richmond.
"It does concern me, of course. It concerns my whole family. The parole board has released a lot of violent felons back out onto the streets this year," Turman said. "And not just released them, but did so without even notifying the victims or the commonwealth's attorney's office where it happened."
Virginia law requires that victims be notified before the parole board makes any decision on discretionary parole. As increasing news reports surfaced of parole decisions being made without notification to victims' families or to prosecutors, the Virginia Office of the State Inspector General launched an investigation. According to the parole board's website the investigation focuses on the board's decision-making processes.
When contacted about the status of the investigation, an OSIG spokesperson said they could not comment on potential or pending investigations. 
The lack of notification worries prosecutors. Wythe County Commonwealth's Attorney Mike Jones said he only learned about Wheeler's hearing because his office has kept up with it since Wheeler first became eligible and knew that the now-annual hearing would be coming up.
"It seems to be an ongoing trend with them, at least the past six months or so," Jones said. "The way the parole board is conducting themselves at this time is completely unacceptable."
That trend also prompted Smyth County Commonwealth's Attorney Roy Evans to write a letter opposing the release of a Marion man who was convicted of the 1996 murder of a 68-year-old retired schoolteacher.
Evans said he is not aware of any parole hearing scheduled for 40-year-old Joshua David Widener at this time, but he wanted to make sure the parole board received his letter, dated June 12, before a decision could be made.
Widener's crime took place a year after Virginia abolished parole, but a new law granting parole eligibility to  offenders convicted of crimes committed while they were minors went into effect July 1.
Widener was 17 when he was charged with the rape, robbery and murder of Jean Anderson at her home on Culbert Drive. Two years later, he was convicted and handed four life sentences by a Smyth County judge.
Prior to the new law being passed, Widener and his attorneys made great efforts to try to attain a new sentencing hearing. Evans feels sure a parole hearing will be in the future.
"The home invasion, rape and violent killing of this innocent 68 year old woman was a monstrous act," Evans wrote in his letter to the board. "He was sentenced appropriately, to remove him from the community. I am asking that the Board honor the Judge's sentence and consider this family and the community that believed he was gone and would never return."
In a similar letter to the parole board opposing Wheeler's release, Jones said more than just one person had fallen victim to Wheeler's crime.
"Mr. Dicker's family, friends, loved ones and law enforcement family struggle to this day with the incomprehensible and cold-blooded acts of his murderer Christopher Shawn Wheeler. Each and every one of them should be considered a victim as well."
He also wrote, "The family worries daily about the early release of this man, effectively making them continuous victims each and every day."
Turman said she feels victimized  each time her family is faced with a parole hearing. She's recently been in contact with her state legislators to see about working on parole eligibility reform.
"I don't know what will come of it, but I have to fight it somehow to keep from being victimized every year," she said. "That's really what it is. We, as the victims, are victimized every single time that he's eligible for parole."
For her part, Turman believes Wheeler should be required to carry out his full sentence, since she and her family have effectively been given a life sentence without her father.
"After 43 years, if he's lucky, he'll get out of prison and he'll be free. My family got a life sentence. We'll never be free, so I feel he needs to serve every single minute of his sentence."
In addition to Dicker's family and Jones, other community members have voiced their objections to the parole board.
Wythe County Supervisor Brian Vaught, who wears a Wythe County Sheriff's Office badge by day, also wrote to the board.
 In his letter, Vaught said he's spent 23 years of his life working in the criminal justice system and understands the need to return rehabilitated citizens to their communities after they've paid their debt.
"Based on the documentation I have reviewed , I do not feel that Inmate Wheeler's release can be considered compatible with public safety, which is part of your mission statement," he wrote.
In his letter, Vaught points to the fact that Wheeler had not been released on his mandatory release date in 2014.
"If you look at his institutional history, there's been time added on from his first release date, which means that he's gotten into some trouble inside the institution," Vaught explained earlier this week.
In his letter to the board, Vaught wrote, "It is concerning that if an inmate cannot behave himself under the watchful eyes of the professional correctional officers and the abundance of cameras within a facility, what would he attempt in a rural county such as ours?"
In addition to her normal efforts to help keep her father's killer behind bars, Turman has also organized a peaceful vigil to oppose Wheeler's release to be held outside the facility in which Wheeler is being held on the day of his hearing.
"It is mainly to show the parole board that there are citizens that are not happy with their decision to let violent felons out of prison," Turman said. "I'm sure what we do will not persuade the parole board whatsoever. . .  This is just another step to show them that we, the victims, are not going to quietly sit by and be victimized."
Turman said she welcomes anyone who wants to attend. The vigil is scheduled to take place from 10 a.m. until 3 p.m. on a property adjacent to the Green Rock Correctional Center in Chatham.
Be the first to know
Get local news delivered to your inbox!