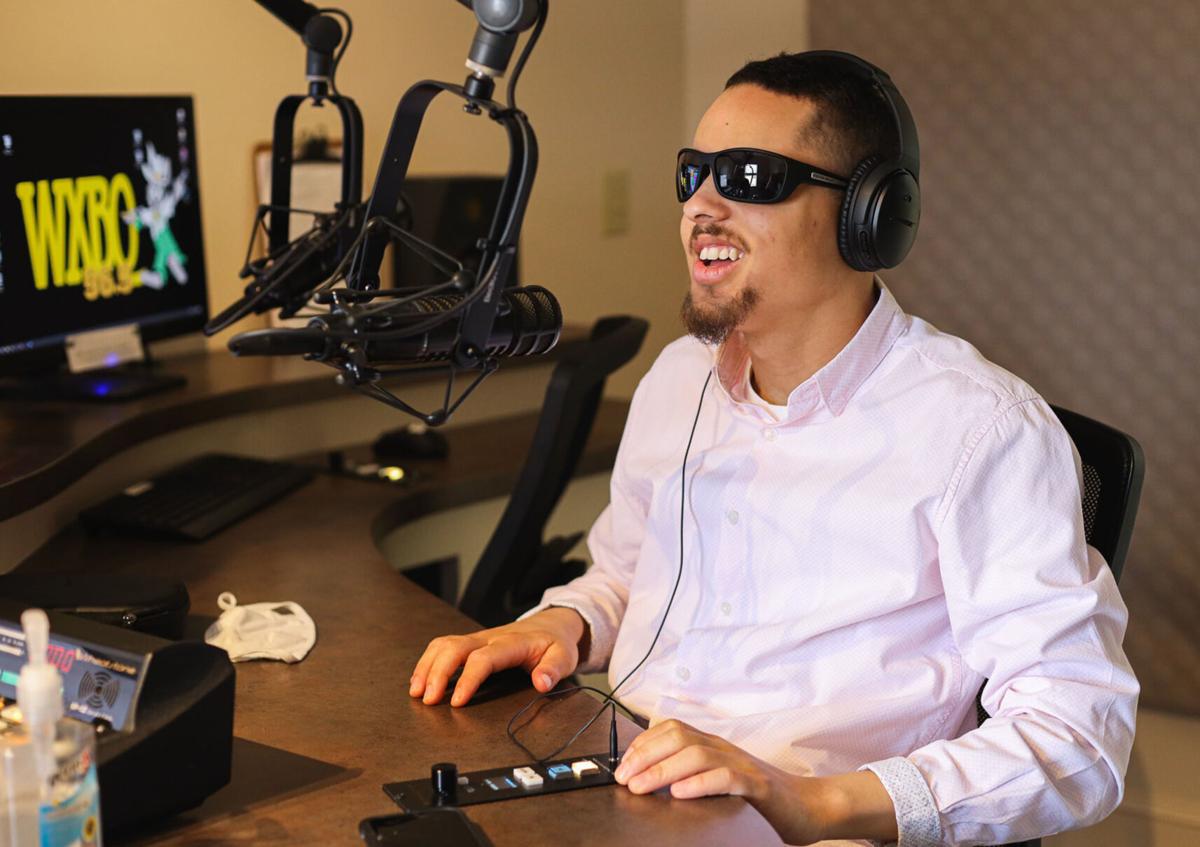 GLADE SPRING, Va. — A local college student is proving you don't have to have sight to have a vision.
Chandler Foster, 21, can do just about anything he sets his mind to — even if it means stepping outside his comfort zone.
When he's not engaged in virtual learning or practicing the piano, Foster can sometimes be heard on the airwaves as a guest announcer on 96.9 WXBQ radio in Bristol, Virginia.
The student at Virginia Highlands Community College is completing an internship with Bristol Broadcasting, a radio chain that operates 29 stations in four southern United States markets, including the Tri-Cities area of Northeast Tennessee and Southwest Virginia.
The only thing that sets him apart from other interns is that Foster has been totally blind since birth.
It's not a disability, he insists. His lack of sight has strengthened him and led him on a journey to a fuller life.
Foster has not only accepted being blind, he actually likes it.
"I love a challenge. If there are no challenges, life is too easy," he said.
'A positive light'
Foster's story is one of inspiration and determination.
The Glade Spring resident was born with conditions called anophthalmia, a birth defect where a baby is born without one or both eyes, and microphthalmia, a birth defect in which one or both eyes did not develop fully.
"It's pretty simple. I've never been able to see anything," said the student who shuns any kind of pity or sympathy.
"I'm fine with not being able to see because it's all I've ever known. I just live my life a little differently than everyone else. I don't have a disability — I just can't see."
Marcus Brooks, on-air personality for WXBQ, is impressed with Foster's eagerness to learn in an environment that is mostly foreign to him.
"Chandler is very interested in learning how everything works here at the station — the software that controls the music, the microphone set-up, and how the music is selected," Brooks said.
"And he has a good sense of humor about his visual impairment. He's not ashamed of it. In fact, he's proud of it and likes to joke about it. He's always very positive about it."
Foster has been on air a few times during programming and talked about the Super Bowl, his classes at college and even his lack of sight.
"He's very smart and wants to learn. It's very inspirational. He's a positive light, that's for sure."
Blind at birth
People often are curious about his condition and that's understandable, Foster said.
"They ask questions not because they are scared — they ask questions because they want to know more. I don't mind telling them my story."
His story of learning to overcome the obstacles in his life actually began at age 2 months, when he began receiving assistance from Kate Jacob, a teacher of the visually impaired for Washington County and Bristol Virginia Public Schools.
Early on, Jacob offered advice to help Foster's mother feel more comfortable caring for her new baby. As Foster grew older, Jacob helped to strengthen his fine motor skills that eventually would help him write and read Braille.
She introduced him to tactile books that taught him to identify raised pictures.
Foster's mother, Teresa Gilmer, said her son has always been outgoing even since he was a small child. At age 3, Foster rode a bus to Greendale Elementary to attend pre-school. He was reading and writing Braille by age 2.
"He's always been upbeat and positive. I wanted my child to be the best he can be and he has proven that over and over again. He truly is a blessing," said the mother.
Jacob worked with Foster throughout his secondary education, sitting with him in high school math and science classes, where he needed additional help with materials. She continues to assist Foster with coursework at Virginia Highlands Community College, where he is receiving a career studies certificate in applied music and an associate of arts and sciences degree in general studies.
He overcomes many challenges with the help of sophisticated technology.
He listens to Zoom class lectures and he can type using a screen-reading software called Jaws.
He uses an app called Voice Over on his smart phone to access the Internet, school coursework and Facebook, where he keeps up with school buddies.
"He's got a memory like a steel trap," said Jacob. "He's gifted with a terrific memory and that has helped him along the way."
Blessed by God
Foster will graduate from the community college in December, a few months later than expected due to schedule changes during the pandemic.
After graduation, he wants to transfer to Emory & Henry College to pursue a music degree. Eventually, he hopes to be a music director for a choir or choral group.
"Music is very comforting for me. When you can't find the words, music always has the answers," said Foster, who especially loves the older tunes of jazz and country music.
Foster's advice for anyone who is facing challenges is to stay positive as life unfolds.
He rides roller coasters at Dollywood. He loves to swim and roller skate. He's even ridden a tandem bike during an excursion from Whitetop to Damascus.