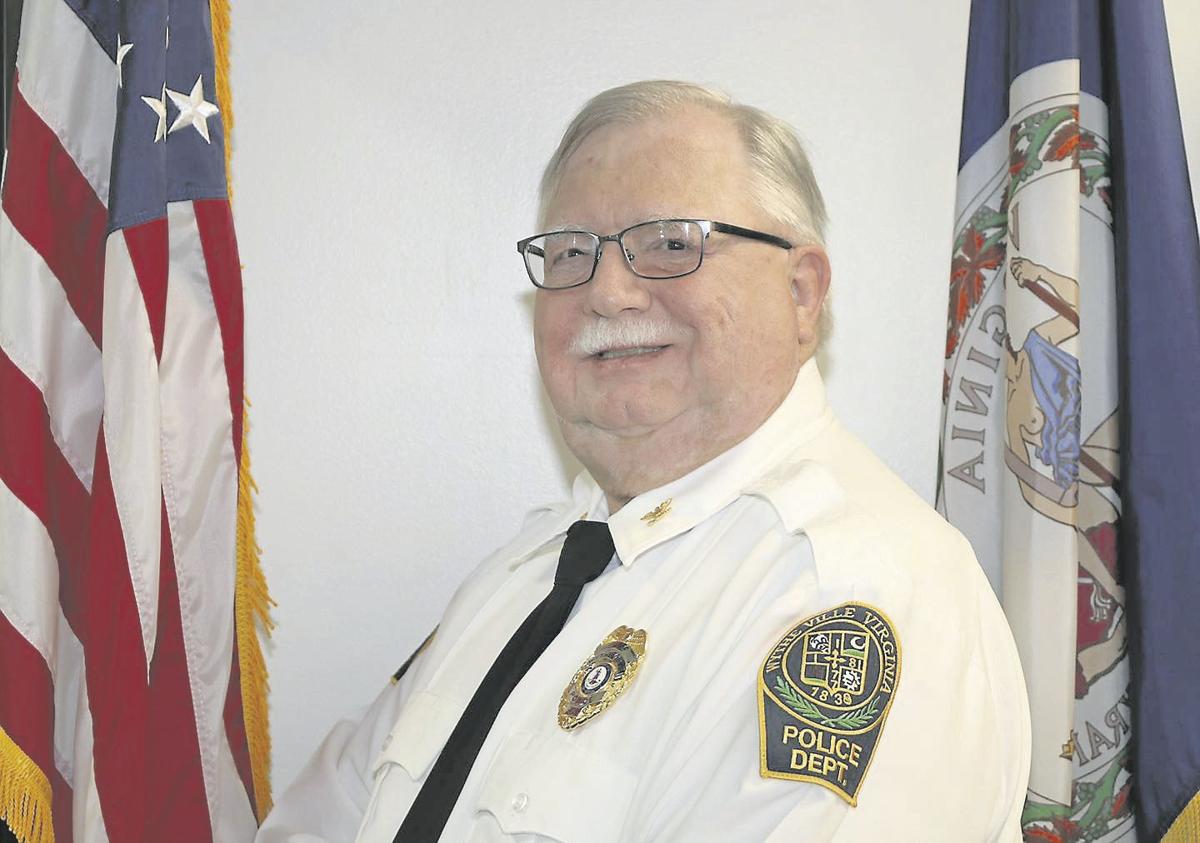 Wytheville Police Chief Rick Arnold signed off recently, retiring after 43 years of service to the Wytheville Police Department.
Arnold began his tenure with the department in September 1977 and held every rank possible in the department, rising to the top spot as police chief in October 2012. He also served in every capacity of the agency in patrol, as patrol supervisor, detective and in administration.
Officially, his last day was July 1, but he left the department in January to have shoulder surgery.
Arnold came to Wytheville in the mid-1970s, arriving with his parents, James Roy Arnold and Catherine Burcham Arnold, Wythe County natives. They decided on Wytheville after living across the country and in Germany thanks to the elder Arnold's Army career.
"I'm an Army brat," Arnold said. "My dad was retiring, and I was in transition from high school to college. I moved down here with them and went to WCC."
Arnold said his love of policing came from his father.
"One of my dad's duties when he was in the military was working with the military police, and I always respected those guys growing up on base," he said. "While in high school, I took a business law class and just fell in love with the language of the law. I have always wanted to be in a position to help people and took this course of action."
Arnold worked briefly for the Bland Correctional Center and also the Mount Rogers Alcohol Safety Action Program before joining the WPD.
"And in 43 years, I never looked back and never thought of working for another department," he said. "I felt like this was my home."
Arnold has worked in areas across the department, but his favorite was patrol, where he worked as an officer for nine years and as a supervisor for another eight years.
"I loved being a patrol officer from the very beginning," he said. "I think it's because being a patrol officer you are on the street and being sent to calls. And if you are doing the right thing, doing what you are trained to do, there is a resolution to completing what you have done."
In patrol, there's always an ending – people who are fighting make up, or someone is arrested and sent to jail. If you work an accident, you are able to determine who is at fault and get resolution, Arnold said. As a detective, you get cases but don't get to solve them all, he added.
One of Arnold's toughest cases happened when he was only two years in as a patrol officer. There was an accident at what is now the TA Truck Stop on Peppers Ferry Road. A car with three employees from the Bland Correctional Center – people Arnold knew from his days there – was turning left into the truck stop, where the employees left their cars when they carpooled to work. A Trans Am speeding down Peppers Ferry t-boned the car so hard that two of his former co-workers died and three others were sent to the hospital.
"It was just a horrendous accident," he said.
He also remembers one day when he and his partner, Barry Conley, served an assault and battery warrant on a man for abusing his wife. The man came out onto the porch with a gun pointed straight at the officers. Then, he pointed the gun to his head. The wife ran out screaming that he had a gun, but managed to grab the gun, giving Arnold and Conley enough time to reach the man and subdue him so they could handcuff him.
As police chief, he remembers the officer-involved shooting on Main Street back in 2015 when a woman came home early one morning to find a window open. She left the house and called police to report a possible breaking and entering. After two police officers arrived, a man came toward them, pointing a handgun at them. Both officers shot the man, who survived and was charged in the incident.
Former Wytheville Mayor Trent Crewe remembers Arnold as the driving force behind the police department becoming and staying accredited.
"That alone has assured the best possible department and saved our citizens money in their homeowners insurance," he wrote in an email. "It requires intense record keeping and reporting and regular close scrutiny and inspection of records, policies, reports, communications, equipment and training by outside agencies. It is very detailed."
Crewe said Arnold maintained the highest quality of personnel, training and equipment.
"He has dealt with all the issues fairly, fully with candor and transparency. He maintained morale and was visible in the community," Crewe said. "He also made sure the Town PD had the DARE Program in our schools so students knew how to avoid drugs, but as importantly knew the officers and could talk to them any time or place they encountered one another. He taught in several academies and at Radford University to stay current on all developments in policing and made sure Town officers were as well. He kept good working relationships with all neighboring departments and jurisdictions. And he kept a good working relationship with the courts, Council, staff and citizens. He is well-known and well thought of throughout the area and the entire state."
Wytheville Mayor Beth Taylor thanked Arnold for his many years of service and dedication to the town and safety of its citizens.
"I wish him many healthy years of retirement," she said.
Town Manager Steve Moore congratulated Arnold on his long and distinguished career.
"Since I have known him, he has been an advocate for the betterment of the Wytheville Police Department," Moore said. "His emphasis on education, training and certification for both himself and the entire department has helped to develop the recognized department we have today. He leaves a legacy of leadership that will continue far into the future. We all wish him the best in this new phase of his life."
Now that he's retired, Arnold said he has a long honey-do list from his wife, Lynn.
"It's growing more and more every day," he said.
As soon as coronavirus restrictions ease up and the state and country open back up, the Arnolds plan to travel to places they enjoy, like Pigeon Forge, Myrtle Beach and Tybee Island, Georgia.
As he leaves the police department, one thing is certain, Arnold said.
"It's in good hands. With the appointment of Joel Hash as chief of police, I think it's in great hands. It's a growing, progressive department."
Hash said working for Arnold was challenging yet rewarding.
"I can remember my first day on the job. I was nervous, but yet, enthusiastic about the job. My first assignment was riding with the sergeant on duty, which was Sergeant Ricky Arnold. I had heard a lot of war stories about Sergeant Arnold, (Radar Arnold), before even meeting him. At first, I didn't know what to say or how to judge him, but as time went by, I was able to learn a great deal from him," Hash said in an email.
While patrolling with Arnold, Hash said he learned a lot of techniques from him and a better understanding of Virginia traffic and criminal laws.
 "Sergeant Arnold was a walking case law book that took his job serious," Hash said. "With him, there was a time to joke around and have some fun, but when it came to his job performance, he was devoted to the job and the safety of the community. From the first time I met Chief Ricky Arnold, he has always looked for improvement for the department and its people. I can say that I was very proud to be able to serve under the leadership of Chief Ricky Arnold."
When Arnold signed off last month, a dispatcher read aloud a brief biography. Here is what she said:
After 43 years of service with the Wytheville Police Department, Chief Ricky Arnold will retire. He began his career with the department on September 1977. During his tenure with the department, he has held every rank, progressing to the top spot as Chief of Police in October, 2012. He has also served in every capacity of the agency in patrol, as patrol supervisor, detective and in administration.
He has worked under five Chiefs of Police (Joe Falwell, Warren MacAllister, Robert Doyle, Larry Groseclose, and Harry Ayers), three Mayors (Carl Stark, Trent Crewe and Beth Taylor) and two Town Managers (Carter Beamer and C. Wayne Sutherland).
Also, during his time he has been an avid proponent for the education of law enforcement officers and an instructor for local police academies and the Commonwealth of Virginia, teaching courses in defensive tactics, driver training, firearms, radar/speed measurement, domestic violence/victimology, accident investigation / reconstruction and special weapons and tactics. He has also served as an adjunct instructor for Wytheville Community College, Bluefield College and Radford University teaching a variety of criminal justice courses.
He obtained his bachelor of science degree in organizational management from Bluefield College in 1996, his master of science degree in criminal justice from Radford University in 2002. He also completed the Richmond University's Police Executive Leadership School in 1999.
Chief Arnold has been appointed to the Department of Criminal Justice Services (DCJS) Curriculum Review Committee on two different occasions. These committees resulted in developing training standards for police officers in the Commonwealth. He was also appointed to the Virginia Law Enforcement Professional Standards Commission (VLEPSC) by the Virginia Association of Chiefs of Police (VACP). This Commission ensured that accredited agencies adhered to the high standards set forth by the commission.
As the accreditation manager, he assisted in his agency obtaining State Accreditation in 2002. This status was granted by the VLEPSC. The department has maintained that status every four years since.
"It has been my honor and privilege to have worked with the men and women, past and present, of the Wytheville Police Department," Arnold said. "It has been my extreme honor to have served the citizens of the Town of Wytheville over the past forty-plus years."
Be the first to know
Get local news delivered to your inbox!