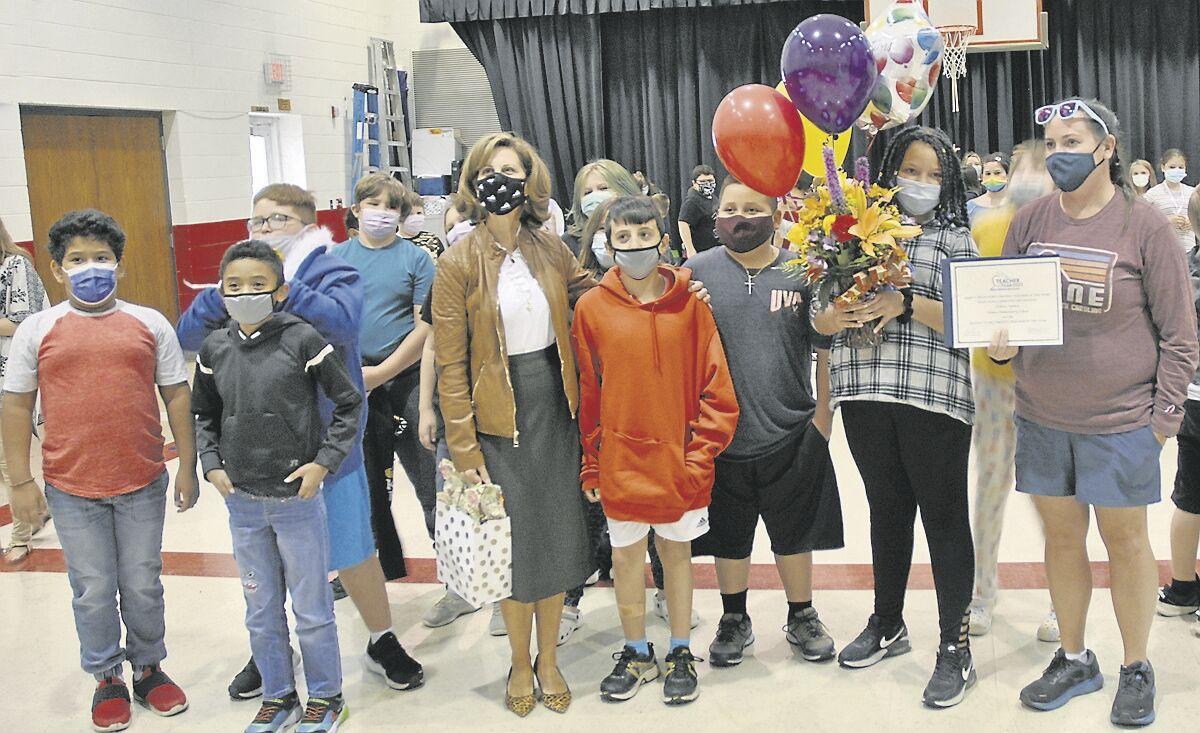 Virginia's First Lady Pamela Northam came to Atkins Elementary School on Monday morning to make a special announcement.
Ashley Cannon, health and physical education teacher and Smyth County's Teacher of the Year, has been named Region 7 Teacher of the Year.
Cannon received the county level recognition last month, making her eligible for the regional award. She will now be considered for the state honor.
"I was really shocked. I was not expecting that," Cannon said after the presentation. "I am overwhelmed and thankful that I got recognized, but that's just what I do in a normal day. It's nothing, I think, above and beyond. I was very shocked that the governor's wife came."
When she first realized Northam was talking about her, Cannon said she thought, "Oh no, I'm going to have to get up there and say something, and I'm not good at that. I would much rather sew and be physical and have the people better than me say something."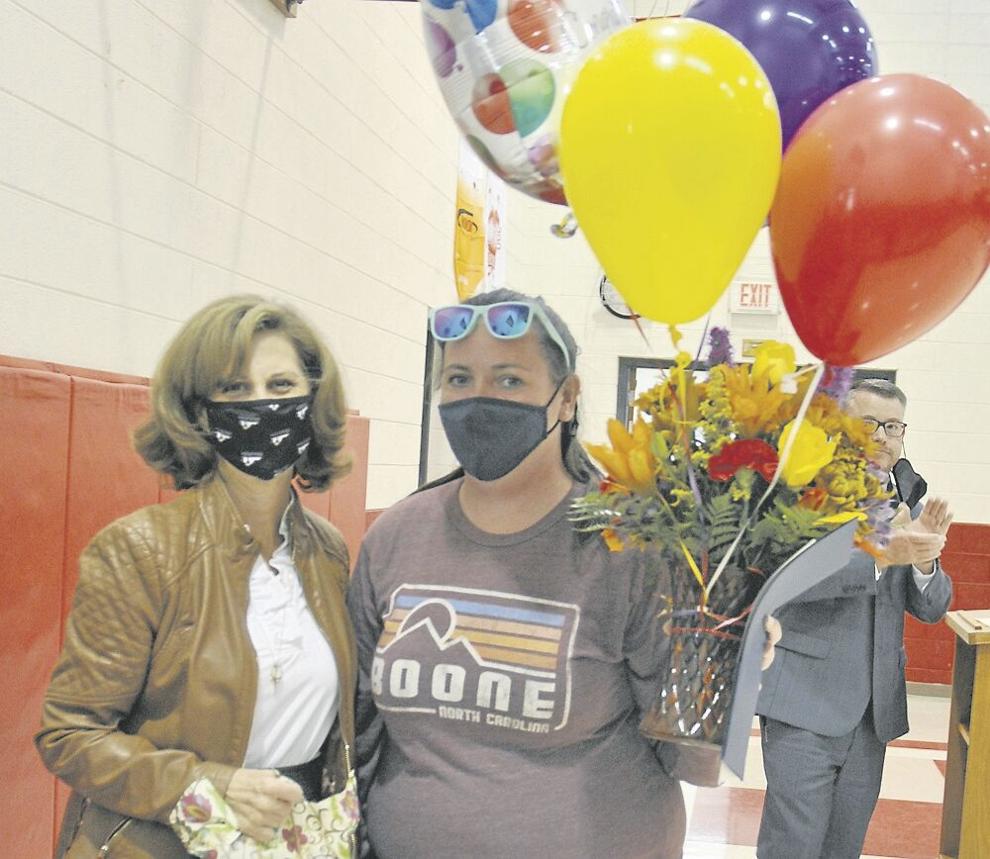 Northam spoke of Cannon's contributions to the education of her students both in the classroom and outdoors as well as her way of keeping in touch with them outside of school to make sure they have what they need to be successful.
"She believes she should help children both in school and out of school to be their very best," Northam said of Cannon, including sponsoring a Free Home Table at school and securing donations from friends and the community to help her students secure the basic things they need and positive phone calls to check on them at home.
"Everything that I do here at Atkins, and at my other school, Sugar Grove, is to help kids be more active," Cannon said. Writing a grant to get a playground, getting the kids to go hiking, helping them learn to ride a bike, doing whatever she can do to encourage them to be active because, she said, being more active outdoors helps them do better in school.
Cannon's efforts in the outdoors help children learn to be strong and healthy, Northam said. "She wants to ensure that every child can find and live their American dream."
Cannon is one of eight teachers who learned on Monday of their selection as 2022 Virginia Regional Teachers of the Year during surprise announcements at their schools, including Governor Ralph Northam and his wife participating in the Region 1 announcement at John B. Cary Elementary in Richmond.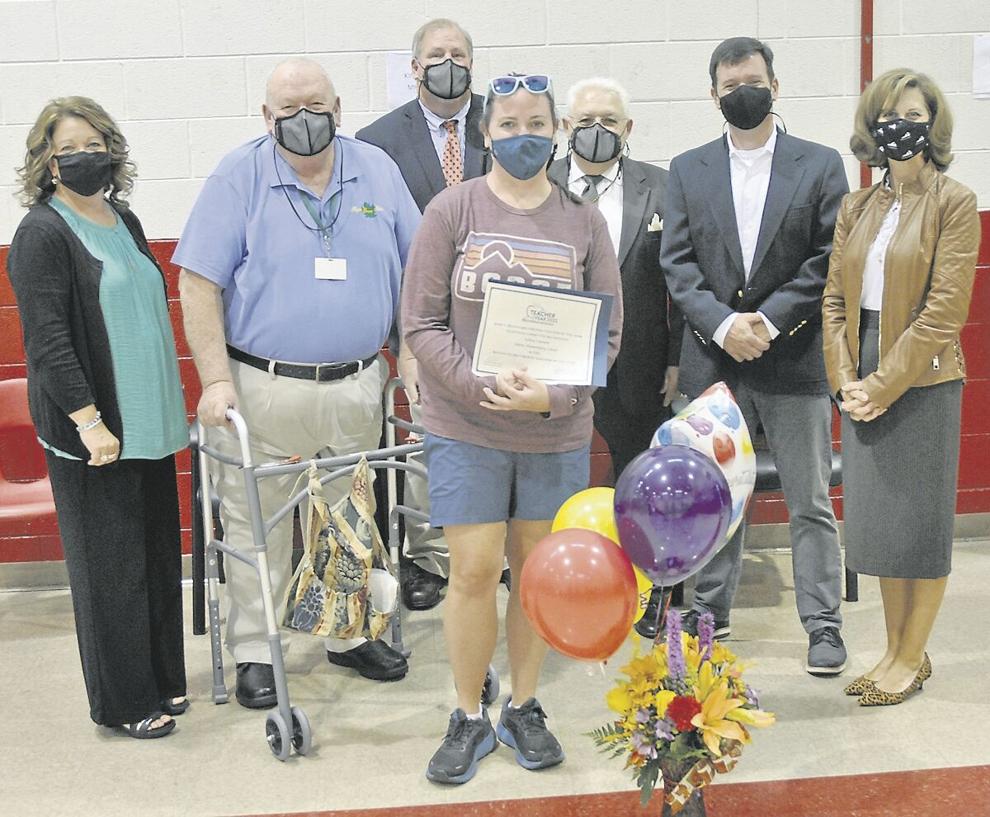 "These teachers are true examples of the dedication and ingenuity of our educators," Gov. Northam said. "Whether teaching virtually or in-person, their commitment made a tremendous difference in students' lives during a challenging year. As full-time in-person instruction safely resumes across the commonwealth, their excellence will continue to make a difference in the classroom."
"I want to thank all of our teachers for their tremendous efforts to support, challenge, and inspire Virginia's students," said Pamela Northam. "Our regional teachers of the year personify a can-do spirit in the face of challenges and demonstrate immense dedication to the academic success and wellbeing of their students."
The other regional teachers chosen are:
• Ashley Sharell Bland, an instructional technology resource teacher at John B. Cary Elementary School in Richmond (Region 1).
• Daphne Tamara Fulson, a second-grade teacher at Portlock Primary School in Chesapeake (Region 2).
• Robert Dean LaFollette, a science, career and technical education, and mathematics teacher at Essex High School in Essex County (Region 3).
• Howard L. Brewer Jr., an English teacher at the Transition Support Resource Center-Alexandria in Fairfax County (Region 4).
• Matthew Kenneth Uselton, an English Teacher at Liberty High School in Bedford County (Region 5).
• Eboni Jenee Harrington, a mathematics teacher at Lucy Addison Middle School in Roanoke (Region 6).
• Brendan Mayer Conroy, a GED/Individual Student Alternative Education Program teacher at the Appomattox County High School in Appomattox County (Region 8).
A selection panel, including classroom teachers, representatives of professional and educational associations, and the business community reviewed portfolios and selected the eight regional teachers.
On Oct. 14, the panel will interview each of the eight regional teachers to select the 2022 Virginia Teacher of the Year. The decision will be announced by Gov. Northam later in the day.
The 2022 Virginia Teacher of the Year will be the commonwealth's nominee in the National Teacher of the Year Program. The recognition is given by the Council of Chief State School Officers and program partners. Three previous Virginia teachers — Mary V. Bicouvaris, the 1989 Virginia Teacher of the Year; B. Philip Bigler, the 1998 Virginia Teacher of the Year; and Rodney A. Robinson, the 2019 Virginia Teacher of the Year — went on to be named National Teachers of the Year.
Cannon is enjoying her 16th year as a health and physical education teacher, the past 14 years serving the students of Smyth County. She began in 2005 as Behind the Wheel instructor in Washington County Schools. She transferred to Grayson County in 2006 as a high school driver's/health/physical education teacher and taught those same courses at Marion Senior High School from 2007-2010 when she took on her current position as elementary physical education teacher at Atkins and Sugar Grove elementary schools. She has also served as an adjunct professor at Wytheville Community College since 2017.