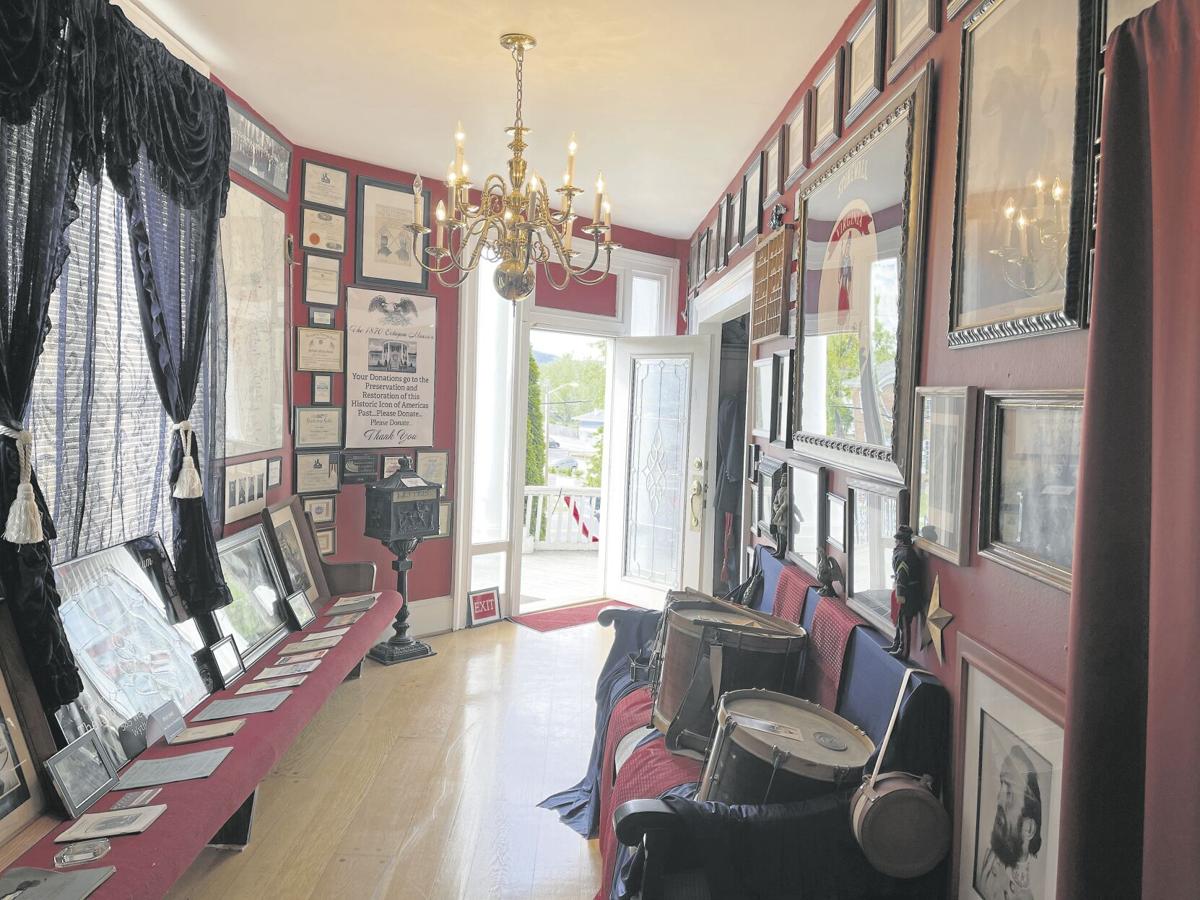 Wytheville resident John Cushman has opened his private collection of historical memorabilia to public: The 1870 Octagon Mansion History Museum opened on Memorial Day.
Cushman has been a collector since he was five years old – six decades of collecting uniforms, weapons, photos, flags, drums and so much more that it fills room after room after room. The mansion is located at 585 Main St. Over the past two years, the Cushman and his wife, Deborah, have been renovating the 8,800-square-foot home and working to display John's collection, which is so extensive it had to be hauled from his former home in Oregon to Wytheville in a semi-truck.
"My love of American history from a young age and being a Civil War re-enactor in Gettysburg for 25+ years led to this collection," John Cushman said. "It has been my dream to have the opportunity for it to be displayed for public viewing and now that dream has come true , two-fold. Not only is the collection being displayed, all proceeds of the museum go to the restoration and preservation of this 151-year-old home, the Octagon Mansion. It is my hope that after visiting the museum, everyone, of all ages and nationalities, learn a bit more than they knew before and leave with a sense of pride that they are a part of a strong heritage that formed the United States."
Cushman said he hopes school children will take filed trips to the museum as part of their history classes.
The home, which is also the site of Cushman's Dinner with a Ghost events, now combines two of his passions: history and the paranormal. Much of the displayed items concern the Civil War, but there are other items that deal with different eras of American history, including the Revolutionary War, and both World Wars.
Throughout the home, the walls are covered with everything from photos and flags to maps and newspapers. Some of Cushman's favorite pieces include a uniform worn by a colonel on President Abraham Lincoln's staff. He said he's also fond of the Civil War band uniforms, newspaper front pages dating back to the 1700's, cameras that showed the tragedy of war, and pictures and portraits that defined the times.
The collection has authentic Civil War guns, flags, books, photos, letters, signatures, furniture and swords. There is also a snippet of fabric from Lincoln's burial covering. There are also several organs and three pianos, along with three large maps outlining Confederate and Union positions during the three-day Battle of Gettysburg – one map for each day.
Also in the collection are drums used during the Civil War, Spanish-American War and World War I; bullets from Gettysburg; a Civil War bugle; and flags flown at homes designating how man sons and fathers in the household were fighting in the Civil War; and a tintype photo of Abraham Lincoln with his family – the last family portrait taken Lincoln's son, Tad, died.
Inside the library, there is a 128-volume set of books that outlines every Civil War battle, telegram, order and more for both sides. There are also history books written as events happened, "not sugar-coated hundreds of years later," Cushman said.
The Uniform Room houses two British uniforms from the Revolutionary War, a British drummer boy uniform, and Civil War uniforms for both Union and Confederate soldiers.
Museum hours are: Sunday, closed; Monday, private tours by appointment only; Tuesday-Saturday 10 a.m. to 4 p.m. Cost is $8 per adult; $5 per child, ages 5-12; children under 5, free.
For more information, visit the museum's Facebook page, "The 1870 Octagon Mansion History Museum" or call 503-569-4753.