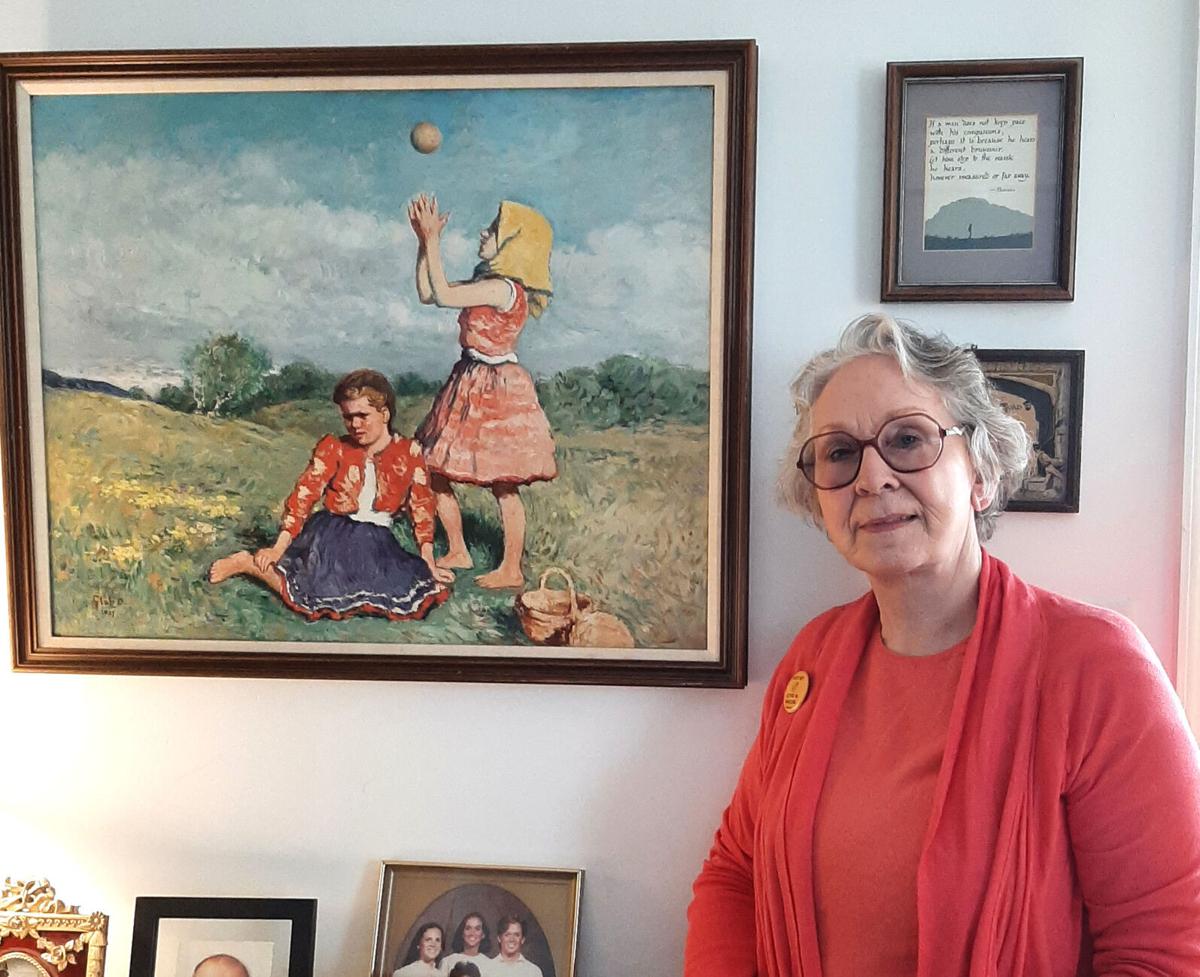 ABINGDON, Va. — Louise Ware cruises into Abingdon every few months and seeks treasures at the Highlands Thrift Store.
This artsy town off Interstate 81 is a stop-off between Ware's main residence at Richmond, Virginia, and her getaways in New Orleans, Louisiana, and Austin, Texas.
Ware, 76, enjoys browsing through the thrift store's paintings on Cummings Street — the place where she picked up a particular painting in September 2018 that has since inspired mystery.
It's a hillside landscape scene painted in 1937 by Hungarian artist Oskar Glatz (1872-1958), who was known for painting oil on canvas.
The 2-foot-tall painting measures more than 2 feet wide. It features two Hungarian children playing ball.
"The artist did a lot of children paintings. A lot of them were children in the hillsides. He has these same children in a number of paintings," said Ware, who was born in Lynchburg, Virginia, and grew up in nearby Gladys, Virginia.
Ware bought the painting for $42.
"It's just a very pleasurable painting," Ware said. "I hadn't even thought about the history. I just hung it on the wall. It was a pretty painting."
Mystery
Ware's niece, Lynn Crawford, watched Ware buy the painting and later urged her aunt to have it appraised.
"Any well-done oil painting by a professional artist is worth something," said Crawford, 58, who lives in Livingston, Montana, and who studied art history at Randolph-Macon Woman's College in Lynchburg, Virginia.
Ware noted that the painting had been framed in the United States, though it was painted in Hungary.
In New Orleans, art appraiser David Goldberg studied the painting on Oct. 1, 2020, and assessed its value at $8,000.
But, Ware said, "I don't want to sell it. I want to keep it."
Yet she is wildly curious to learn more about its origins.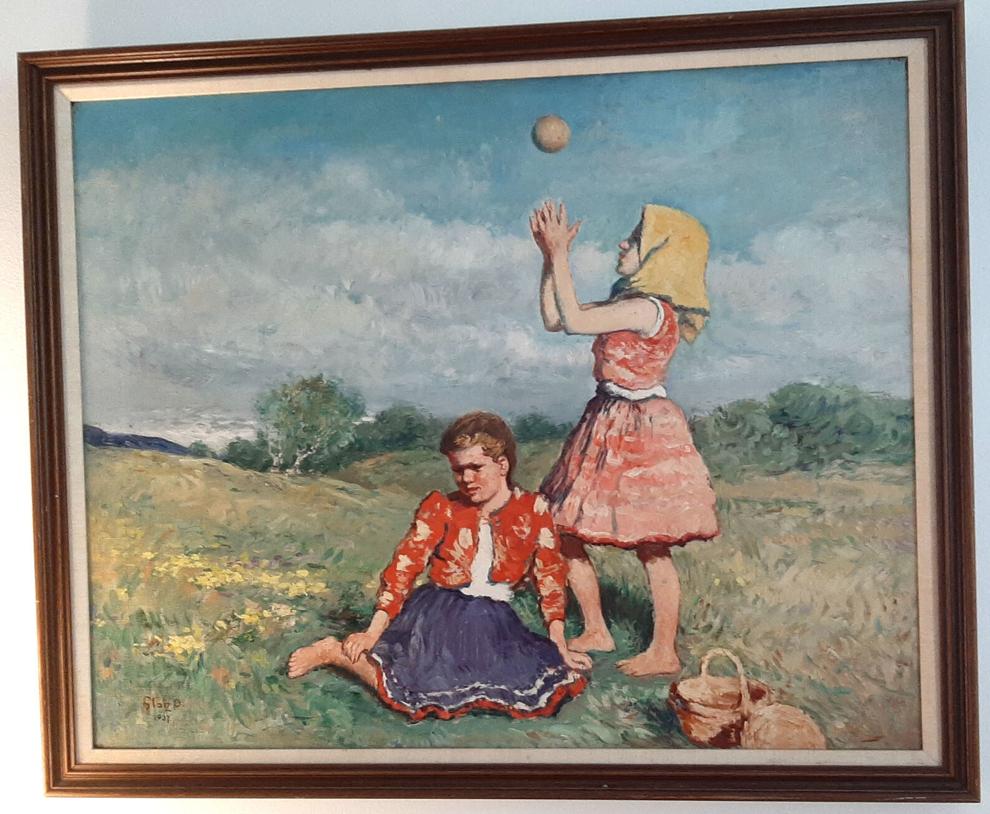 The same could be said for Goldberg.
According to Ware, the appraiser said, "How in the hell did this painting get to Abingdon, Virginia, and sold in a thrift store?"
Donations
Paintings at the Highlands Thrift Store sell for various prices — from $10 to $120, said Mike Fuller, 73, the business manager since the store opened about a decade ago.
Usually, the store has a selection of 30-50 paintings at any given time, Fuller said.
And there's really no way of knowing who donated this painting or practically any other, he added.
"I could go through the store right now with all the paintings in it and not have any idea knowing specifically who dropped them off," Fuller said.
Not knowing what you'll find, however, could inspire shoppers, Fuller said.
"Sometimes, you find treasures," Fuller said. "People go to thrift stores for treasures."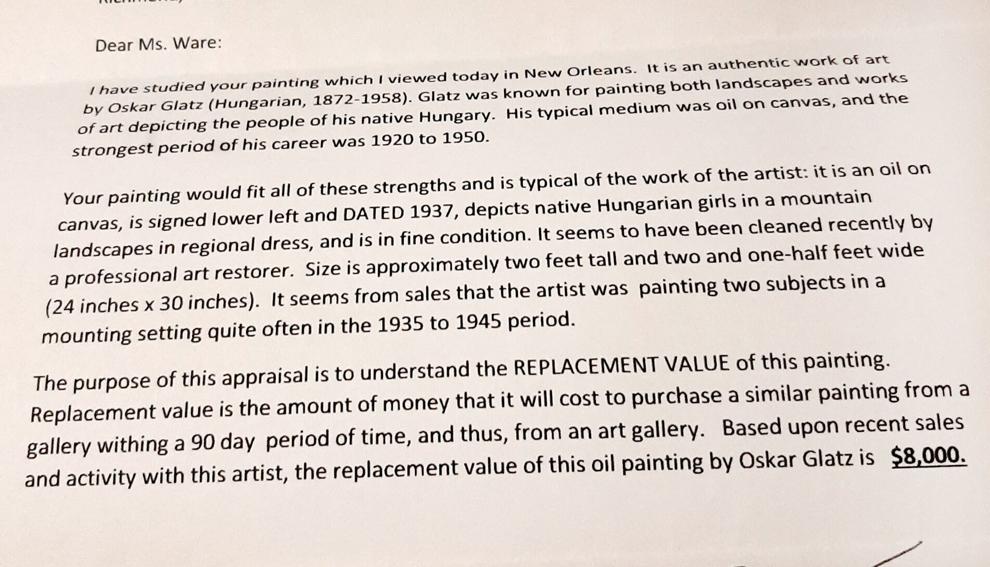 'Enjoy it more'
After learning she had picked up a valuable piece of art, Ware moved the painting from her part-time rental property in New Orleans to her primary residence in Richmond.
"I brought it back to Richmond where I can enjoy it more," said Ware, who retired from a career of assisting Virginia politicians Chuck Robb, Mark Warner, Doug Wilder, Jim Webb and Mary Sue Terry.
Yet buying art is no big deal to Ware.
"I'm not a collector. I like pretty paintings. And I've got too much crap on my walls," she said with a laugh.
"If I like it and it's pleasant to me, that is art. I can't get into a lot of the weirdo stuff," she added.
"I like a pretty picture. Flowers are big with me."
As for what she found in Abingdon, Ware said, "I liked it and I knew that I had a big wall that needed something. And, so, I bought it."