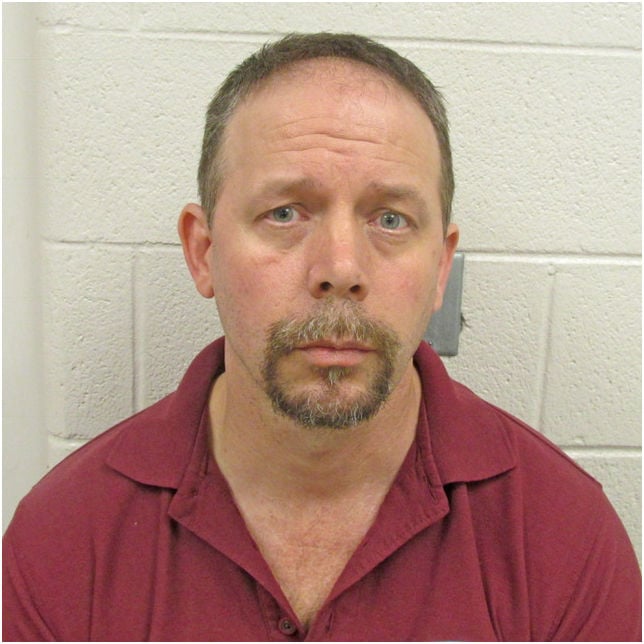 Anthony Edmonds was Jekyll and Hyde.
Jekyll was a preacher, a father and a husband.
Hyde was a pornography addict who trolled the internet from his dimly-lit basement bunker stocked with guns, a guitar and alcohol.
A judge referenced Edmonds' dual personality on Thursday before convicting him of 30 counts of possessing child pornography in a criminal case that's been dragging on for nearly four years.
Edmonds, 48, was indicted on more than 50 felony counts in April 2017.
On Thursday, the Hillsville resident was tried on 30 charges after the commonwealth dropped some of the counts in a pre-trial motion.
According to testimony, Edmonds came to law enforcement's attention in 2016 when the Bedford County Sheriff's Office, which runs a taskforce looking into internet crimes against children, got a cyber tip about an uploaded child porn image that was traced to Edmonds' internet account.
The task force got another tip in 2017 of another uploaded image linked to Edmonds.
Armed with the information, Wythe County Sheriff's Office Lt. Joe Kincer said he visited Edmonds' residence in May 2016.
Kincer said Edmonds confided in him that he "had struggled with pornography his whole life" and agreed to turn over a desktop computer he kept in a basement room. He also told Kincer that he'd sent his laptop to the dump in the hopes it would "help him break free" from his addiction.
Throughout his talks with Kincer, though, Edmonds denied ever intentionally seeking out child pornography. He did, however, tell the deputy that he took "full responsibility" for what was on there.
Later, Edmonds gave Kincer another laptop computer that he used but had given to his brother, and the investigator sent both computers to Bedford to be analyzed.
A computer expert found child porn on both machines, according to testimony, but Edmonds was only prosecuted for the images on the desktop.
Bedford County Sheriff's Office Investigator Ashley Bensinger said she used a variety of tools to examine the computer's hard drive, including looking for deleted files.
"You start with a broad scope and then you narrow it down," she said.
Bensinger said she found files titled "11yonotavirgin" and "7yo" along with evidence the computer had been used to access websites typically tied to child pornography with names such as "pre-teen portal."
In a process that took several minutes on Thursday, Bensinger identified and confirmed 30 images of identifiable child porn she found on the desktop – all of which were entered into evidence. Child pornography was also found on the laptop, according to testimony.
In a strategy he employed throughout Thursday's hearing, Edmonds' attorney, Robert Rider, maintained that some of the located images were deleted and, consequently, not in Edmonds' possession.
When the commonwealth rested its case, he unsuccessfully sought to have the charges related to deleted images dismissed.
Testifying in his own defense, Edmonds, who pleaded not guilty, said child porn images may have gotten onto his computer when he deleted "pop-ups" that showed up on his screen while visiting adult sites.
"What I had did was immoral but it was not illegal," he said.
"Do you download any of those images yourself?" Rider asked him.
In her closing arguments, though, Deputy Commonwealth's Attorney Terri Bowles said the evidence showed Edmonds "knew exactly what he was seeking out."
Judge Josiah Showalter Jr. agreed.
"You were the one who accessed these 30 child pornography pictures," he said in convicting Edmonds of all 30 counts.
Edmonds, who's been free on bond since his arrest, will be sentenced on May 27.
He faces a maximum punishment of 295 years in prison.