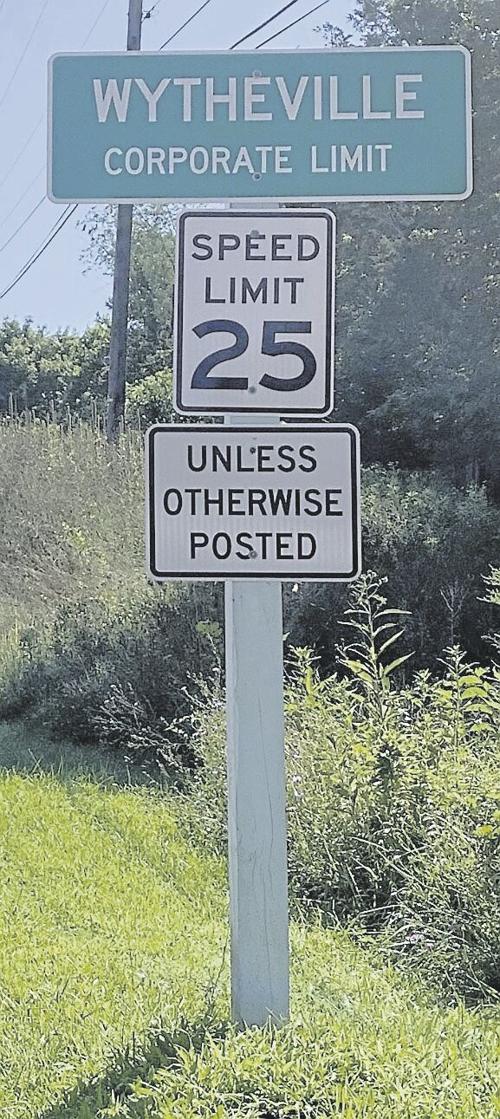 This summer, the Wytheville Police Department launched a public awareness and enforcement campaign aimed at excessive speeding in problem areas around town. Officers worked the school zones and took care of citizens' complaints about speeding in residential neighborhoods.
Lt. Bryan Bard said the department ran radar all over town, and when officers were on patrol, they constantly ran radar. In areas deemed to be a bigger factor, there were stationary radar, and the WPD assigned officers to sit and pull people over in the problem areas. The department also used social and print media to increase awareness about speeding in town.
Now, the results of the department's effort are in. Bard recently presented the findings to the Town Council, and it turns out that distracted drivers are more of a safety hazard than speeding.
"After reviewing speed studies and crash reports for the town of Wytheville, it was realized distracted and inattentive drivers cause a severe safety issue for the motoring and pedestrian public," Bard said.
So far this year, the WPD has investigated 160 motor vehicle crashes on local streets, and a staggering 85 percent were caused by distracted or inattentive drivers, not speeders, he added.
So what is driver inattention or distraction? It occurs when a driver engages in a second activity that interferes with the primary task of operating a vehicle. Drivers can be distracted by things inside or outside their vehicle, Bard said.
Examples include speaking on the phone (including hands-free); texting; operating electronic devices like a radio, GPS or DVD player; children, pets or other passengers in the car; adjusting vehicle controls like an air conditioner, windshield wipers and lights; eating or drinking; smoking, rubbernecking at an accident or emergency scene.
Bard reported that as of Oct. 26, there were 160 crashes in the town of Wytheville. Of those, 136 or 85 percent were caused by non-speed violations; 16 or 10 percent were caused by excessive speed; and 8 or 5 percent were because drivers were driving too fast for road conditions (rain, snow, ice).
"Do we have speeders in Wytheville? Yes, every town, county, and city in America has speeders," Bard said in the report. "Do we have a speeding problem? No, the Covert Traffic Data Collection shows this. Do we have other traffic issues? Yes, distracted, and inattentive drivers causing traffic crashes."
The lieutenant said the department attributes the low amount of speeding inside town limits to highly visible patrol cars 24 hours a day, seven days a week; the continuous speed enforcement using moving and stationary radar; well-marked speed limit signs; and conscientious drivers that follow the speed limit and other traffic laws.
In addition, the department uses social media campaigns and news articles on traffic enforcement in town. The WPD has kicked off a new campaign targeted toward distracted drivers. The campaign slogan is "Buckle Up, Phone Down, Don't Drive Distracted."
Here is some statistical data collected recently by a covert traffic data collector:
Statistical data for East Monroe Street from the Covert Traffic Data Collector:
Statistical data for Holston Road from the Covert Traffic Data Collector:
Average cars a day 2,320 cars a day
Statistical data for Fisher Road from the Covert Traffic Data Collector:
Statistical data for Marshall Street from the Covert Traffic Data Collector:
Statistical data for West Spiller Street, High School Hill from the Covert Traffic Data Collector: