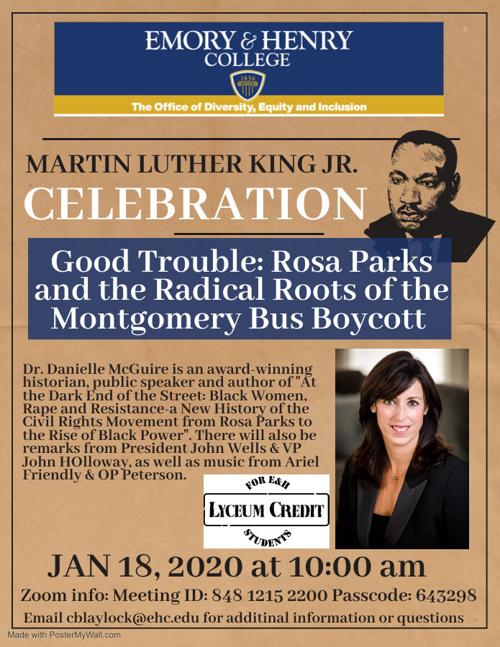 EMORY, Va. — As the world witnesses turbulent civil unrest throughout the country, one local college is doing its part to pause and celebrate the life and legacy of one of the greatest leaders of our time.
Emory & Henry College will host a weeklong series of events to recognize Martin Luther King Jr. and his work promoting nonviolence and racial equality.
It's long been an annual tradition at the liberal arts college to honor King and his legacy around the time of his birthday, Jan. 15.
The celebration is being hosted by the college's Diversity, Equity and Inclusion (DEI) team.
This year's events will be replaced by virtual programming, which is open to the public.
The series of events entitled "Good Trouble Comes in All Colors: Allyship Matters" will be held from Jan. 14 through Jan. 23. Most events will be recorded and posted on the Emory & Henry DEI website page.
The Rev. Sharon Bowers, director of the college's Inclusion & Dialogue Center, which is part of DEI, and associate chaplain at Emory & Henry, said the events are meant to bring the community together while considering the beauty of our differences.
"We want to build allies so that we can reach out to more people who will see that diversity, equity and inclusion are more than just an affirmative action program and much more than antiracism," she said.
"We are all in this together. It's impossible for us to think that one group of people can be responsible for the current state of our country. So if we're able to build allyship, we're able to accomplish so much more."
Keynote speaker
The keynote speaker for the event will be delivered at 10 a.m. on Jan. 18 by Dr. Danielle McGuire, an award-winning historian, public speaker and author of "At the Dark End of the Street: Black Women, Rape and Resistance - a New History of the Civil Rights Movement from Rosa Parks to the Rise of Black Power," which won the Frederick Jackson Turner Award and the Lillian Smith Book Award. She is also the recipient of the Lerner Scott Prize for best dissertation in women's history.
In a phone interview last week, McGuire talked about her upcoming virtual presentation, "Good Trouble: Rosa Parks and the Radical Roots of the Montgomery Bus Boycott."
McGuire will address a prehistory of the event involving Parks, who helped initiate the civil rights movement in the United States when she refused to give up her seat to a white man on a Montgomery, Alabama, bus in 1955.
As a result of Parks' actions, the Montgomery Bus Boycott was organized by a group of Black community leaders.
"The Montgomery Bus Boycott is a story everyone thinks they know, but Rosa Parks did not get her start on the bus. It started a decade earlier," said McGuire.
"I'm going to turn the lens a little bit and tell a new story — a story that also puts us in context with recent campaigns similar to the Women's March in 2017 and the Say Her Name social movement that raises awareness for Black female victims."
There are lessons good and bad to take from history, said the author.
"The past is never dead. A lot of issues we grapple with today are rooted in the history that we haven't fully and honestly confronted."
According to her, there are good things that resulted from the Montgomery Bus Boycott.
"The movement gave us Dr. Martin Luther King Jr. He was a young preacher when he got to Montgomery, and he emerged as the spokesperson for a civil rights struggle.
"The movement also gave us ordinary people just like you and me who learned how to make the world a better place through our daily actions. We don't need someone like King to change the world — we just need to learn through our own actions and to be the change we want to see," she said.
McGuire is a firm believer that we can learn from history and move forward.
"I think we're living in the catastrophe of our history. We need to embrace the historic mindset, understand the past, understand and be really honest about the hard parts of our past and work toward reconciliation.
"If we are honest about our history, we can more graciously confront the future."
Other events include a presentation at 6 p.m. on Jan. 14 by Ruby Nell Sales, a nationally recognized human rights activist, public theologian and social critic, whose articles and work appear in many journals, online sites and books. Sales serves as the founder and director of the SpiritHouse Project, a national nonprofit organization that uses the arts, research, education, action and spirituality to bring diverse peoples together to work for racial, economic and social justice, as well as for spiritual maturity.
The DEI team is partnering with Appalachian Peace Education Center and St. Thomas Episcopal Church for the Ruby Sales event.
Carolyn R. Wilson is a freelance writer in Glade Spring, Virginia. Contact her at news@washconews.com.