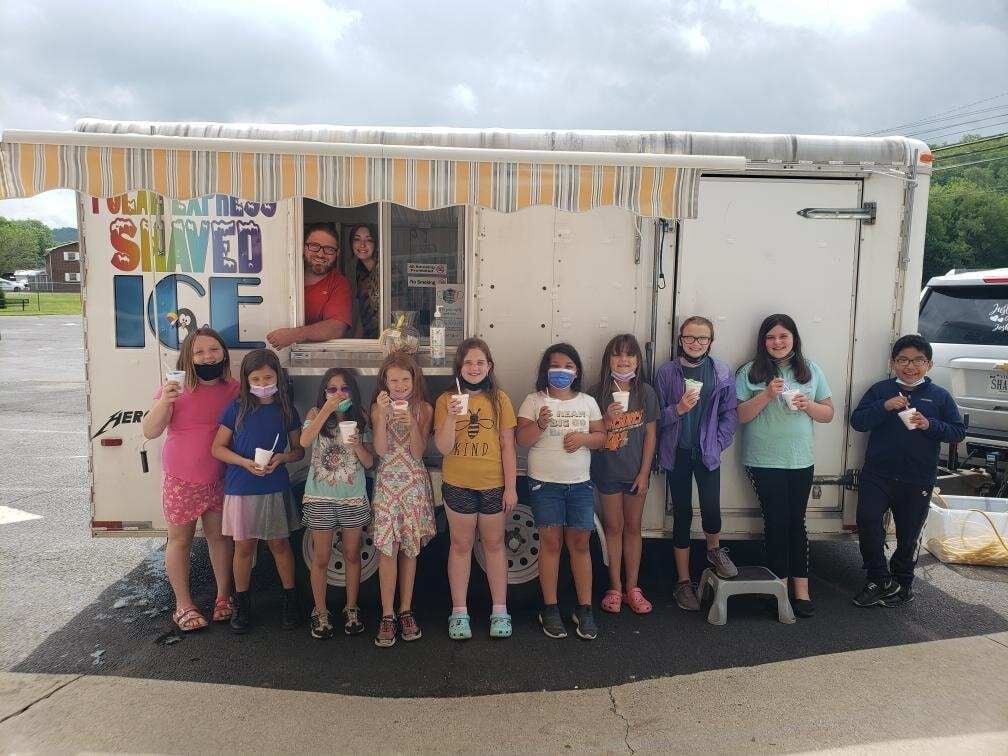 A Marion business' owners made it their mission last week to help Smyth County students celebrate the end of school with a sweet summer treat.
Polar Express Shaved Ice owners Josh and Jessie Widener visited eight of the county's 13 schools to serve up the flavorful frozen dessert to kick off the summer.
"We just want to give every kid in Smyth County a snow cone," Josh Widener said.
The 2020-21 school year was rough on everyone, especially kids who had never been to school before, Jessie Widener said. A free shaved ice seemed like a good way to celebrate the end of that difficult year.
"It was just hard with everything," she said, noting that younger children, including some of their own, had a difficult time adjusting. "It's a stress on them too and we wanted to give that to them to make them happy. Our kids enjoy it, so we knew the other kids would, too."
Atkins Elementary School Principal Gary Roberts said his students were more than happy about the visit from Polar Express. "They were grinning from ear-to-ear while they were slushing those things down," he said.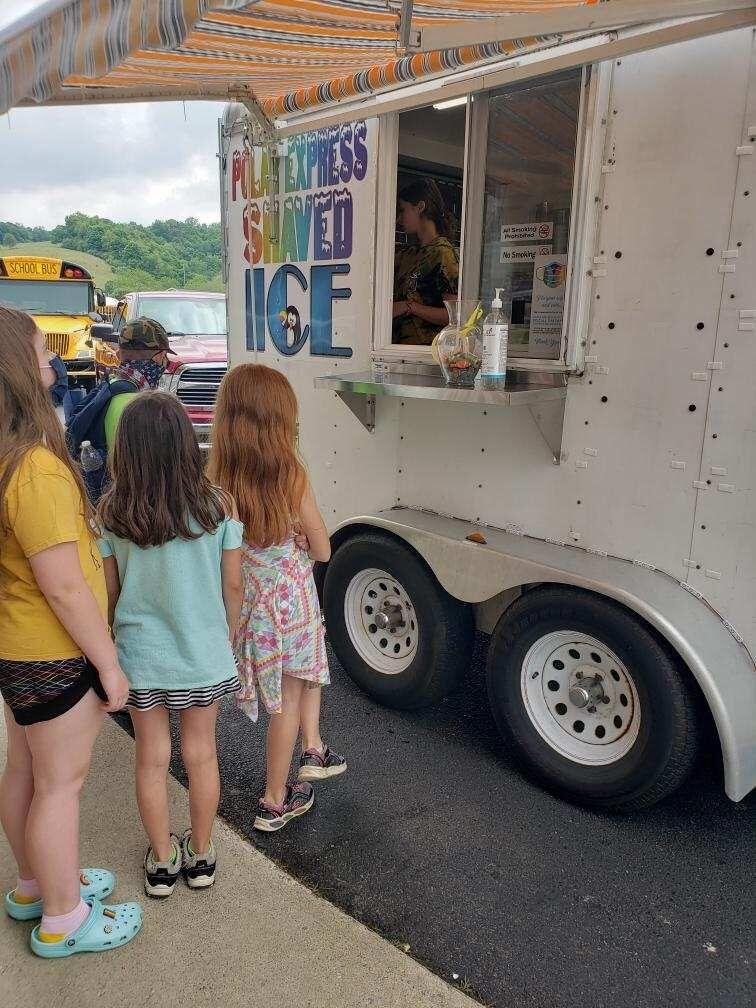 "Considering the year that we had, this was just an excellent opportunity to let the kids have some fun, because this has not been a year where we've really been able to have a lot of fun," he said.
The gesture meant a lot to both students and school administrators, Roberts said.
"It just means so much to our kids and we really appreciate that type of support and partnership."
The short-notice idea came to the Wideners as they were getting ready to open their mobile shaved ice truck for the season.
"We wanted to try to reach out to all the kids and try to give them snow cones because there's a lot of kids in the county that's never had one," Josh Widener said.
The couple wasn't able to reach all principals in time to arrange a time to set up at each school before the end of the year, but they've found other ways to make sure kids get their treats. Marion Middle School, for example, printed out vouchers so students can visit Polar Express over the summer.
So far, Polar Express has given out about 2,000 shaved ices to students, and next week they'll be visiting the Head Start program in Atkins to treat preschoolers wrapping up their school year.
Undertaking the project was also a means for the Wideners to give back to their community. Before the couple launched Polar Express last year, Josh's focus was on his first business Downtown Barber Shop. When the pandemic hit and halted all such business, it was a huge blow to the couple. But, Jessie said the community came to their aid, buying up gift certificates for future visits to the shop and just supporting them in general.
"They helped us in a time of need, so if we can do anything to give back and say thank you, we will," she said.
Originally intended to be a side business and a summertime job for Josh's oldest daughter, Gracie, Polar Express became a top priority for the whole family last year with the barber shop shuttered.
The mobile shack launched in April 2020 and it was a hit last summer. In addition to serving shaved ice in the Town of Marion, Polar Express has also been called on for private parties and other special events.
Although Downtown Barber Shop has since reopened and is back in full-swing, "We're going full-fledged into the shaved ice businesses," Josh Widener said.
A second, smaller, mobile unit could also be in the works by the end of this summer to help with private gatherings, he said.
Polar Express can most often be found at the King Bridge Food Park in Marion beside the town pool. Those interested in booking Polar Express for a private event can contact the Wideners at 1-276-780-6280.