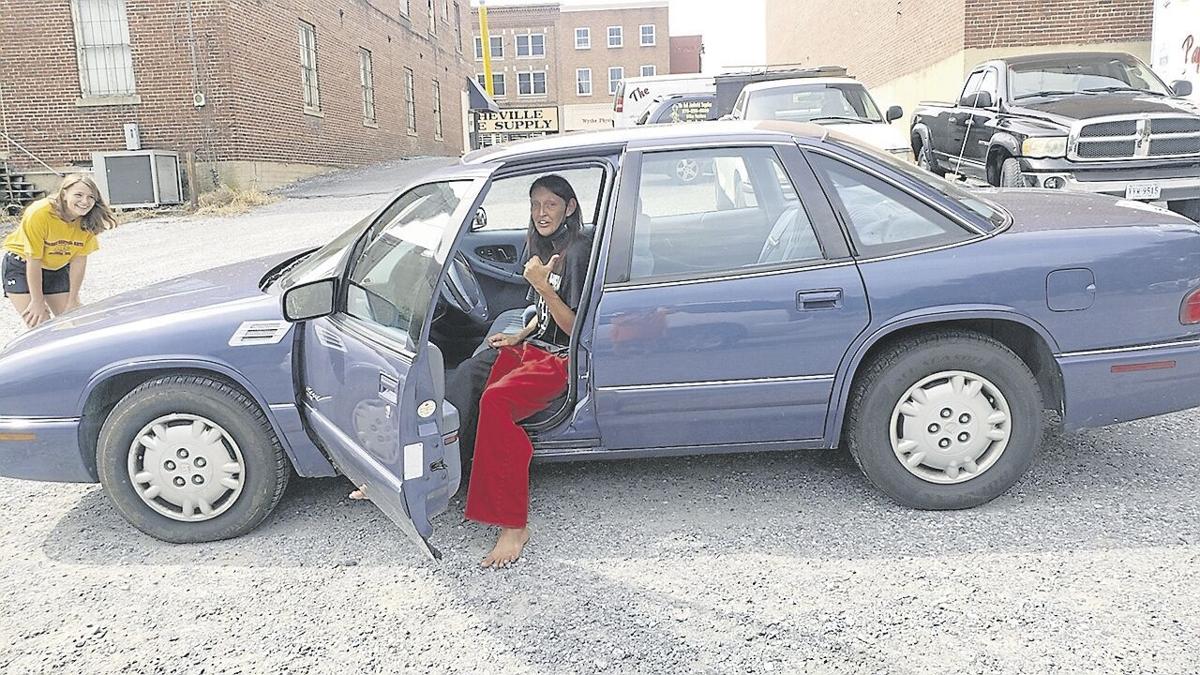 It's not every day that a friend gives you a car, but that's just what happened to Jamie Pennington recently.
Pennington, who holds a black belt in karate, teaches at the Shanaki Martial Arts Studio in Wytheville. For a while, she has needed a new ride. Her 23-year-old Subaru Impreza with nearly 250,000 miles was finally showing its age. In February, the right axle broke completely in half. She had it fixed, and two weeks later, the left axle broke. So, it was back to the mechanic.
"He fixed it, but it was expensive," she said.
Then her exhaust system had to be replaced.
"I was back and forth to the mechanic's shop all summer," she said. "I'd leave it with him, pick it up to go to work, then drop it off again."
At the dojo, Pennington started tossing around ideas with friends about how to replace the car since she didn't have much money to spend on a better vehicle.
Carly Taylor, Pennington's co-worker at the martial arts studio, knew Pennington was in a tight fix with the Subaru. Taylor works at the dojo during the day and takes adult classes there at night, along with her fiancé, Joshua McDonald, and their son.
It just so happened that McDonald's brother, a former military mechanic, had a 1995 Buick Regal that he had repaired and wanted to sell. Taylor and McDonald bought the car for Pennington.
"Sensi Jamie has worked at the dojo for years, and she's always been there to support the kids and support the parents," Taylor said. "She is just a great person and really deserved this."
So one day toward the end of August, Taylor kept Pennington busy inside the dojo office, while studio owner and Spiller Elementary teacher Shawna Shannon, gathered up all of the children taking classes. The youngsters stood by the blue Regal in the parking lot and waited for Pennington to come out so they could be in on the surprise.
When Pennington walked outside, McDonald handed her the keys.
"Surprise," he said. "This is your new car!"
"I cried; I was completely speechless," Pennington said. "I was not expecting it. I was just hoping for better ideas about a better mechanic or whether I should trade it in or who had something for sale."
Pennington loves the car.
"It has less than 100,000 miles on it. It's fantastic," she said. "I can drive it over 65 mph without parts falling off. It's so smooth; it's been well taken care of. My mom is absolutely tickled because I don't have to bum her truck anymore."
Pennington said the car will help out more than herself.
"It also benefits my neighbor, whose car has also been at the mechanic's shop for months," she said. "I try to make sure she has food and a way back and forth from anywhere she needs to go."
Pennington hopes to eventually repair the Subaru and give it to her 19-year-old daughter, Alexis, who is also a black belt.
Pennington had never taken karate classes before she walked into Shanaki 16 years ago. She has taught there for the past seven years. Shanaki has studios in Wytheville and in Bland, where owners Scot and Shawna Shannon live.
Shawna Shannon said if anyone merits such a gift, it's Pennington.
"She is so deserving and works hard all the time," Shannon said. "She purchases things for the kids when she may not have the money and she has never missed a day of work. She is awesome. She is amazing. She is probably one of the most dedicated and loyal students that we have trained."
After she received the car, Pennington said she hugged and cried on the shoulders of Taylor and McDonald for the rest of the day.
"I didn't know how to thank them. I really didn't. I'm just excited that we can travel to karate tournaments and now we actually have a car that will get us there without having to walk."
Be the first to know
Get local news delivered to your inbox!