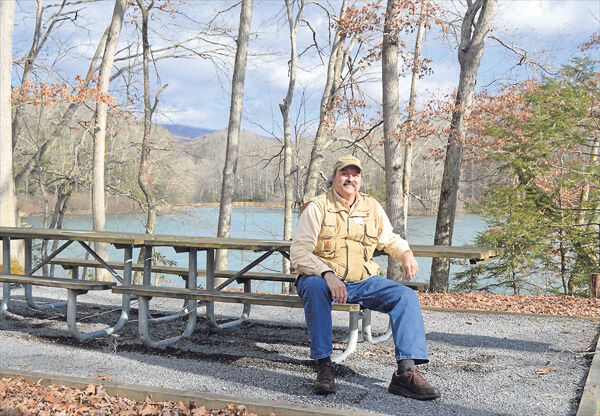 The progressive rock music reverberates through Randy Smith. He hears the lyrics: "In and around the lake/Mountains come out of the sky and they stand there" as he navigates the curves leading to Hungry Mother. He feels like a kid waking up on Christmas morning.
Every time he makes the journey to the state park, Smith repeats the ritual, playing the song "Roundabout" by Yes. The trip isn't an infrequent one for the Abingdon area resident who has been volunteering at the park in Marion since 2013.
The longtime educator is a fortunate man. He built a rewarding career out of one of his life's passions and now, in his retirement, he is living out a calling celebrating his first love.
Smith taught for about 40 years. He spent 31 years teaching social studies at John Battle High School and coaching cross country and track. He also taught night classes at Virginia Intermont and then, when a position opened in the history department, he taught at the Bristol college until it closed in 2014.
Looking back, Smith said, "I loved every minute in the classroom. It's a blessing to do something you love."
When he retired, Smith said, "I returned back to my first love."
His grandparents began fueling that first passion when Smith was just a little boy. "They loved the outdoors," he said. Their grandson often accompanied them into the woods, hunting and fishing. In him grew a lifelong love of nature, wildlife and wilderness.
That passion got a boost when he enrolled in Appalachian State in Boone, N.C., where hiking, camping and other outdoor pursuits are almost a given. Also at the university, he met his future wife. The Mountaineer couple was married in an outdoor wedding on the Blue Ridge Parkway.
After retirement, Smith learned about the Holston Rivers Virginia Master Naturalist training program. He signed up and encourages anyone with a love of the outdoors to consider participating in the annual training that includes educational lectures as well as field trips. (Please see accompanying information.)
Through that training, he met Tanya Hall, Hungry Mother's chief ranger of visitor experience, and now visitors to the park can learn from Smith, who also volunteers at Natural Tunnel State Park.
Hungry Mother has worked its way into Smith's heart. Sitting in one of the park's shelters on a chilly December day, he looked around and declared, "This is my baby. I'm like a kid getting up on Christmas morning when I'm coming to Hungry Mother."
Most often, when he's coming to the park, Smith is helping people learn about birds. He's long admired the winged creatures. As a youngster, he remembers sitting in a deer stand, trying to not move, and becoming fascinated by the bird activity he observed.
Smith regularly leads bird walks and owl prowls. He's also assisted park staff with their Junior Naturalist programs, Native American programs, and school groups.
On Feb. 13, Hungry Mother officials hope the park will again be able to host outdoor activities (now limited to self-guided programs due to COVID-19) and take part in the annual Great Backyard Bird Count during which Smith is expected to lead a bird hike.
Hall said Smith is perfectly suited to guide such activities, saying, "Randy is just an all-around great volunteer who will help anyone with anything he can. He loves people, including young and old, and he has inspired so many of us to be better birders, better naturalists, better people."
Hall said Smith "bases his information on what birds are in the area at that time and also gives you past history on birding. He also provides tips and tricks on how to bird on your own."
Hall reflected about how Smith "made a really personal connection with one of our very youngest birders (4 years old when we met him) and it is something special to see them birding around the park together."
As Smith talked, he offered educational images to teach about birds. He emphasized that a screech owl is a lightweight bird by describing it as a soft-drink can with feathers.
While many folks may not know it, he said, owls live in most neighborhoods. "They're there," he said.
Smith noted that Grayson Highlands State Park is home to a good population of the little Saw-whet Owl, the type of owl that suddenly found itself in New York City after hitching a ride in the Rockefeller Center Christmas Tree.
On occasion, Smith observed that even Snowy Owls, also known as the Arctic Owl, can be spotted at Hungry Mother as can seagulls flying south from the Great Lakes.
Over the last five years, the naturalist said he's observed 130 species at Hungry Mother.
Of all the fine-feathered friends he observes, the one you'll find as wallpaper on his cell phone is a White-breasted Nuthatch. The common bird possesses a lot of personality, Smith said. The tiny bird that's known for its energy and loud vocalizations will often dive down the trunk of a tree head first, Smith said.
While he loves getting outdoors, birdfeeders hang outside Smith's home so he can even watch birds when he's indoors and warm.
The longtime educator does encourage folks to spend time in nature, noting that research has found it to be therapeutic. He noted it can be especially beneficial for kids.
"It's hard to be mad when you're on a mountaintop watching the sun rise," Smith observed.
Such perspective may be especially important in these challenging days. While he doesn't consider himself a sign person, in recent months, Smith said, he put up a variety of signs to "plant goodwill" and get folks to think.
His father served in World War II and was gone for "two Christmases" or 26 months, Smith said. Thinking of the Greatest Generation, Smith, a member of Pleasant View United Methodist Church, believes that the COVID-19 pandemic "is our moment" and he hopes "we rise to the occasion." Many ways exist to hone kindness, he said.
Great Backyard Bird Count
Pending COVID-19 restrictions, Hungry Mother State Park plans to host Great Backyard Bird Count activities on the day of the annual count set for Feb. 13 this year. Anyone interested in birds who would like to be a citizen scientist for a day and help with a local bird count is invited to participate.
Activities, taking place from 6:30-10:30 a.m., will help people of all ages and skill levels learn about birds found locally.
At 6:30 a.m., guides will help participants search for owls. Interested participants should meet at the boat ramp off of Mitchell Valley Road.
Then, at 8 a.m., volunteers Randy Smith and Mike Evans will lead guided bird hikes. Meet them at the beach parking lot.
Anyone who likes to bird watch on their own but isn't familiar with inputting a bird list on ebird.org may submit their list to an interpreter at the park's Discovery Center from Feb. 12-15.
To learn more about what scientists have discovered and the Great Backyard Bird Count, visit birdcount.org.
The Great Backyard Bird Count is a joint project of the Cornell Lab of Ornithology and the National Audubon Society with partner Bird Studies Canada and is made possible in part by founding sponsor Wild Birds Unlimited.
"The Great Backyard Bird Count is a great way to introduce people to participation in community science," said Dr. Gary Langham, vice president and chief scientist for the National Audubon Society. "No other program allows volunteers to take an instantaneous snapshot of global bird populations that can contribute to our understanding of how a changing climate is affecting birds."
Virginia Master Naturalist program
For more information about Hungry Mother's activities, call the park at 276-781-7400.
The Holston Rivers Chapter of the Virginia Master Naturalist program is now accepting applications for its 2021 spring training.
In the interest of safety, Monica Hoel, with the Holston Rivers Chapter, said the classes, which will begin in early March, will be online and participants will be able to do projects outdoors individually as part of the class.
In keeping with the online nature of this year's training, the chapter has also reduced the course fee from $100 to $65, which includes materials and chapter dues for the year.
While these days are crazy, Hoel wrote in a letter to prospective students, "Honestly, there has never been a more important time to reconnect with, better understand, and more thoroughly protect nature."
Participants will learn about birds, forests, urban systems, fish, mussels and wildflowers among other topics.
Students will also have the opportunity to "participate in a very cool citizen science project set up just for the class," Hoel said.
"Nature needs us... and we need nature," she said.
Once the master naturalist training is complete, Hoel said, members become volunteers for nature. The basic training course covers the background knowledge and skills to prepare a participant for service as a Virginia Master Naturalist volunteer. This includes a range of topics relating to the natural sciences. Initial certification, as well as annual recertification, requires eight hours of approved continuing education and 40 hours of approved volunteer service within a year following completion of the basic training course. Participants can complete their volunteer service in any of four key areas: citizen science, stewardship, education and outreach, and chapter administration.
"The class is awesome, one of the coolest things you'll ever do," Hoel said in a 2019 interview. "It's one of the finest things I've ever done."