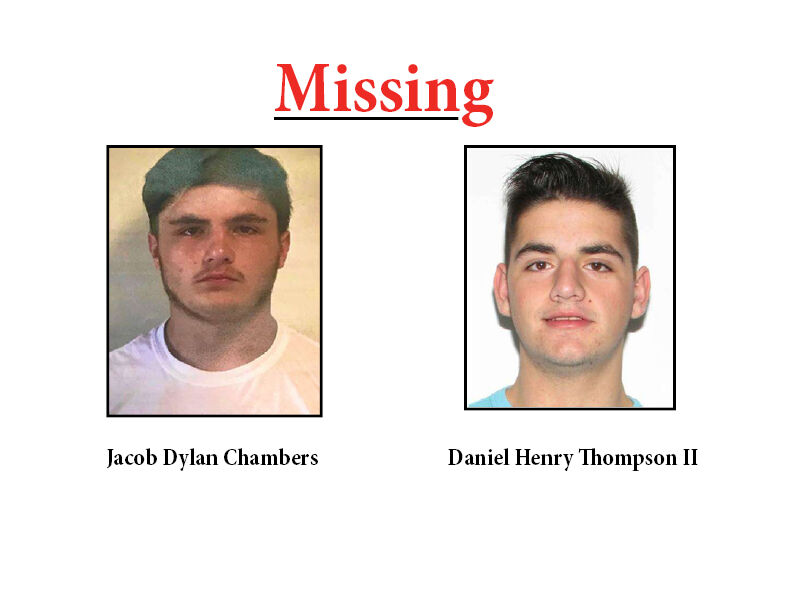 The search for two missing teens believed to have run away from a children's home in Wytheville continues.
Sixteen-year-old Jacob Dylan Chambers and 17-year-old Daniel Henry Thompson II were last seen heading toward the woods leaving the Presbyterian Children's Home on June 17. According to a Wytheville Police Department report, the boys mentioned plans of meeting a vehicle on Grayson Road, near where the children's home is located.
Police believe Chambers and Thompson were headed toward Gary, West Virginia, where Chambers has relatives.
The pair's disappearance came weeks after Chambers was picked up after running away from his aunt's home in Marion.
Tina Chambers said her nephew had been living with her for about a year when he ran away in May. After he was located in that incident, he was temporarily placed in the children's home. 
"They were trying to get him some help to stop him from doing the run aways and all this and the next thing I know he just took off," Tina Chambers said.
She said she's been passing out flyers with her nephew's photo, saying she is worried sick about him.
Nearly a month after his disappearance, Tina Chambers heard from her nephew through Facebook messenger last Friday. According to police records, Jacob Chambers told his aunt that he was safe in Tennessee, saying that he would visit her sometime soon in Marion, though he would not say when. The report notes that he may possibly be headed toward Hungry Mother in Smyth County.
Tina Chambers said she believes the mention of Tennessee may have been an attempt to draw attention away from his actual whereabouts.
Jacob Chambers, who also has ties to Tazewell County, is described as 5'6" and weighing 130 pounds, with brown hair and brown eyes. He has a scar on his right arm from an accidental knife wound.
It is unclear at this time if he and Thompson are still together.
Thompson, originally from Carroll County, is described as 5'9" and weighing 157 pounds with brown hair and brown eyes.
Anyone with information on either boy's whereabouts is asked to call the Wytheville Police Department at 276-223-3300 or the Wythe County Sheriff's Office at 276-223-6001.
Be the first to know
Get local news delivered to your inbox!