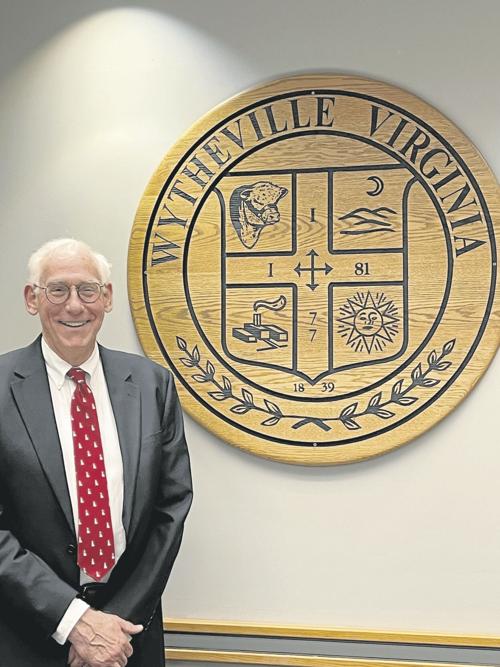 The Town of Wytheville said goodbye last week to Town Manager Steve Moore, who retired after more than three decades of service to the town.
Raised in the Bridgewater area of Virginia, Moore graduated from Virginia Tech in 1974 with a degree in architecture. He was hired as the assistant town manager/planning director in late 1990 after working about 16 years as an architect, including several years at the Dewberry & Davis office in Marion. He traveled a lot with the Dewberry job and decided to apply for the town job so he could spend more time with his wife, Lisa, and daughter, Genevieve.
"I was missing a lot of her growing up," Moore said. "I thought of it as an opportunity. I was fortunate to be hired, and I've enjoyed it. I'll miss it, but certainly treasure times I've had here, but it's a new phase in my life and I plan to enjoy it, too."
Last summer, upon the retirement of longtime Town Manager Wayne Sutherland, Moore took over the town's top spot and led the town through much of the coronavirus pandemic.
During last week's Town Council meeting, Mayor Beth Taylor read a resolution honoring Moore that highlighted his contributions to the town. He has been involved or overseen every major Town project for decades, including The Wall of Honor in Withers Park, the Spring/Franklin Street Housing Rehabilitation Project, the Recreation Center/Meeting Center, the Heritage Walk, the E. Lee Trinkle Regional Visitors Center, the Heritage Preservation Center, the Downtown Wytheville Improvement Project, the East Main Street Improvements Project, the Truss Bridge Park, renovations to the Fire and Rescue Building, the Love Park and many additions and renovations.
"Steve Moore has meant a lot more to the Town than most will ever realize," said new Town Manager Brian Freeman. "For all of the knowledge and technical proficiencies Steve possesses, it is his kind demeanor, great attitude, since of duty and knack for diplomacy that will stick with me the longest. We will miss him greatly."
Moore was also instrumental in the growth of housing developments, retail centers and infrastructure expansion. Under his leadership, town departments have developed services and programs that enhance the quality of life for all residents, including children's programs, recreation and outdoor programs.
In addition to his work with the Town, Moore served on numerous regional, state and national boards, along with many civic boards, including the Wytheville Rotary Club, Wythe County Community Hospital Board and the Wythe-Bland Foundation. He held leadership positions on many of the boards.
Taking a break from packing up his office last week, Moore said that some of his favorite work involved the downtown revitalization effort and the East Main Street Improvement Project.
"I worked many hours with Wayne (Sutherland)," he said of the projects.
He also enjoyed using his architectural skills to design the outdoor patio section of the Wytheville Farmer's Market.
"I enjoyed having the ability to be involved in the detailed design of some of the planning work that evolved from the downtown project," he said, adding that he liked the challenge of putting pieces and parts of the town's development together.
"Sometimes it worked out, sometimes not," he said. "But I had talented and energetic people to work with."
Wytheville Mayor Beth Taylor said Moore was always a gentleman and dedicated to the Town.
"Mr. Moore is and always has been a true gentleman and that reflected in his commitment and dedication not just to the Town and the Town employees, but to all the citizens and other government entities that crossed his path. He was a part of a great management team for several decades that helped build and move Wytheville forward to what it you see today," she said.
Moore's longtime co-worker and Town Treasurer Mike Stephens agreed.
"Steve is a great person," he said. "Good boss, fair, understanding and supportive. He brought an open-minded perspective for projects he designed and worked on. When the pandemic hit, Steve was very instrumental in the redesign of the Treasurer's office for the safety of the Treasurer's Office employees and the citizens of the Town of Wytheville."
As for his retirement plans, Moore said he plans to learn to sleep late and catch up on projects around his house, like cleaning out the garage and yard work. He also looks forward to enjoying his two grandchildren, Cade and Eve.
Eventually, as the pandemic fades, he and Lisa hope to travel. He especially wants to see more of the United States. As an architect, he traveled the country quite a bit, but was always in a rush. Now, he can take his time and enjoy the country's majesty.
"I want to revisit some places and enjoy it," he said.