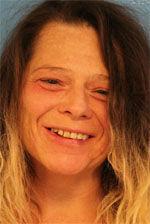 PINEY FLATS, Tenn. — Sullivan County sheriff's deputies charged a woman with second-degree murder after she called 911 and reported she shot her boyfriend, according to Sheriff Jeff Cassidy.
Deputies went to 341 Warren Road in Piney Flats shortly before 9 p.m. Sunday, Dec. 27, after receiving a call from Teresa G. Sherrill, 48. She told deputies that her boyfriend, John Sherrill, 71 — a licensed physician — had attacked her by hitting her in the head and cutting her with a knife, according to the Sullivan County General District Court affidavit.
"Ms. Sherrill stated that she shot Mr. Sherrill and that he was dead," the affidavit states.
Deputies found John Sherrill dead in the home with apparent knife and gunshot wounds.
Teresa and John are not married, but she uses his last name.
The woman said the attack occurred in the bedroom, which is located near the rear of the home in the 300 block of Warren Road in Piney Flats. Records show John Sherrill owns the Warren Road property, as well as others on nearby Weaver Branch Road.
Teresa Sherrill said that she had to leave the bedroom in order to retrieve a gun, which she said was located in the living room at the front of the home on a chair. She then left the living room and went past John Sherrill into the living room to get the phone, the affidavit states.
The woman said she then walked out of the bedroom again with the phone and gun in hand. She said she proceeded to the living room and kitchen when she heard the man threaten her from the bedroom.
"She then fired two shots at him," the affidavit states.
Two days before the shooting, authorities were called to the home to investigate a domestic disturbance, one of many occasions in which the Sullivan County Sheriff's Office was called to the scene.
On Christmas Day, a deputy was called to the home to investigate a disturbance, records show. John Sherrill told a responding deputy that he was asleep on the couch and woke up to Teresa Sherrill on top of him. He said he raised his hands, and she got off of him and started yelling at him, records show.
Teresa Sherrill told the deputy that she was in her bedroom and heard John Sherrill in the living room cussing, records state. She said she went in the living room and John Sherrill had struck her.
Deputies said there were no marks or signs of Teresa Sherrill being struck. The pair had been drinking, and neither wanted to press charges, deputies said.
A records request reveals that Teresa Sherrill was previously charged in a burglary at John Sherrill's home in 2012. She ended up pleading guilty to criminal trespassing and vandalism.
Detectives continue to investigate the fatal disturbance. Sherrill's body was sent to the William L. Jenkins Forensic Center in Johnson City for an autopsy.
John Sherrill has served as a licensed physician in Tennessee since 1986. He received training in Johnson City and operates an office on Holston Avenue in Bristol.
Teresa Sherrill, who previously served time on driving under the influence and theft charges, remains incarcerated at the Sullivan County jail on $10,000 bail. A preliminary hearing is scheduled for March 30.