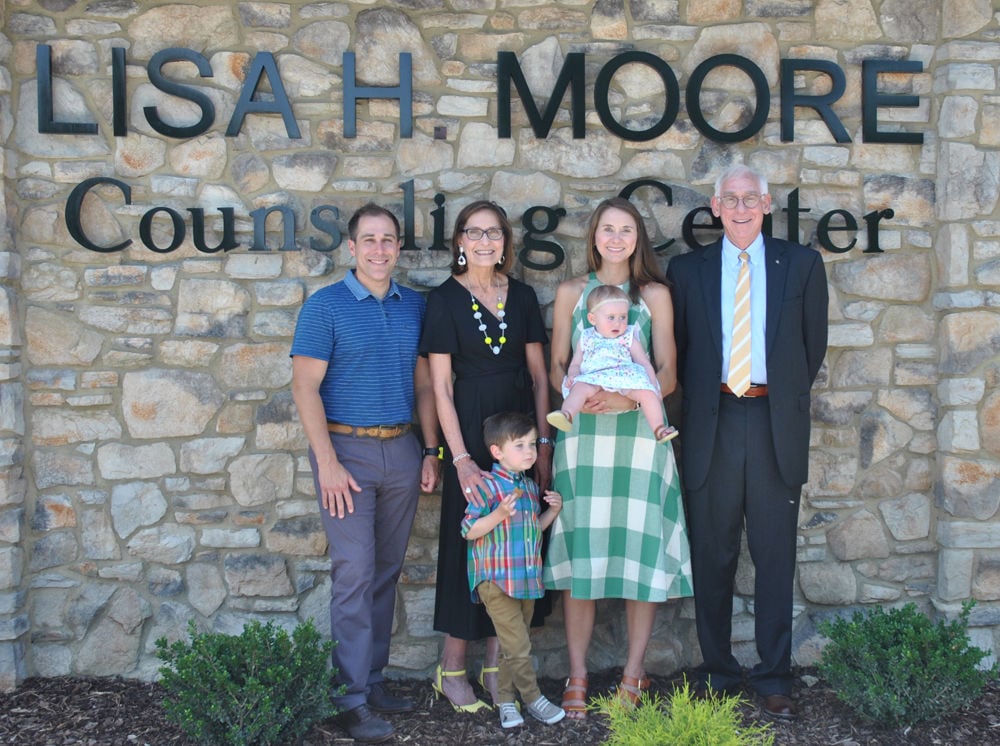 "This is a day of celebration, our beautiful new building, our individuals we serve, Mount Rogers staff, our Smyth County partners, our community, and today especially, Lisa Moore and her 40 year legacy at Mount Rogers," said Sandy Bryant, executive director of Mount Rogers Community Services.
A gathering was held at the new Lisa H. Moore Counseling Center in Marion on June 24 to dedicate the new building named for Moore, retired executive director.
"Thank you, Lisa, for the special person you are and the commitment and dedication you have for Mount Rogers Community Services," Bryant continued. "This expansion of services in Smyth County will be another step to Mount Rogers providing a comprehensive array of behavioral health services."
The new counseling center is a state-of-the-art facility to serve individuals with mental health, developmental disability, and substance abuse needs in the county. Clients will receive counseling, psychiatric, primary care, case management, and other services all under one roof. It will also have an in-house pharmacy through a partnership with Genoa Healthcare.
The building is named in honor of Moore, who spent 40 years with Mount Rogers Community Services, 12 as executive director, retiring in 2017.
"It is surreal," Moore said of having a building named in her honor. "Today my heart is filled with the honor of having a building named after me."
Moore said she began her career at the Smyth County Health Clinic in 1977, the year before the institutionalism movement began in mental health care services greatly increasing the caseload for the county.
The new building is the fruition of all the planning that went into consolidating services in one location. Moore said she is proud of the facility being right across the parking lot from the Rhea B. Lawrence Recovery Center, an eight-bed, short-term residential center for the Cornerstone program dedicated last year.
Bryant said the agency plans this fall to offer detox services at Cornerstone with 24-hour nursing.
"We currently have plans for a Crisis Care Center," she said, "A walk-in center that will provide services that will reduce TDOs, emergency room visits, and hospitalizations. We will take walk-ins and individuals experiencing crisis. Food, shower, warmth and comprehensive services will be available to the homeless individuals experiencing trauma, substance use, depression, those suffering."
To those gathered at the dedication, Bryant said she hopes to see them again at the Smyth Crisis Care Center open house this fall.
Moore said to the staff who will be working at the new counseling center that this is an exciting and pivotal time in their career. "Be prepared to open your mind to something new," she said.
Moore left behind an agency often singled out in the commonwealth for its unique approaches – strategies necessary to cover its service area of more than 2,200 miles, including Bland, Carroll, Grayson, Smyth and Wythe counties and the city of Galax. MRCSB boasts one of the largest CSB budgets in Virginia -- about $56 million – and 730 employees, making it one of the largest employers in the region. The agency employed 60 in 1977.
MRCSB serves everyone from babies – sometimes before they leave the hospital if a physical or developmental delay is evident – to senior citizens.
Moore said at her retirement event that she had come to regard the people that MRCSB serves as "some of the most courageous people that you will ever meet. They are people who live their lives with challenges and the fact that they get up in the morning and put one foot in front of the other is something to celebrate… from young children to the elderly."
Among the positive advances that Moore witnessed in her four decades ranged from medications that treat symptoms much better with fewer side-effects to focusing on providing care to people in their homes and the community to prevent hospitalization.
Serving MRCSB's clients was central to Moore's career. She gave and they gave back. "I see their courage and that inspires me. I see the great potential in everybody… and part of our job is to help them see their potential."
"Mount Rogers has a strong and compelling mission. We are in the business of changing lives forever."
Moore was accompanied at the event by her family, her husband Steve, who was celebrating a birthday that day, and their daughter Genevieve and son-in-law Jamie Ritter, of Wytheville, and their two children, Cade, 4, and Eve, 11 months.
Stephanie Porter-Nichols contributed to this story