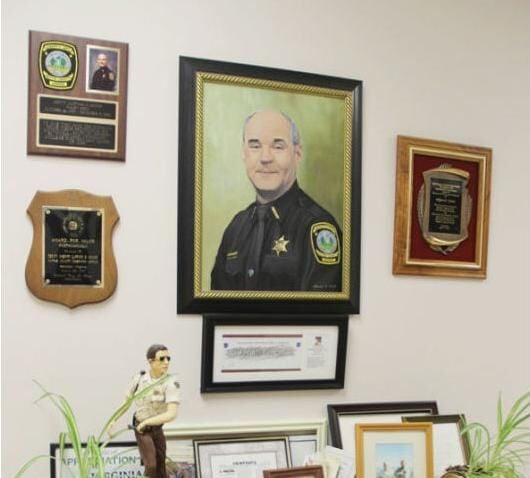 A woman's 18-year fight to keep her father's killer behind bars has come to an end.
Karla Dicker Turman, daughter of slain Wythe County Deputy Cliff Dicker, said she learned nine months ago that 41-year-old Christopher Shawn Wheeler would be released from prison this month.
Dicker was killed in Dec. 1994 at a home where Wheeler was staying with his grandmother. The deputy was there to serve the then teenage Wheeler with petitions on a theft charge when Wheeler shot Dicker with a .22-caliber rifle and then fired a second fatal shot from the deputy's own service gun, according to later testimony.
Fifteen years old at the time of Dicker's murder, Wheeler was tried as an adult and sentenced to 43 years in prison. Because of state guidelines in place at the time of Wheeler's conviction, he's now eligible for early release under probation through earned "good time" credits, Wythe County Commonwealth Attorney Mike Jones explained.
According to the Virginia Department of Corrections website, felony offenders convicted of crimes committed before Jan. 1, 1995 can earn up to 30 days off their sentence for each 30 days served.
Wheeler would have first been eligible for that type of release in 2014, but because he had some disciplinary offenses while in prison he didn't get the full sentence reduction, Jones explained.
Turman said, "I'm just thankful that he's been kept in there at least seven years longer than the original time he was supposed to be released."
While the knowledge that her father's killer was behind bars has always comforted her, Turman said on Monday that she's come to terms with the reality of Wheeler's release. 
"I just pray that he is a good citizen and doesn't go back to prison and doesn't put another family through this," she said.
Though Turman feels Wheeler should have had to serve out his 43-year sentence in its entirety, she hopes to find peace in not having a continuous fight to keep him in prison on her hands. Prior to Wheeler's pending release, Turman and her family, along with the commonwealth's attorney's office, fought for years to prevent Wheeler from being granted parole. The same state guidelines that allowed Wheeler to earn time off his prison sentence also made him eligible for parole beginning in 2003.
Wheeler's most recent parole hearing was in July 2020. On the day the hearing took place, Turman held a vigil opposing his release outside Green Rock Correctional Center in Chatham where Wheeler is held. The parole board denied that request, citing the serious nature of his offense, his institutional records, and the need to serve more of his sentence and show a longer period of stable adjustment as reasons for denial.
Because Wheeler's sentence was reduced by his good time credits and not because he was granted parole, Jones said there was no way for his office or Dicker's family to oppose his release.
"There's really nothing else my office or the family could have done to keep him in, even though he deserves to be in there for the rest of his life," Jones said.
But, now that the fight has been taken out of her hands, Turman said she hopes to put Wheeler out of her mind completely.
"I have spent the last several years concentrating on fighting to keep in him prison," she said. " I now want to be able to forget about him and just concentrate on Dad and remembering him for who he was—a family man who loved his country and community. And, he was a very Christian man."
Turman takes solace in knowing they're not likely to ever cross paths. Upon his release, Wheeler will relocate to Oklahoma.  Additionally, Turman and Jones worked to make no contact with any of Dicker's family members part of Wheeler's probation conditions.
Although, Wheeler will no longer be in Virginia, Turman said the DOC's Victim Services Unit will continue to support Dicker's family. She said the unit has kept her updated on Wheeler's efforts to seek parole, as well as his current release status. That line of communication will remain open. Should she ever have reason to believe Wheeler has returned to Virginia or that he has tried to contact the family, she can reach out to that unit, she said.