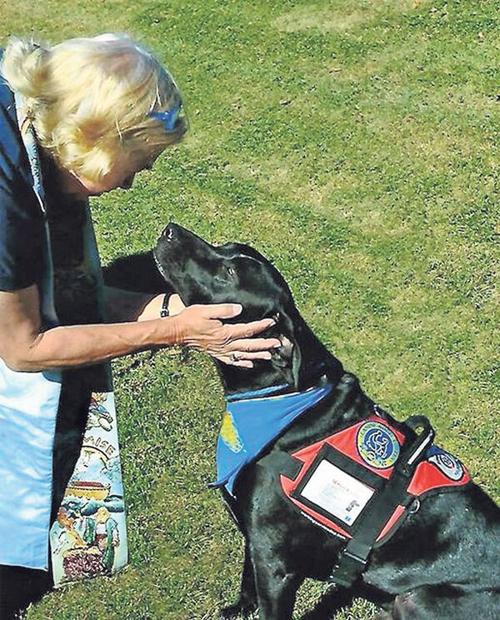 A veterinarian in Switzerland who developed the first elbow replacement for dogs is coming to America to donate his expertise for a local service dog.
Marion resident Judy L. Vaught, a retired teacher, is over the moon for Seven, her black Labrador, to receive this rare procedure. It will take place Nov. 30 at Virginia Tech.
"Labs have been getting hip replacements for a decade, but an elbow is more complex," Vaught said. "This vet in Switzerland designed an implant for his own dog when he couldn't find one."
The surgery will give Seven a new lease on life as his condition has worsened to the point he has trouble walking. He was diagnosed with a bone disease when he was young, Vaught said, which was discovered when he was training as a service dog. It is deteriorating his joint.
"He was one and a half years old when we went to Tech for a visit and they said it would only get worse as he got older," she said. "I've been so careful with him, but in the past year he's been struggling with walking. I feel like he's in pain because he was so driven and now he's not as eager about doing things. He stopped going down with me to put the chickens to bed, and he loved that."
"Like the name implies, Seven serves me in ways that don't always meet the eye," said Vaught, who has had him for five and a half years. "He does many jobs like retrieve items that are dropped, open doors, and assist with errands. He can also detect low oxygen. That is his super power. He has not only done it with me but also with strangers in the doctor's office and a man he was visiting in a nursing home. His value has no limits. That is why his debilitating bone disease was so devastating to me." 
She said he was named Seven after a note from his trainer said that "whoever gets this dog will be the luckiest person on Earth."
Vaught said that Seven has been to The Virginia-Maryland College of Veterinary Medicine on the campus of Virginia Tech several times before. They have performed surgery on his front leg to try to repair the joint.
"However, Seven was to the point that the pain was interfering with his desire to do his job," she said. "He was missing steps, faltering his gate and not wanting to accompany me to do jobs he usually bounds to do."
Vaught said she thought that it was almost time to give him a break and let him retire. Opioids were the only thing that could ease his pain.
"We had come to the recognition that the pain was in need of some potent medications," she said. "This came with its own complications. Then came the call that was the best miracle that we could ever hope for. In fact, we hadn't even imagined such a miracle." 
Vaught said she and her husband were headed to Kingsport for a doctor's appointment when they learned of the unexpected miracle.
"We were going to another doctor appointment which has been the norm this year," she said. "The phone rang and I would not have normally answered it at that time, but the caller ID said Virginia Tech. When I answered, the doctor introduced himself and explained to us that there was a veterinarian in Switzerland who had a Labrador with the same condition as Seven. He ran into the complication that there was no 'elbow' joint for dogs. They have a hip replacement but the elbow is much more complicated. Therefore, the vet set about designing and making a joint for his dog."
A year later his dog is doing very well, she said.
"The Swiss veterinarian published a report on his invention and a veterinarian in Oklahoma saw the report and contacted the designer/inventor because his dog also suffered the same aliment. They worked together to implant the design in his dog here in the United States. This dog is doing well with the new joint." 
"Here's where we come in," she said. "The vets at Tech reached out to the inventor and he is willing to come to Virginia Tech and implant the new elbow in Seven." 
The joy was immense and immediate.
"I felt like this is a blessing and a miracle sitting there listening to that call," Vaught said.
"We could not believe what we were hearing. Seven will be only the third dog in the world to receive this implant. If it proves successful this will be an opening for debilitated dogs everywhere. The elbow joint has proven complicated to replicate. Seven will require months of rehabilitation, a task that we believe he will be suited for."
Vaught said the Swiss vet will fly in and scrub up with the vets at Virginia Tech. The only cost to Vaught will be the fees from Tech, about $2,000, and she has started a fundraiser called Judy's Pets/Animal Fundraiser on her Facebook page.
"We appreciate any help we can get to be able to obtain this surgery," Vaught said to donors. "Thank you for considering us at this time."
"We are grateful to God and the staff at the Virginia Tech Veterinary College for the opportunity to give Seven a chance at a better life. In this year of 2020 with Covid-19 and all that has happened in the world, we have a bright spot that we are so thankful for."