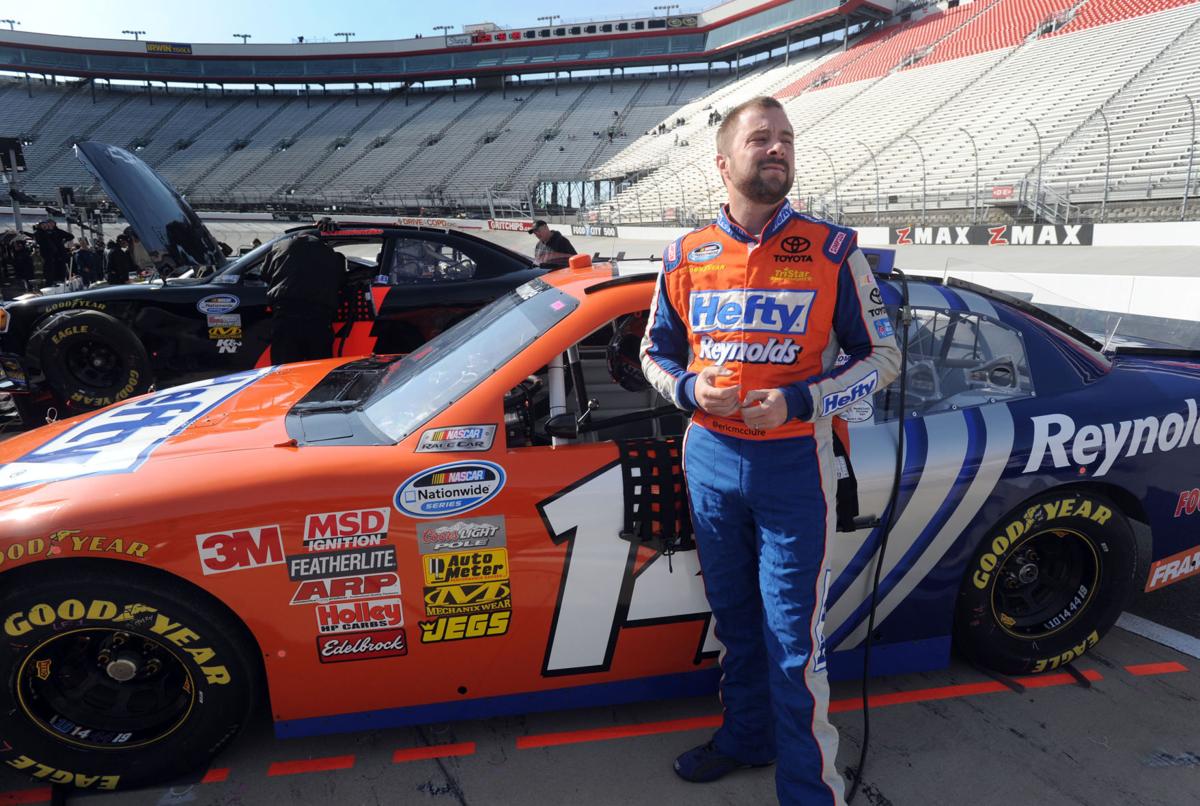 The sudden death of former NASCAR driver Eric McClure of Abingdon on Sunday due to unknown causes sparked reactions across the region and nation. McClure was 42.
Veteran NASCAR Xfinity Series driver Chad Finchum was one of McClure's closest friends in the sport. The Knoxville resident heard the news about McClure on Sunday morning.
"There was no easy way to digest that information. It's just heartbreaking for everyone involved, especially his family," said Finchum in a phone call. "Eric was a really good friend of mine, and he made an imprint on the lives of thousands."
According to a report by the Associated Press, McClure's body was sent to Roanoke for an autopsy.
The connection between McClure and Finchum began in 2014 at an autograph signing during Food City Race Night in downtown Bristol before the fall NASCAR race weekend.
"I think our tables were side-by-side, so Eric and I got the chance to talk for a few minutes at the end of the day," Finchum said. "That one conversation led to one heck of a relationship between us."
Soon after that meeting, McClure signed Finchum to drive for his new Martin-McClure Racing team in the NASCAR K&N Series. The bond grew stronger on April 17, 2016, when Finchum and McClure combined to win the PittLite 125 K&N Pro Series East event at Bristol Motor Speedway.
"I will never forget that day and those memories," Finchum said. "When I climbed out of the car in Victory Lane, I could see Eric and his father running up to meet us. Everyone was crying.
"Bristol was the home track for both Eric and me. For us to form that partnership and win in our first race together … there was nothing more special. That's still the highlight of my career."
Finchum, who ran a total of six K&N races for the Martin-McClure team, said that McClure also introduced him to his current NASCAR Xfinity Series team owner Carl Long. Since 2017, Finchum has competed in 103 Xfinity and four NASCAR Cup events.
"Without Eric's help, I would have never had those opportunities," Finchum said. "Before I met Eric, I had my head to the grindstone, and I was doing everything I could at short tracks like Kingsport, Lonesome Pine Raceway and Radford, but it just seemed like my career was going to end there."
In addition to offering a ride and assisting with a job, Finchum said that McClure helped him navigate life off the track such as the vital process of securing and representing sponsors.
"Eric was a great mentor and friend," Finchum said. "He really set me on the path to where I am today. I owe Eric everything."
The following statement was released by McClure's family on Sunday afternoon.
"The family of Eric Wayne McClure, former NASCAR driver, announces with great sorrow his passing on Sunday. They would like to thank everyone for their prayers and support during this very difficult time."
Bristol Motor Speedway executive vice president and general manager Jerry Caldwell also released a statement.
"We are saddened to learn today of the passing of our friend, Eric McClure, who competed many times at Bristol Motor Speedway during his career as a driver and team owner," Caldwell said. "On behalf of the entire team here at his home track, we send our heartfelt condolences to his family, friends, teammates and many fans."
More comments came from NASCAR leaders, team owners and drivers. Austin Cindric, who won the 2020 Xfinity Series championship and currently competes in the Cup series, won a pair of K&N Series races in 2016 for McClure's team.
"Really saddened to hear the loss of Eric McClure today," Cindric said. "Helped me get a start in NASCAR. Will always cherish our success & these memories. RIP friend."
From 2003 until 2016, McClure competed in 288 Xfinity races while also making three starts in the Cup series and one in Trucks.
The Chilhowie native and Emory & Henry graduate was involved in several hard crashes during his career, including a gruesome 2012 incident at Talladega Superspeedway that left McClure with a concussion among other injuries.
McClure also struggled with acute renal failure in 2013 and kidney failure in 2019.
"I hadn't heard a lot from Eric over the last couple weeks, but I saw a Facebook post he made Saturday, and it looked like he was doing well," Finchum said. "I was thinking how I needed to give Eric a call before the Bristol race weekend in September.
"When I woke up [Sunday] morning, I had a text from a friend, and it said that Eric had passed. I know that Eric had a deep religious faith. My prayers go out to his family. It's sad."