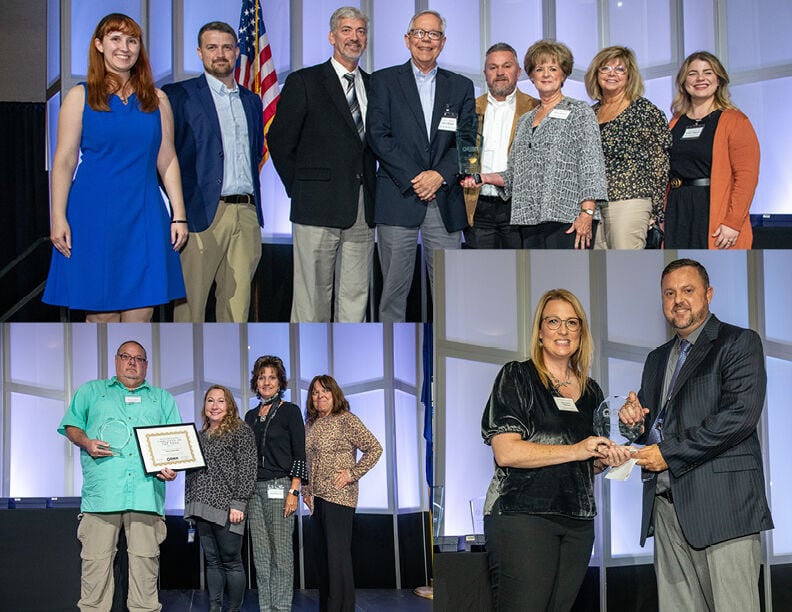 Three production plants in Smyth and Wythe counties were among seven manufacturers in the region to snag awards from the Southwest Virginia Alliance for Manufacturing this year.
General Dynamics Mission Systems in Marion took home SVAM's Manufacturer of the Year Award, while Sholle IPN in Chilhowie grabbed the Innovations in Manufacturing Award and Somic America in Wytheville took the organization's Community Impact Award.
SVAM Director Lennie Gail Mitcham said the non-profit holds the awards banquet each year to recognize and showcase standout manufacturers, particularly those that disprove commonly held misconceptions about manufacturing.
"Each one of our awards are targeted around a specific perception in manufacturing and highlights to the community the great things that manufacturers are doing, and to change those perceptions," Mitcham said.
She said people often think of manufacturing as boring and monotonous, believing that they produce the same things in the same ways. There's also a widely held belief that manufacturers are universally bad for the environment, pose safety issues to employees or offer no positive community impact aside from employment.
"But, that's not true," Mitcham said.
Scholle IPN – Innovations in Manufacturing
Scholle, which makes plastic packaging materials, took home SVAM's Innovations in Manufacturing Award for its Versi, a universal connector for bag-in-box products like fountain drinks. Typically, certain drink products have unique connectors to be used with unique tubing systems, but the Versi can connect to any dispensing system.
"With the combination of Versi and this company's DipStrip technology, 99% of the bag's contents is dispensed," SVAM board member Eric Miller said in prepared remarks for the awards banquet.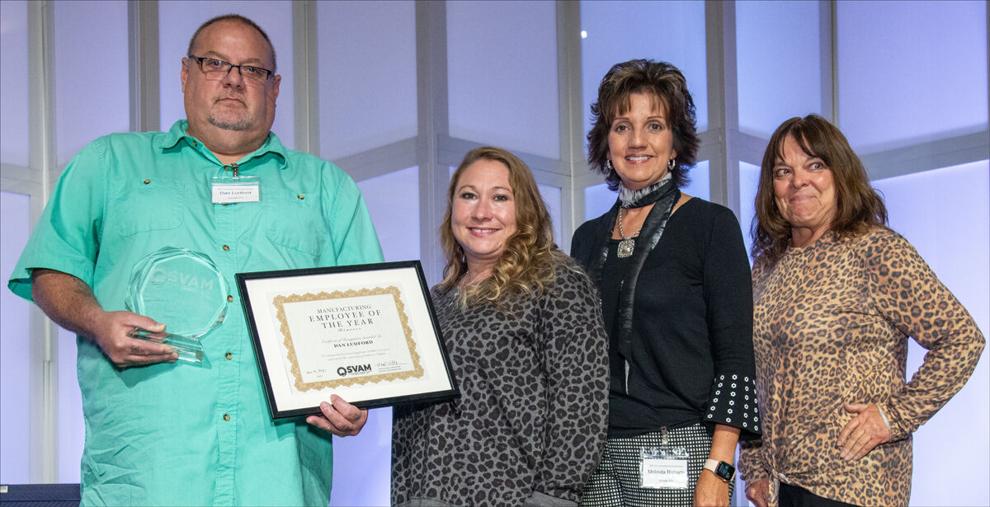 Somic America – Community Impact Award
This year, SVAM recognized Somic with its Community Impact Award.
"A lot of people don't realize just how much manufacturers give back to the community," Mitcham said.
Somic, which manufactures auto parts, was singled out for its efforts with the Wythe Arts Council, which sponsors the annual Chautauqua Festival. In addition to monetary donations, the company also donates prizes for raffles and contests at the festival as well as employee volunteers to assist with operations.
"I've worked for Somic for going on 18 years and in all those years, they've always been willing to help anywhere possible by helping improve the quality of life for its employees," said Bobby Angles, Somic's asset and continuous improvement manager, who also serves on the Wythe Arts Council board.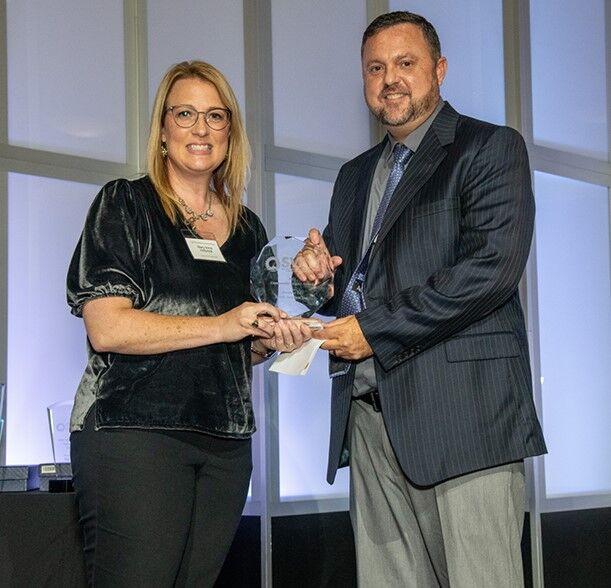 In addition to its contributions where the Arts Council is concerned, Somic also contributes to other groups including several school sports and other programs, veterans groups, the Wythe Bland Chamber of Commerce, Shriners Hospital's Kazim Mobile Nobles program and the Newspaper in Education program, among others.
Angles, who nominated Somic for the award wrote in the nomination application, "Somic America supports many events and programs and strives to improve the lives and communities where our employees live."
Plant Manager John Griffith said corporate leadership has been very supportive of the plant's efforts to make an impact within the community.
"They truly believe family and community come first and will strive to maintain that atmosphere at Somic America," he said, noting that the company has an open-door atmosphere that allows individuals to present opportunities to give back.
"Myself and 500 Somic employees were honored to receive the Community Impact Award," Griffith said.
General Dynamics – Manufacturer of the Year
In winning the Manufacturer of the Year Award, Mitcham said General Dynamics, which builds specialized equipment for the U.S. Military and commercial products used in the aerospace industry, went above and beyond in the innovation, community impact, and quality and safety categories.
Senior Manufacturing Operations Manager Dawn Archer said the company has recently reduced the energy it uses and has invested more than half a million dollars this year in energy efficiency initiatives at the Marion facility. The company earned Silver Energy Efficiency Business status with Appalachian Power. They're also looking at ways to reduce the usage of some chemicals and other hazardous materials used at the facility.
Archer said employees are trained in health and environmental safety from day one of their employment.
"Safety is our number one concern," Archer said. "One of the things we strive for is to make sure that the shape that the employees report to work every shift is the same shape that they go home at the end of their shift."
She said the company also strives to be a good corporate citizen by partnering with non-profits and other organizations that benefit the community. Its Community Investment Program helps provide monetary donations to organizations like the Marion, Chilhowie and Adwolfe fire departments, Black Diamond Search and Rescue,  the Smyth County Community Hospital's Health Trust, United Way of Southwest Virginia, and the Smyth County Chamber of Commerce, as well as several food pantries and other outreach programs. During the COVID-19 pandemic, General Dynamics also donated PPE to SCCH.
The company's employee-funded Employee Community Action Council also donates around $50,000 each year to non-profits and organizations that the employees choose.
In regard to innovation, General Dynamic's nomination application noted, "We are currently working on futuristic trends such as a new Wideband Radome for our government, advances in material sciences and hypersonics, studies in Conformal Electromagnetic Structures, and additive manufacturing. This research opens the doors of growth and expansion for our Marion facility as we lead the way and create more opportunities for community growth."
Of winning the SVAM award, Archer said, "I think it's quite an honor for us to be recognized among our peers in the region. It's also an opportunity for our employees to be recognized for the good work that they do here."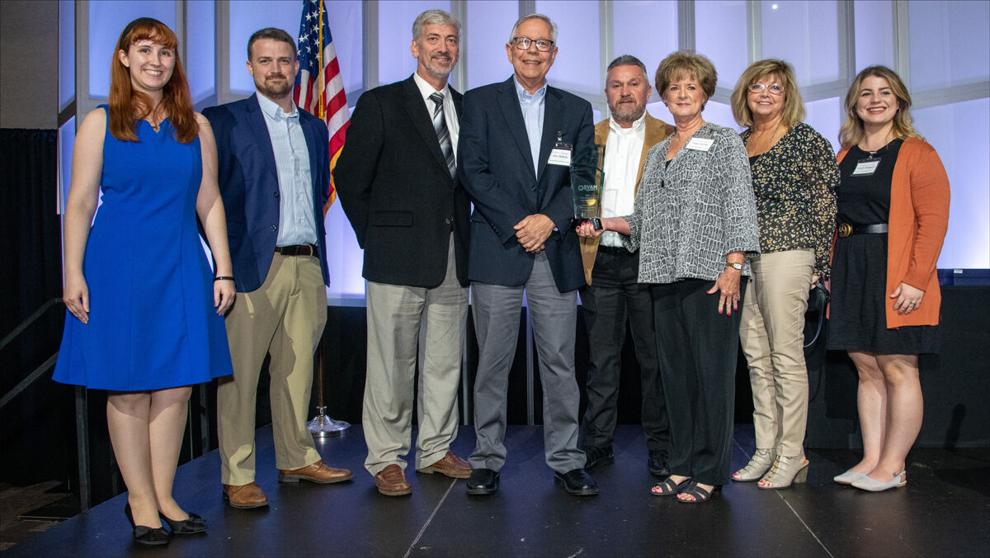 Other SVAM award winners include Tadano Mantis Corporation in Richlands, which won the Excellence in Safety Award; Samuel Pressure Vessel Group in Lebanon, which snagged the Environmental Excellence Award; and, Real Performance Machinery in Independence  which won the Community Choice Award. Tim Grubb, of Hapco Pole Products in Abingdon took home the Manufacturing Employee of the Year Award.
Mitcham said SVAM will profile the winners on its Website.
"We want to take these awards beyond the one-time event and we really want to highlight as much as possible the great things that they are doing," she said.
Award profiles can be found at www.swvam.org as they're published.