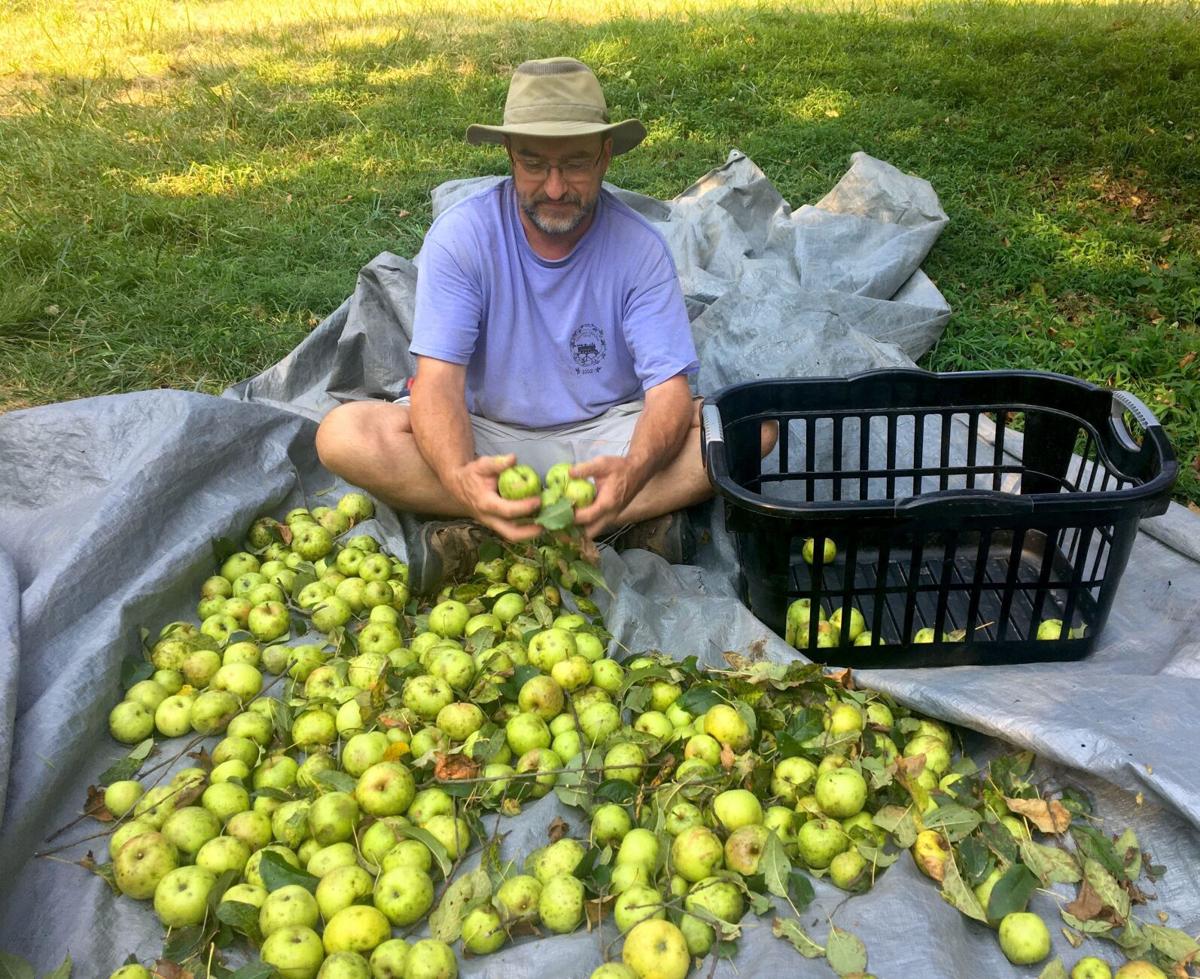 ABINGDON, Va. — Only a year after forming one of the first hard cider companies in the region, owners are preparing to open a taproom in the heart of Abingdon's historical district.
Tumbling Creek Cider Co. will join Wolf Hills Coffee and Appalachian Teas and Botanicals when The Spring House opens its doors for business in October.
The trio of businesses is located at 112 Court St. in the same building where Maxine's dress shop operated for more than 50 years.
Customers will be able to order — and sample, too — five varieties of the heritage, full-bodied hard cider handcrafted on a farm in Washington County. The hard ciders are made exclusively from apples and other infused ingredients harvested in the Southwest Virginia region.
Hard cider is simply apple cider that's been allowed to ferment and produce its own alcohol content. The natural sugars in apple juice ferment to alcohol levels somewhere between beer and wine.
The first phase of the opening of The Spring House will include a front room with coffee and cider bars. A courtyard in the back eventually will offer a built-in greenhouse for an inviting place to sit and fellowship.
Business partners Jerry Bresowar, president of the company; Mark Finney, marketing and development manager; Justen Dick, operations manager; and Tom McMullen, orchardist, started producing cider in 2018 after extensive research and experimentation.
Bresowar said the idea to start a hard apple cidery business was sparked by listening to a radio show that talked about the rebirth of hard cider companies.
"I've been home brewing for a long time, dabbling in hard cider," he said. "It occurred to me that the Abingdon community would be a perfect location for a business like this. We have a community here that values hands-on crafting and agriculture.
"I hope this cidery becomes a place for community members — and tourists — to gather and fellowship."
Five hard ciders available
Kelly Ridge Farms, owned by Dick, houses the cidery, a new 50-by-70-foot facility with all the modern cider-making equipment needed to produce quality products.
What resulted was their flagship product, Moonshot, a semidry hard cider.
Since then, the business has expanded, releasing four additional hard ciders.
Hellbender Hopped is a hard cider made with locally grown hops on Dick's Meadowview farm. Its name refers to the giant salamanders found in the Appalachian region.
Ridgerunner is a bone-dry hard cider named in honor of people hired by the U.S. Forest and Park Services to patrol the Appalachian Trail. They serve as a walking resource for those using the trail.
The Whitetop cider is infused with local spruce sprigs. "It's a semidry cider that comes across as a well-balanced apple cider," said McMullen. "At the end of the flavor experience, you get a slight hint of a pinelike citrus flavor that reminds you of the smell of a Christmas tree."
Finally, High Trestle cider, which bears tribute to Virginia's rails-to-trails, features a blend of apple cider with a breath of tart cherry.
All five ciders will be available on draft and in bottles at the taproom and cider bar.
The business partners are working to develop additional ciders with pumpkin spice, smoked squash, smoked jalapeno, blueberries and peach. Taproom visitors will be the first to sample these unique small-batch ciders.
Capturing the character
"We want to make sure all of our ciders capture the character of Southwest Virginia. We only use what's grown here," said Finney.
"We're thinking about a lot of different ways to do things. It's a matter of trying things out and seeing what customers think of it."
A majority of the apples used to make the hard cider are sourced from local producers, as well as from friends and neighbors in the area, while some come from heirloom trees on Dick's farm.
Desirable apple varieties include Ashmead's Kernel, Hewe's Virginia Crab, Virginia Beauty, Newtown Pippin and Old-fashioned Winesap, which are among more than 900 apple trees recently grafted and growing on the farm.
Since developing their first hard cider, the owners have invested in new equipment, allowing them to produce twice as much hard cider.
"We have three apple presses now instead of just the one we started out with. We have custom-designed a bottling counter-pressure filler to fill the bottles," said Finney.
According to McMullen, as much as 3,200 gallons of raw cider were produced by the local company last year. "That came from about 60 bins of apples. A typical bin is 20 bushels of apples.
"This year, our goal is to get at least 4,000 gallons of cider pressed. Part of my job is to find apples we can use for the process, preferably sourced in the Southwest Virginia area.
"We've already had our first large shipment two weeks ago," he said. "We received 22 bins of apples from Berrier Farms in Cana, Virginia."
They received another bin of Winesap apples, a classic heirloom apple that has the qualities needed for making hard cider.
"We will use the 50 gallons of Winesap juice for some of our fancier ciders," said McMullen.
According to the business partners, the taproom will give them the opportunity to get to know their customers in a more direct way. Prior to the taproom, sales have been limited to Abingdon Farmers Market, restaurants and retailers.
"One of the great things about the taproom is we will sell hard ciders that are not available at stores and restaurants at this time. All varieties and sample batches will be for sale at the taproom," said Finney.
"We're excited to be partnering with Abingdon Winery, which has sold our hard ciders this summer. We're glad to get an opportunity to reciprocate and give them an outlet in town.
"We're optimistic about the future of Tumbling Creek Cider Co. We've had great success, and we're encouraged by that," he said. "We have a lot of support in the community.
"We think The Spring House will provide us with great opportunities for local and tourist business, and we are confident our new business will be good for the community and the local agricultural economy."
Carolyn R. Wilson is a freelance writer in Glade Spring, Virginia. Contact her at news@washconews.com.